See more articles
Mercury Will Launch Electric Outboard Engines By 2023
The first line of electric outboards will be launched in 2022.
Mercury Marine recently announced that the company will start developing electric outboard motors within the next two years, with all of the planned motors available to the public market by 2023. The manufacturer has confirmed five "set launch dates" for the electric outboards, with the first line of the products to be launched in 2022 (we are assuming Q3 or Q4 is when buyers should expect to see the first models).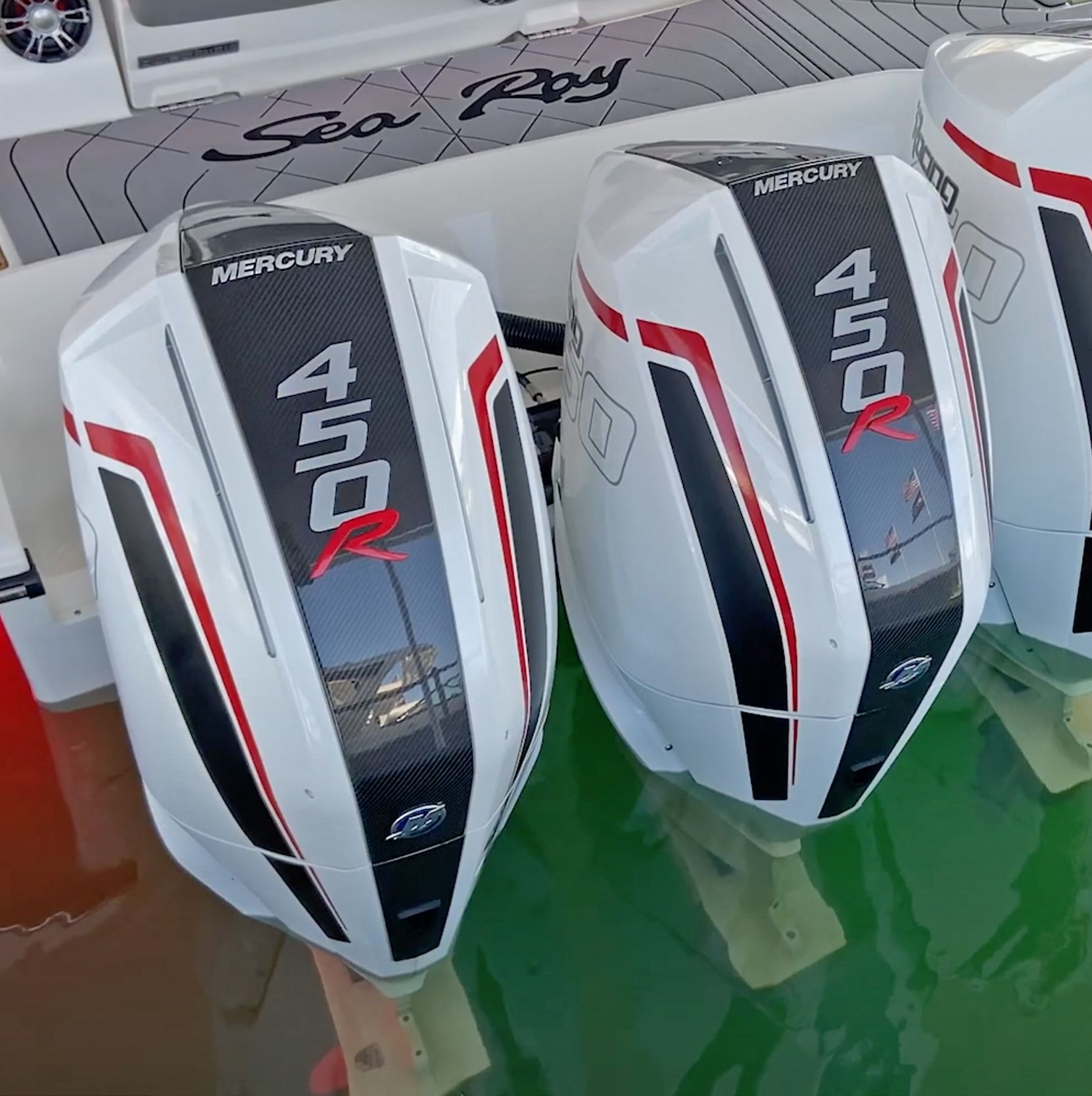 Above: Three Mercury 450R gas-powered outboard engines rigged to the back of the modern 2021 Sea Ray SLX-R 400e "smart boat" - a boat that is known for having modern electrical systems and a substantial onboard battery bank. Photo: Boat Trader.

During a discussion of the Mercury Marine's ACES strategy (Autonomy, Connectivity, Electrification, & Shared Access), which serves as a major theme and framework for the ongoing initiatives presented at Brunswick, President Chris Drees confirmed the announcement to investors on the day: "I'm really excited to announce a bold vision for the future of Mercury. We'll launch five new electric outboard models by 2023. And we intend for Mercury to be the market leader in both conventional and electric marine propulsion by the end of that year. Mercury won't be slowing down anytime soon."

The five new electric outboard models set to be launched by 2023 from Mercury and their Advanced Systems Group (ASG) will be propulsion products. During this time, they plan to have also installed 15,000 advanced battery systems to replace internal combustion engine generators. It is expected that the first of the new products to launch will focus on specific criteria for electric propulsion, like low-speed cruising.

Mercury has been dealing with electric propulsion since the release of its Fathom 1 power management system for the Sea Ray SLX-R 400e in January 2020. Offering an eco-friendly solution for power that is capable of charging all boat accessories, the Fathom 1 system is a lithium-ion battery pack that removes the need to keep a charger on board and also eliminates the need for gas-powered generators.

Brunswick will use the newly acquired Freedom Boat Club (FBC) to test its new electric products. The FBC has a group of forty specialists working to accelerate electrification and autonomy initiatives. They will be focusing on ideal electric applications, such as short-term high-speed boating or low-speed cruising. Drees comments, "We also believe that Freedom Boat Club, with its centrally managed fleets and well understood use cases, is the ideal operating model to support the introduction of electric marine products."

Brunswick has decided to appoint John Oenick as Director of Enterprise Electrification as a step to expand their efforts in electrification. Before moving to Brunswick, Oenick worked for 18 years on hybrid diesel engine development, electrified air intake systems, power invertor development, powertrain development, and electric drive systems with John Deere and Bombardier. At Brunswick, he will collaborate with Mercury on the expansion of electric propulsion using their ACES strategy. Dave Foulkes, CEO of Brunswick, said: "In this role, John will lead the enterprise technology strategy that supports our division's delivery of electrification solutions. John is part of a cohort of around 20 new employees with vast experience in electrification who have been hired by Brunswick over just the last six months."

Going forward, consumers can expect to start seeing a growing list of electric options from Brunswick as early as 2022 as products filter into the marketplace.