See more articles
Miami International Boat Show 2020 - MIBS
Not just a show with boats, the Miami International Boat Show or MIBS, is a major attraction in Southern Florida that draws visitors from dozens of countries.
A Primer for a Must-See Event

Not just a show with boats, the Miami International Boat Show or MIBS, is a major attraction in Southern Florida that draws visitors from dozens of countries. In fact, over 100,000 people are expected to visit this February 13-17 to check out what's new in fishing, sailing, diving and cruising as they eat, drink, party and generally revel in the sunny climate while much of the rest of the country sleeps in a deep freeze.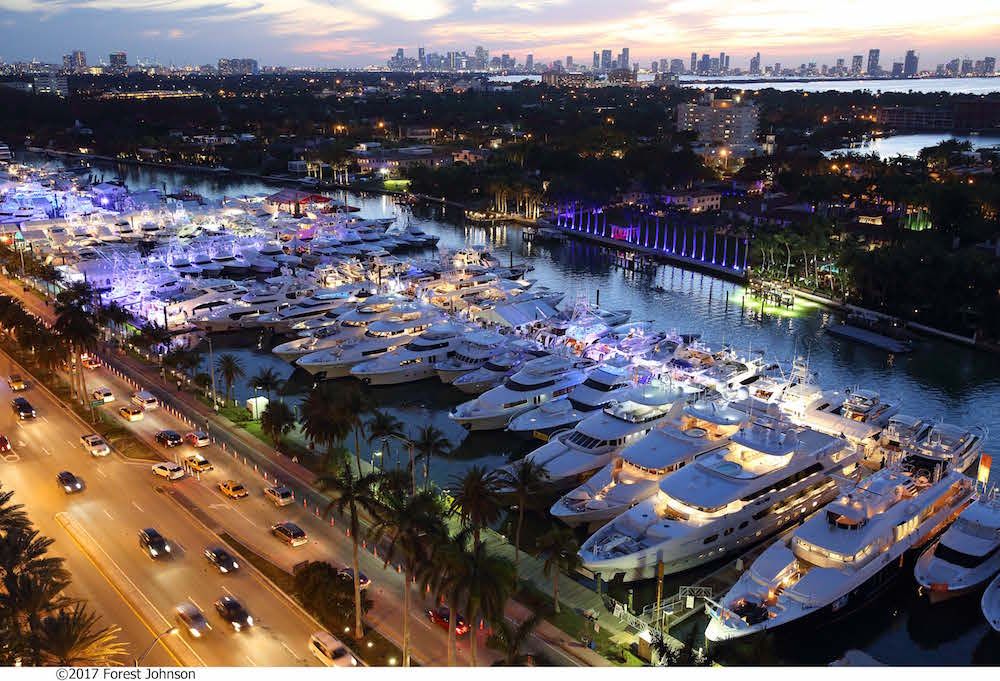 Each year, the show is held over the long President's Day weekend to give show goers extra time to appreciate the new boats, engines, electronics and accessories on display. Over the past nearly 80 years, the show has been held at several different venues throughout the city and most recently, it has settled into the Miami Marine Stadium on Virginia Key. For a brief time every winter, this park is transformed with custom-built docks and large air-conditioned tents that host over 1,400 boats and thousands of accessories. The goodies aren't strictly for boaters either since they include apparel, cookware, eyewear and more general accessories.

Of course, boating is the real focus of this community that gathers here to enjoy eight-hour days of browsing the latest the industry has to offer. Show organizer, National Marine Manufacturers Association (NMMA), makes sure there's something for everyone including education, entertainment and lots of opportunities to rest, relax and refuel.

It can be a daunting show for first timers so here's a guide to the highlights and a look at some of the activities you won't want to miss while bargain hunting or window shopping.

Planning Your Visit

First things first – have a plan before you arrive so it doesn't get overwhelming. Visit the show website to learn which vendors will be present and check out the show's Instagram TV Channel at #MiamiBoatShow. IGTV will have sneak peeks at show highlights so you'll know before you go.

Become a VIP. Receive VIP treatment by participating in the MIBS VIP Experience. Tickets range $155-$180 depending on the day of attendance and guests will enjoy an air-conditioned indoor space in Tent A, complimentary food, drink and entertainment, and free WiFi. As a bonus, there will be an outdoor deck with views of downtown Miami and luxury vehicles by Porsche will be on display.

Check out the latest marine technology. By Friday morning at 10:00, NMMA will release a list of new winning boats and products to the public. These innovations are judged by marine journalists and showcase the latest in boating technology. A way to tour the show is to map out a path, which includes these game changers so you can see how boating is evolving.

Do what you love. If you enjoy the lifestyle, you may want to investigate employment in the boating industry. Friday morning, February 14 at 9:30-11:00, NMMA will have experts on hand to discuss career paths including those in technical, mechanical, sales, service and other fields. If you're lucky, you may turn the show into a successful job search.

Learn Something New

If education is your goal, you'll have much to see and do. Some of the activities require registration so be sure to secure a spot early.

Take to the water with hands-on experience. Ten three-hour classes will be offered by experts from Boat US magazine. You can learn docking tips, powerboat basics and more. Special instruction will be available to encourage women to take the helm.

Classroom instruction will be in the form of 10 seminars. Professionals in the marine industry will help you explore details of fishing, cruising, weather and more. For some fun sea stories, you can listen to Tucker Thompson, an award-winning commentator and host of the 35th America's Cup. Thompson will do a multimedia presentation on the Cup's history and what to expect in New Zealand in 2021. Seminar pricing starts at $30 and includes show admission for that day.

For the kids, there will be the Annapolis School of Seamanship and their Junior Captains program for kids ages 13-17. The Progressive Insurance Boathouse will also present a virtual reality boating experience and kids can participate with parental permission.

At Conservation Village, you can learn about the Costa Sunglasses Kick Plastics program and the Captains for Clean Water initiative. Chef Allen Susser will also be on hand doing presentations about sustainable seafood and preserving our oceans' resources.

The Details

You can get to and from Virginia Key with free water taxis and shuttle busses. There's also a specified Uber drop off and a 25% discount for Brightline Virgin train passengers coming from Fort Lauderdale or Palm Beach. Use code MIBS20. There's also a dedicated app that will provide map information and real-time water taxi updates.

For refreshment, there will be 20 dining options from which to choose. Various Miami area restaurants will be represented and food trucks will be onsite with choices including sandwiches, sushi, BBQ and more. Of course beer, wine and cocktails will be available as well.

Ticket prices vary based on the day of attendance and range from $30 to $55. Children 12 and under are free with a paid adult admission.

The Miami International Boat Show is an important economic driver for south Florida and it's an excellent ambassador for the boating lifestyle. Both new and seasoned boaters as well as those who are boating-curious will enjoy the spectacle. So plan your itinerary, pack your flip-flops and sunhats and head to Miami this President's Day. It may just change your outlook and its sure to change your mood this winter.