See more articles
Modern Boat Deck Design In 2021
We stand on a boat's decks all day long, and how they're designed, built, and finished can have a huge impact on how well they function.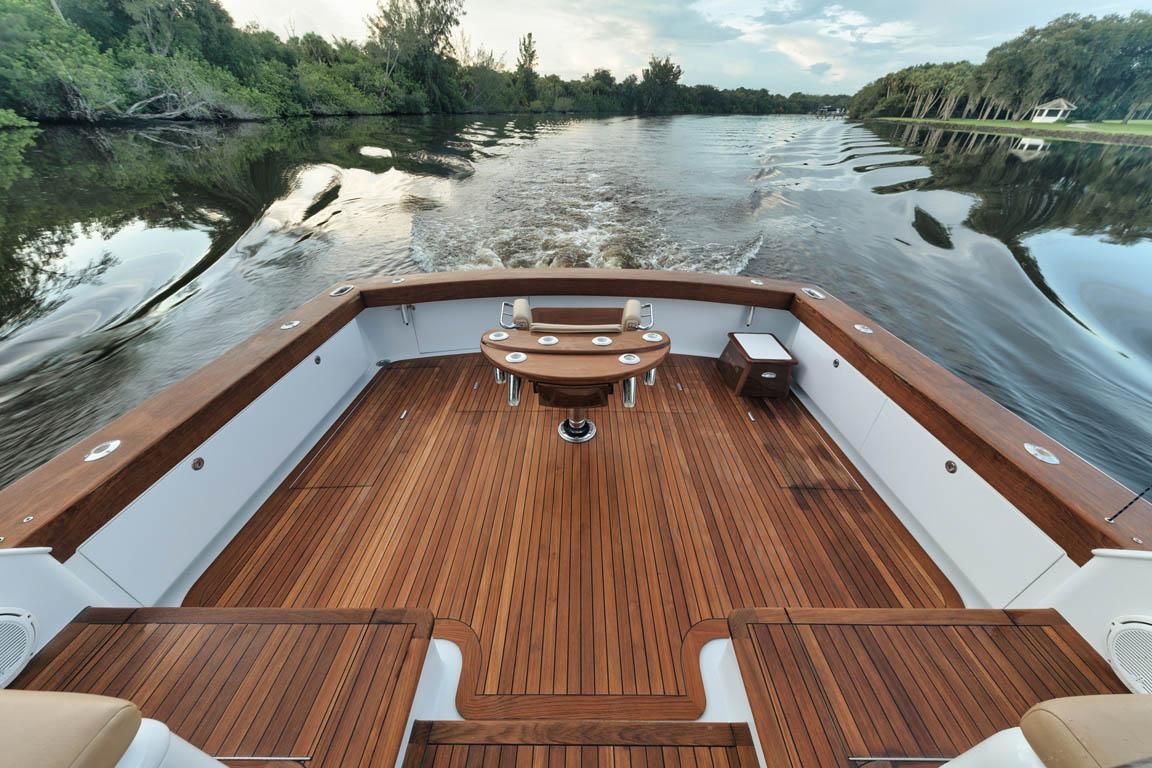 Above: teak wood deck on a 1986 Jim Smith Custom 60 Sportfish Convertible Yacht. Photo: United Yacht Sales in Stuart, FL.

Modern boat builders utilize many different construction methods for different pieces and parts of a boat, and one often overlooked aspect of how boats are made is the deck. As long as you can stand on it without worry, few people ever consider how a boat deck has been designed and built. Yet in truth, the deck can have a huge impact on just how well a boat functions.

Boat Deck Construction

Today's boat decks are commonly some form of cored fiberglass, which gains support by resting upon the top of the boat's stringers and bulkheads (the boat's strength-giving "skeleton"). Historically most decks were cored with marine plywood, and some still are today. Unfortunately, older boats cored with old-tech ply often suffer from rot damage at some point in their service life, leading to spongy or flexing sections (sometimes called a "soft deck") that require repair. Despite the fact that more modern marine ply is treated to prevent rot and often comes with long-term or even lifetime guarantees, many builders have migrated away from it and instead core the deck with light but rigid foam composites. In either case, a well-built deck needs both the construction and the structural support to remain completely flat and rigid as opposed to flexing.

Boat Deck Finishing

Another critical aspect of deck construction is how its surface is finished. On some inexpensive boats the deck will feature a gray and black "spackle" finish, which has fairly good non-slip properties and is easy to clean off. Higher-end boats usually have a molded-in nonskid on the surface. Molded nonskid can have differing levels of aggressiveness in their finish, varying from raised dots or ovals that have fair non-slip properties to diamonds or triangular-shaped surfaces that have excellent non-slip properties. But there's a trade-off at play. While the more aggressive surface helps to prevent slips and skids, it's also very tough on the knees if you kneel down on the deck. It can also be more difficult to clean than less-aggressive surfaces since bits of dirt, fish blood, and grime gets stuck in-between the angular raised surfaces and may be tough to scrub away.

Teak Wood Decks

In the case of large or high-end boats, it's not uncommon to see decks finished off with traditional teak wood decks. Teak has exceptional non-slip properties, and no one's going to argue over how good it looks. But teak is expensive, can be damaged relatively easily, and requires more maintenance than fiberglass.

Closed-Cell Foam Deck Padding

In the past decade or so, many of the top boat builders have been finishing off their decks or portions of the deck with stick-on high-density closed-cell foam padding. Having a foam cushion underfoot is far more comfortable than standing on hard fiberglass, and can actually reduce the amount of physical wear and tear a boater feels at the end of the day. And when it comes to kneeling down, the comfort difference is huge. The foam decking also looks great, can be customized with patterns and logos, and isn't any harder to clean up at the end of the day than an aggressive non-skid. Just as importantly, foam decking has excellent non-slip properties, probably the best of all these different options.

There are, however, some potential down-sides to a foam-padded finish. Most foam decking has a lifespan more limited than fiberglass, and may be good for only five to seven years if the boat's left exposed to the sun. The sticky backing can peel up, requiring repair. And in a few cases the design of the boat's interior can reflect sunlight at angles that concentrate it and melt or burn a section of the foam.

Boat Deck Design Basics

While it might seem like a boat deck that's structurally sound, has good non-slip properties, and looks and feels good underfoot is going to be perfect, design also plays a huge role in how well or how poorly it serves you. It's critical to remember that on most modern boats, things like seat bases, coolers, and fishboxes are molded right into the deck. Their location(s) and functionality may not seem related to the deck, but since they're physically a part of it, they most certainly are — and how they're designed can have a big impact on just how functional the deck is.

Drainage

A big factor here is drainage. Boat decks must be designed so they drain when the boat sits at rest, whether full loaded, partially loaded, or unloaded. It's common for a builder to design in a slope or crown in the deck, so it sheds water to the sides and aft towards the scuppers. But a poorly designed deck can have areas where water becomes trapped in corners or pockets created by seat bases or other molded-in furniture. With an extremely problematic design water may run into the boat from the scuppers, or even pool forward where it can't drain. Other problems can arise when fishboxes or hatches integrated into the deck don't have gutters and/or drains that direct water overboard. This may lead to flooded stowage compartments, or it may allow water into the bilge where pumps must be depended upon to evacuate it.

The best boat decks, on the flip side of the coin, can shed large volumes of water no matter where or how it enters the boat. Any perforations in the deck like access hatches or integrated fishboxes are water-tight, and any gutters that may exist channel water to dedicated drains that directs it overboard.

Another aspect of boat deck design that often gets overlooked is purpose-built casting decks on fishing boats. Many different types of both saltwater fishing boats (like flats boats and bay boats) and freshwater fishing boats (such as bass boats) have forward and/or aft casting decks designed in. But different types of fishing styles have different requirements, and some casting decks serve anglers well while others fall short of the mark. Fly fishermen, for example, need perfectly smooth decks with no obstructions or their line can get snagged mid-cast. Items such as chocks and cleats need to be the pop-up or pull-up variety, which are smooth when collapsed. Live bait anglers often prefer to have casting decks with livewells built in, so they don't have to travel to the other end of the boat to freshen up their bait. And bass anglers usually prefer casting decks with integrated foot controls for their bow-mounted electric trolling motor.

When you're looking at options, how will you know which boat deck is best for your own personal needs? Construction can be researched, the finish is largely a matter of personal preference, and design can be assessed and tested out on the water. What's most important, however, is simply that you recognize just how important the deck is when judging any boat on the whole. And instead of merely standing on it, make an in-depth assessment of that deck from stem to stern.