See more articles
Navico Latest Upgrade Of Boating App, C-MAP
A FREE mobile app has been launched to help simplify navigating for boaters. Planning a boating trip from the comfort of your armchair weeks in advance has never been easier.
Boating has never been easier

While plotting a boating route on paper is a rudimentary skill set for any boater, it can be time-consuming and requires multiple stages. Navico, a leading electronics marine company, has released the latest version of C-MAP to assist boaters with navigation with more functionality than ever before. It's free to download, and boaters can sync charting data with their mobile, which is an excellent backup in the rare instance that your Chartplotter should fail.

Supporting the offboard experience

The app can be handy if you are on the move and stop off for a lunch break ashore; you can enjoy the convenience of using your mobile as a portable navigation device. Planning a boating trip from the comfort of your armchair weeks in advance has never been easier.

C-Map informs boaters about local areas, improving awareness of local sites so that boaters can enjoy visiting. The weather forecast feature provides insights into air conditions and water
temperature, wind and wave data, precipitation, tides, moon phases, and more. You can also use the app to avoid any potential issues such as short daylight hours, troublesome weather, grounding the boat in dangerously shallow waters, or refueling issues.

Your guide to the water

All types of adventure seekers can benefit from C-MAP, from kayakers to paddle boarders, to long-distance cruisers, sailors, shipwreck divers, and anglers. The app has undergone a deep simplification process, designed for a mobile screen to highlight waypoints, map out routes and provide seabed features to let boaters dock safely (and help you retrieve the boat again in a darkened anchorage). It also offers visibility of local points of interest.

Being able to customize the chart to suit your needs is the beauty of this app. Trying to interpret several sets of data on one map can be a headache. The app streams live data from multiple inputs, including various hydrographic offices, to ensure boaters are armed with accurate data sets.

Navico has strengthened its position on the market by harnessing data from other companion apps, including Lowrance, Simrad, and B&G.


Shaded relief imagery inside the C-MAP App - Hawaii Reveal. Image credit: C-MAP
Choose a model to suit your needs

The app is available to download in two versions, 'Freemium' (a subscription-free tool) and Premium, which offers advanced features on a subscription. The freemium version is not a substandard boating app by any means. There is a wealth of information and tools available for users, from measuring distance tools, to GPX import and export, the latest nautical charts, personal waypoints and much more.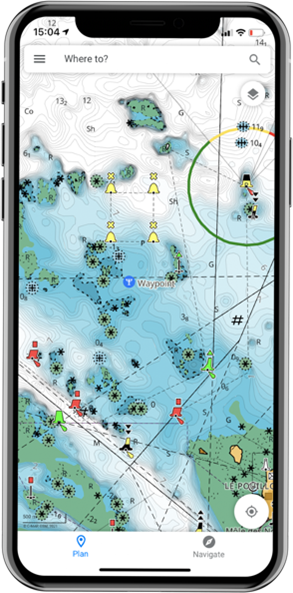 C-MAP App - High Resolution Bathymetry. Image credit: C-MAP
Premium package highlights

More advanced analytics which includes using GPS positioning and full navigation, a five day weather forecast, Bathymetry (the measurement of depth of water in oceans, seas, or lakes) custom depth shading, 3D visuals mapping under the sea, C-map traffic (which identifies other app users), and AIS which identifies any commercial vessels, helping to avoid collisions.

Another compelling reason to sign up for the premium package is the vast advantages it offers to saltwater anglers who can save their favorite fishing areas in the app or view local fishing hotspots with access to high-definition water visuals and data on where fish-holding humps are located.

Join the C-MAP community

The app is designed to encourage boaters to share knowledge. For example, once you have planned your boating trip- you can share your plan with other C-MAP users.