See more articles
Navier To Launch A Smart Electric Boat (that can fly)!
Silicon Valley's start-up Navier has ambitious plans to launch a fully electric hydrofoil boat. It is predicted to set the marine market alight with autonomous systems and endless smart features.
Navier 27: The Boat Of The Future

Navier has grand plans to release a boat which is a first of its kind, integrating high technology to produce a boat, not only with power, but with technology features to pique the curiosity of boaters and non boaters alike. Navier is led by two MIT engineers with extensive experience in ocean robotics, aerospace flight controls and autonomous systems. The two are on a mission to build technology which radically increases efficiency of small power boats by 90% while ensuring zero emissions.

Some of the Navier's 27 high-tech features planned for its debut include an advanced auto-pilot speed and course control. Owners can enjoy doing the bare minimum on this boat, thanks to a sensor-assisted joystick and remote monitoring. Moreover, you can connect to your boat from anywhere in the world! And, if you are if there any causes for danger nearby, the boat will (kindly) alert you to a hazard!! Oh, and the icing on top of the cake is the promise of an advanced autopilot system analogous to contemporary self-driving cars.

A Fume-Free Electric Day Boat

At 27" feet (8.2 meters), it's nippy enough to maneuver easily, but also large enough to have a comfortable day out, with plenty of room for relaxation and storage. The Navier 27 will come in a choice of two models, either open or with a cabin. As efficiency is the key focus of the design, using carbon fiber to construct the hull was a natural decision.

Its projected range of up to 70-plus nautical miles sets it apart from a few of it's electric competitors.

Fly Above The Water

The Navier 27 can reach speeds of up to 18 knots, and when it reaches 20 knots, it lifts up and hovers above the water. Elevating up to 3-4 feet above the water up provides a superior experience and new perspective. While in shallow water, the foils can retract. These foils will ensure a smooth ride over chop and the minimal wetted surface reduces drag, resulting in the most efficient operation possible. The foil system is set to have aerodynamic derived stabilization. Not only is the Navier 27 innovative, but it also looks slick. The deep-v bow and dramatic silhouette looks ready for take off!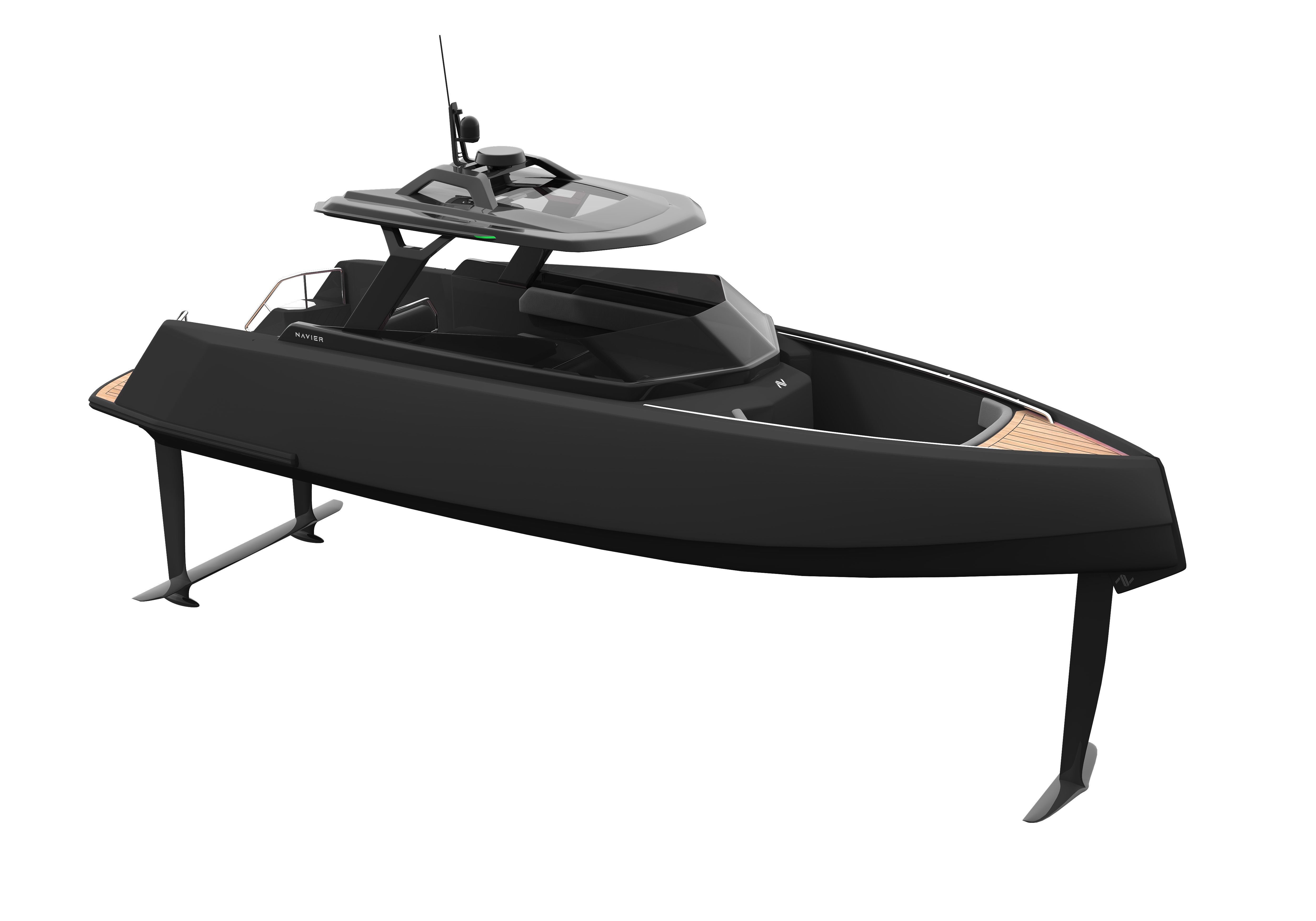 The Navier 27. Image credit: Navier