See more articles
Palm Beach International Boat Show 2022
Check out the lineup of sleek new boats and yachts debuting at Palm Beach Boat show 2022.
The 40th annual Palm Beach International Boat Show 2022 (PBIBS) is set to kick off on Thursday March 24th, 2022 and continue through Sunday March 27th. The show is located in downtown West Palm Beach on Flagler Drive across from the Intracoastal Waterway. Owned by the Marine Industries Association of Palm Beach County and produced by Informa Markets, PBIBS is one of the most exciting boat shows of the season. From the world's most luxurious yachts at the Superyacht Show Palm Beach in Safe Harbor Rybovich (a marina that can accommodate up yachts up to 330 feet), to family day boats, trawlers and high performance powerboats the show has a plethora of yachts to explore.
"We are delighted to be returning to Palm Beach for the 40th annual Palm Beach International Boat Show," said Andrew Doole, President of U.S. Boat Shows with Informa Markets. "The show will welcome back fan-favorite exhibits including the AquaZone, Kids' Fishing Clinics by Hook the Future, and the Windward VIP Club. We are also excited to announce that this year's boat show will coincide with the Palm Beach Modern + Contemporary Art Fair, giving guests a well-rounded weekend of luxury and lifestyle opportunities."
Palm Beach Boat Show Debuts 2022
Below are some of the boats we're excited to see debut and be showcased at the Palm Beach Boat show this year.
Grand Banks GB85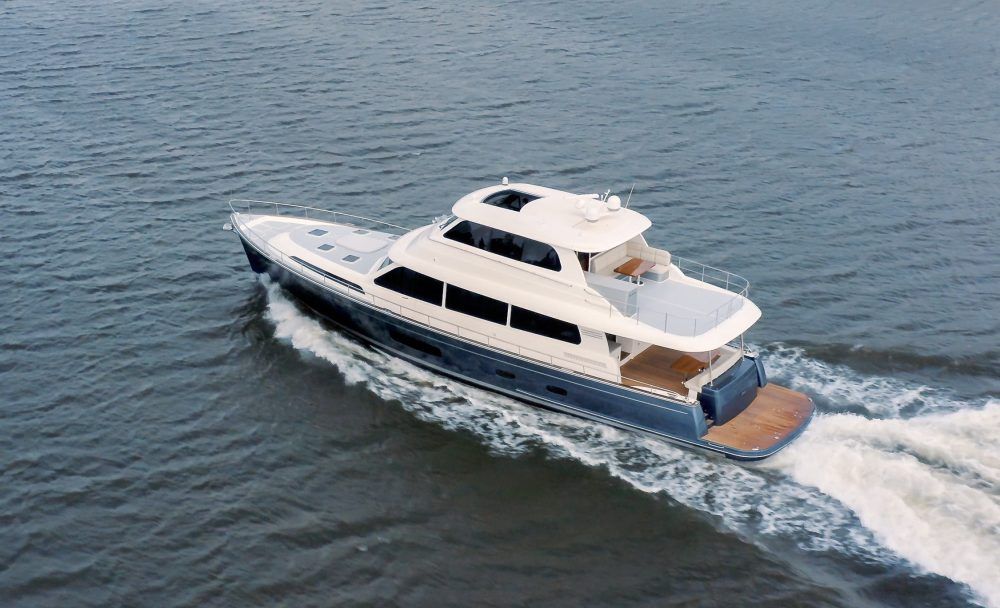 Grand Banks 85 - In the yachting world, Grand Banks is a name synonymous with the romance and luxury of long-distance cruising. In fact, the brand virtually invented the trawler category and has helped innovate and evolve motor yachts over the decades, from their early days as wooden boats, up to the modern fiberglass, fuel-efficient cruisers of today. Enter the latest and greatest Grand Banks GB85 flagship debuting at the Palm Beach Interntional Boat Show in 2022. Hull #1 of this 25 meter motor yacht will be on display at the show where attendants can appreciate her size and design. The largest yacht Grand Banks has ever built, she is not just bigger but offers owners an exquisit long distance experience aboard, along with best-in-class figures for fuel efficiency and range.
2023 Sunseeker Predator 65
Sunseeker will be kicking off PBIBS with the global premiere of their all new Predator 65, as well as the full line-up of luxury motor yachts on display, at the upcoming Palm Beach International Boat Show from 24th- 27th March 2022. Sunseeker will be represented by its US distributor, OneWater Yacht Group, where the all-new Predator 65 will take center stage with her spectacular global debut. Set to be a real show-stopper, she will be joined by an impressive line-up of Sunseeker's class-leading, innovative models including the Predator 55 EVO™, Manhattan 68 and 74 Sport Yacht.
CL Yachts CLX96
CL Yachts will be showcasing its newly launched flagship CLX96 and promoting their upcoming CLB65 with hull #1 currently still under construction. CL Yachts tous the new CLX86 as "the world's first luxury performance sea activity vessel" (SAV) and a "departure from the traditional motor yacht – a creation born from fresh eyes, new thinking, and smart design". With a spacious beach club, airy salon, modern galley, futuristic master suite, sublime VIP staterooms, large sky deck for socializing and a stunning bow area (called the "Piazza del Sole") this yacht is sure to garner a lot of attention at PBIBS 2022.
Outer Reef 900 Classic
Outer Reef Yachts will be launching their new 900 Classic, a long range motoryacht, marking her world debut at the 2022 Palm Beach International Boat Show. Outer Reef Yachts is and Award-winning long-range motoryacht builder who is proud to be unveiling their latest yacht and making her available for personalized walk-throughs at this year's show.
RSY38m - 124-foot (38m) Rosetti Superyachts (RSY)
Rosetti Superyachts will be showcasing their brand new, 124-foot RSY 38m EXP, a steel-hulled Explorer designed by Hydro Tec and fully customized. She has an aluminum superstructure, generous outdoor spaces, a large sun-bathing beach club/tender garage and wide sea views from every deck. This will be the yacht's U.S. debut (her world debut was in Cannes 2021). Designed for long range cruising in comfort and safety she is now available to the American market.
Other Highlights at PBIBS 2022
Beyond the boats, there are many great ways to enjoy all that is going on at the PBIBS 2022. Below is a roundup of some of the great experiences and displays to check out if you're planning to attend the show this year.
VIP Experience – Windward VIP Club, Palm Beach Modern + Contemporary Art Fair
For attendees looking to experience the show as a VIP, the Windward Club offers the luxuries of a premium open bar, gourmet food, and sponsorship pop-up activations in a unique indoor and outdoor lounge setting. Guests will be able to experience an exclusive sanctuary within the Palm Beach International Boat Show to relax, wine and dine, and plan the day. Located inside the Lakeside Pavilion on Flagler Drive, the Windward VIP Club is open during regular show hours.
The Windward VIP Experience also includes one-day general admission to the Palm Beach Modern + Contemporary (PBM+C) Art Fair, part of Informa Markets' Art Miami division. Both events will deliver a breadth of luxury experiences from Thursday, March 24 through Sunday, March 27 at the Palm Beach County Convention Center and bring a world-class, internationally respected group of art galleries and marine enthusiasts to Palm Beach.
"We are thrilled to bring back the can't-miss art event of the Palm Beach season with the fifth edition of the Palm Beach Modern + Contemporary fair at our new location, aligning us with the respected Palm Beach International Boat Show," said Nick Korniloff, Director of PBM+C. "This year's fair is a direct reflection of our prestigious Art Miami fair that runs annually alongside Art Basel Miami Beach and will showcase select investment quality artworks presented by nearly 100 international galleries representing world-class artists from the 20th and 21st century."
For more information visit Palm Beach Modern + Contemporary Art Fair.
The AquaZone
A "show within a show," the AquaZone, presented by Nautical Ventures, was recently a hit at MIBS 2022, and is an exciting and engaging attraction designed to give show-goers an upfront and personal experience with various water sports and innovative marine products. This hands-on attraction will include continuous demos that range from live paddle boarding, flyboard aerial aquabatics, Hobie kayak demonstrations, Sea Bob diving sleds, Aquabanas Party City, Fliteboard electric foil boards, Yujet electric surfboards, and much more.
Kids' Fishing Clinics by Hook the Future
For aspiring anglers ages four to 16, the Kids' Fishing Clinics offer instruction in basic fishing techniques hosted by Captain Don Dingman. Presented by Hook the Future, the Kids' Fishing Clinics provide interactive education in selecting tackle and lures, casting a rod and reel, reeling in a fish, and fishing ethics. Upon completing all learning stations, participants are eligible to win special prizes.
Ticket Prices, Options And Show Hours
Enjoy One-Day, Two-Day, Windward VIP Experience, and Superyacht Show Palm Beach ticket options at the Palm Beach International Boat Show. Tickets are valid Thursday through Sunday. Children under the age of 6 are free if accompanied by an adult, and guests must be 21 or older to access the Windward VIP Club.
Children (6+) – General Admission One-Day Ticket: $15
Adult – General Admission One-Day Ticket: $29
Adult – General Admission Two-Day Ticket: $54
Adult Windward VIP Experience One-Day Ticket: $350
Adult Superyacht Show Palm Beach Two-Day Ticket: $1,000
The show runs from 12 pm to 7 pm on Thursday, March 24, 10 am to 7 pm on Friday, March 25, through Saturday, March 26, and 10 am to 5 pm on Sunday, March 27.
Superyacht Show Palm Beach 2022
Superyacht Show Palm Beach includes two-day admission to the 40th annual Palm Beach International Boat Show, the Superyacht Show Palm Beach at Safe Harbor Rybovich, the Palm Beach Modern + Contemporary Art Fair. Enjoy premium open bars and gourmet food at the Windward VIP Club and Superyacht Show Palm Beach hospitality suites at the Ben and Safe Harbor Rybovich. Superyacht Show Palm Beach also includes complimentary premium transportation service to/from Safe Harbor Rybovich.
For more information on activities, boats on display, exhibitors, transportation, and parking, visit the Palm Beach International Boat Show website.