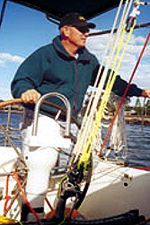 Few people could say that their life-long passion was born out of afternoon mathematics tutoring. But then again, algebra and calculus could make anyone turn their minds to other things. This was the case for 48-year-old sailor Tony Mowbray, whose whole life has been dominated by sailing, and is now giving birth to his new life as a successful motivational speaker.

"I've lived in Belmont all my life pretty much. When I was 11 my mother sent me off to get some extra maths tuition after school with a guy called Bob Snape. He owned a yacht called "Odin" that was berthed at Lake Macquarie Yacht Club. I saw a pole in the corner of his dining room and I asked "what's that", and he said it was a spinnaker pole off his yacht. So next minute I was down at the yacht club looking at his boat".

Tony entered the sailing world with an open mind and was welcomed with open arms as he dived into Sunday competition, sailing "Odin" with his mentor Bob Snape.

The extensive sailing throughout his teenage years built a foundation for him to achieve great expeditions such as the disastrous 1998 Sydney to Hobart, the 181-day-long Solo Globe Challenge and the 2003 Antarctic expedition.

Behind the brave and adventurous exterior shaped by his expeditions and "pep-talks", Tony has an enthusiasm for another lifestyle seen by few.

"I have two children, Holly (12) and Jordan (10). When I'm not sailing my pasttimes are helping my children work their way through life. So whatever time I've got I try to spend with them".

After competing with 5 phone calls and 1 fax transmission throughout the interview, it was evident that he was one extremely busy individual. With his new career in motivational and corporate speaking, his life has become exceedingly hectic. Tony has motivated workers with his speeches at Hunter Area Health, Toyota Motor Corporation, as well as a number of other companies, and is now preparing to visit Coca-Cola in Japan.

"I work very hard at having a balance, because I don't want to be one of those parents with grown up children, lamenting those lost years".

With around 100 presentations a year, combined with the amount of time spent on the water, he admits (with a hint of regret), "I certainly have missed some time with my children".

The Solo Globe Challenge in 2000 was a significant contributor to this, lasting 181 days. This was a personal test for Tony, using all his knowledge compiled over his many years of sailing to venture solo, non-stop and unassisted around the world. One of his life quotes is "proper planning helps prevent poor performance", and this was the case for the Globe Challenge, requiring three-and-a-half years of time and commitment before sailing out of Newcastle Harbour.

"The time before I left had an enormous impact on my family. I was committed to the trip and the preparation. The time spent in finding the money to pay for it all really was super tough".

"My wife (Lorraine) has always been very supportive, but my children found it much harder to cope. My daughter was very upset but as the trip went on she realized there would be an end to it. But my son just couldn't appreciate how long I was going to be away. I would put a radio call through from out at sea and if he answered the phone he just couldn't talk. That was very difficult for me".

On par with the emotional challenges are also the physical challenges, and the un-avoidable problems, where if they can happen, they will. During the Solo Globe Challenge, apart from the two times Tony was in "full blown survival mode", two other miss-haps had the potential to bring the expedition to its knees. On day 35 a fitting broke through (called a chain plate), nearly bringing the mast down. The next 7 days were spent drifting in the Great Southern Ocean trying to recuperate and recover his course.
The other major problem happened just after he had rounded Cape Horn.
"Around about the 55th or 60th day I discovered 300 litres of my fresh drinking water had become contaminated by salt water".

He admits that his fears of the Solo Globe Challenge were compounded by the 1998 Sydney to Hobart race,
which blew him out of the water physically and psychologically. But after spending over 15 hours in extremely rough and treacherous waters, which included surfing down the face of a 60ft wave, one could only be slightly sceptical about facing six months of sailing alone.

Unlike some who would fear going back into the water after such a draining event (and how could you blame them), Tony has persisted in holding a positive attitude.
"After surviving the '98 Hobart and the around-the-world trip, my attitude to anything now is that I can do it! It's given me a whole different mental approach and enhanced my positive attitude".

This perspective has allowed Tony to move on and expand his sailing repertoire with expeditions around the world, Antarctica, and recently, the Hydro Tasmania Three Peaks Race.

Running for 16 years in Tasmania, competitors sail three legs to three different locations, followed by a marathon-length hike up a mountainside.

"We did well to come in third place, and it was a great learning experience. I would definitely go back again".

Tony's local profile as an adventurous and dedicated sailor planted the seeds in his mind to kick-start his corporate speaking career. After he and his mate Morry were the first to sail continuously around Australia in 1994, a number of rotary clubs and community service clubs like Lions began requesting him to speak to their members.
"I guess it was like going to the ocean when I was 14. As soon as I started, I knew I loved it". The around the world trip involved a lot of planning, and incurred numerous debts which needed to be paid off when he returned, such as the $65 000 borrowed to pay for his $108,000 boat. But within two days before his departure, he still had no idea how he was going to pay it back.

"A good friend of mine came to me and asked how he could help. I explained to him this problem about my debt. So he took my loan repayment book and every month he went into the bank and eventually paid it off for me".

"So from the day I got back, with a family to support and debts to pay I started speaking and it's built up and continued from there".

So, from afternoon sailor to accomplished adventurer voyaging all over the globe, and now a successful motivational speaker, he left me with a few words of wisdom which I delightfully accepted.

"Dream, think, talk, commit, act, because success doesn't come to you, you go to it, and it doesn't matter if you don't get there, as long as you have a go".