See more articles
Raymarine Dragonfly: A Whole New Breed of Fish Finder
The Dragonfly combines CHIRP spread-spectrum technology with Raymarine DownVision, their version of hi-res sonar imaging - at an unbelievably low cost.
Raymarine claims their new Dragonfly fish finder is a "whole new breed" of fish finder, as opposed to simply being a next-generation model like the e-series they introduced the year before last. That's a pretty bold claim, and it was put to the test when Raymarine pitted the Dragonfly against 14 of the hottest new electronics on the market, by competing in the 2013 NMMA Innovations awards last week. Net result? The Dragonfly won.


The Dragonfly has several features which set it apart from the rest of the crowded fishfinder field. It incorporates a low-powered form of CHIRP, also known as spread-spectrum or (in Raymarine's case in specific) ClearPulse technology. To over-simplify things, think of units harnessing this ability as sending out their signals through a frequency band, instead of a single or double frequency. But this is pretty in-depth technology which takes a lot of explanation, so if you're not already familiar with these types of fishfinders read up on them in our New Wave Fishfinders article.

Along with this type of fishfinder, the Raymarine Dragonfly has what the companny dubbed "DownVision". In a nutshell, this is their version of a downward-looking hi-res scan which provides spectacular detail, right down to individual tree-limbs and the fish hovering around them. Very high frequency signals are sent out in a fan-like shape, instead of the traditional cone. Again, an understanding of hi-res scanning fish finders requires an in-depth discussion; this one you can find in our article describing Lowrance Structure Scan, one of the first of a similar breed.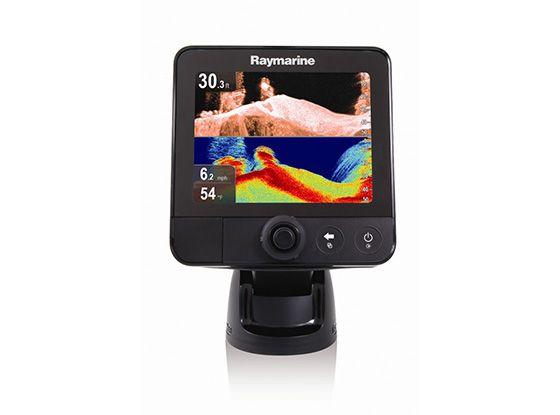 But fish-finding isn't the Dragonfly's only trick. This unit, which has 5.7-inch color LCD (that happens to be exceptionally crisp and bright, although it does black-out when viewed from the sides with polarized sunglasses), also houses a 50-channel GPS/chartplotter that can handle Navionics chartography.

The unit was designed to be simple to use, so most of the functions are automatic and the menu options are fairly limited. Your interface is a press-to-click toggle at the bottom of the unit, plus just two buttons. During our sea trial I felt the unit was so easy to figure out that a sea monkey could use it. But by the same token, advanced mariners may be put off by the lack of in-depth options and an inability to network.

So overall this sounds like a cool unit, right? It mixes some awesome new technologies and adds some stand-bys to an easy to use, compact, but powerful fish-finding package. So, what really sets it apart from everything else we've seen in the past? If you can afford to buy bait, you can almost surely afford to buy the Dragonfly. It carries an MSRP of just $649, and on the street you'll probably see it for less than $600. Up until now, you couldn't so much as peep at CHIRP unless you were prepared to spend several thousand dollars. In short, the Dragonfly brings new tech to the masses, in an amazingly short time period after its initial introduction. Get a more detailed look, by visiting Raymarine.