See more articles
2012 Boston Whaler 210 Montauk: Video Boat Review
The basic design of the Montauk has been around for generations, and this 210 combines fishability and family fun into one trailerable package.

Read Jeff's 2012 Boston Whaler 210 Montauk Boat Test Notes

Transcript
One look at the square bow, low freeboard, and high perimeter rail, and you instantly know that this boat is a Montauk, one of Boston Whaler's most legendary designs. The 210 is the largest boat in the Montauk line, yet with a standard trailer it's still easily towable to and from the water. Once there, as you can imagine this boat excels at fishing. But as we'll see in our review, it also has the amenities that make it great for cruising, skiing, and wakeboarding. Let's take a closer look at the largest model in the Montauk line.

Interview
Bob, with a lot of more cutting edge designs in the Whaler line, what kind of buyer goes for the tried and true Montauk?

Bobby Garza, Boston Whaler: Well Jeff I think most Montauk buyers are somebody who appreciates the more traditional classic lines of Boston Whaler. They're somebody who's looking for a safe, stable platform for their family. It has ample features, but not too many to make the boat too complicated; they're hose and go type of people, more utilitarian. They're just looking for a simple, safe platform.

And to make it convenient for that buyer, you offer this as a package deal.

Bobby: Yeah, absolutely. We offer a boat/motor/trailer package. The customer's going to get a well equipped base boat, with a Mercury 150 four stroke engine. The trailer underneath it is actually designed for this hull, so the customer's going to get a versatile package but also customizable for whatever their boating needs.

Features
With cushions in place, this foredeck makes a great spot for the family. But the Montauk's true passion is fishing. Remove those cushions, and below this casting deck you'll find a large, insulated fishbox that drains overboard. You can also use it as a good spot to keep drinks and food.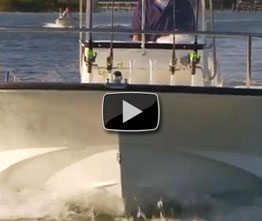 In front you'll find a dedicated anchor locker with a notch for the rode. Like all Boston Whalers, it's beautifully gelcoated inside, which makes it look nice. But I'd probably add some type of padding, just to keep the anchor from banging around or digging up the fiberglass.

Turn aft and you'll find this classic cooler seat, with a padded backrest. Going with a removable cooler allows you to take it on and off the boat for convenience. When it comes time to fish, remove that backrest and your rods fit securely in place.

There are multiple seating configurations aft. In this case, these quarter seats make clever use of the rod holders to secure the seat backs. The aft swim ladder is angled out at 45 degrees and can be deployed from the water. Both of these are great safety features.

This reversible pilot seat features storage below. Options include a tackle drawer and an aerated live well.

The 210 is the only Montauk to feature a finished head compartment within the helm console. It's surprisingly roomy inside for this size boat, but I would like to see a ventilation port just to get a little fresh air in it.

Testing the Ride
Boston Whaler's classic construction fills the hull completely with foam. That gives Whaler its unsinkable reputation, but it also produces a nice solid feel underfoot, especially in rough water. With a shallow draft, the Montauk planed quickly and delivered a dry, stable ride. It was a little bit loose in the corners at times, but that's to be expected with the shallow deadrise. We jumped on to plane in 3.5 seconds, reached a top speed of 43.4 mph, and found excellent fuel economy in the midrange.

Wrap Up
Something gets termed a classic because, let's face it, it works. The basic design of the Montauk has been around for generations. And if it continues to perform as well as this 210, I'm guessing it's going to be around for many years to come. Now I'm gonna go have some classic fun.