See more articles
2012 Boston Whaler 230 Dauntless: Video Boat Review
This center console gives fishermen the features they demand and families the comfort they deserve.

Read Jeff's 2012 Boston Whaler 230 Dauntless Boat Test Notes

Transcript
A lot of center consoles do a great job of building a fish boat. But far too few master the concept of a fish boat that is also great for the family. Seating is the best example; they're in short supply and what is available is rarely comfortable. Boston Whaler 230 Dauntless won an innovation award by being an exception to this rule. Here's our review.

Interview
Doug, I think one of the best examples of versatility on the Dauntless is found here in the bow cockpit.

Doug Nettles, Boston Whaler: Good observation. One of the characteristics of a Boston Whaler is how customizable it is. Underneath these cushions you have lockable rod storage. We have a very robust casting platform with nonskid, we've got a livewell that's aerated, rod holders. The seat goes down, now you have seating with a backrest. Nice comfortable area up here, it's really nice.

And you've also done an innovative thing here with the backrests to let passengers face forward.

Doug: Yup, let me show you. Just pull up the backrest here and you've got great seating. Same thing goes on in the back of the boat. You still have the large casting area, with the non-skid. You have rod holders. With the flip of a lever that comes up, and you've got comfortable seating. And storage underneath.

Features
We touched upon this expansive casting deck in the bow. Underneath those cushions, you've got tons of storage in this boat. In the center we've got an insulated cooler. You can use it for ice or drinks or it's a good spot to store your fish. It drains overboard, so you don't have melting ice coming down through the cockpit. All the compartments are also gasketed, and guttered to keep water out.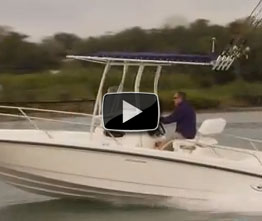 To port we've got lockable rod storage, a great space to store your gear. Forward we've got a dedicated anchor locker with a notch for the rode. The only thing I'd probably change is this nice gelcoated finish? I'd probably add some dri-deck or something just to keep your anchor from beating up the gelcoat.

Now no self-respecting fisherman would ever use the portable head on their boat, but it's nice to know it's there, especially if you've got kids, like I do. I can imagine my daughters would appreciate this more than a five gallon bucket. If you do have to come in here, it's nice to know you've got decent headroom and a port for ventilation.

The standard reversible pilot seat features a pull out removable cooler. This boat is optioned with a 25 gallon aerated live well and raw water washdown.

If I was to suggest one feature, it's this well-made optional T-top. A clever feature is this opening panel for your rod tips.

This transom boarding ladder shows nice attention to detail. You can access it from the water without having to open the hatch.

Testing the Ride
The Dauntless helm offers a secure yet comfortable feel. There's plenty of space on the dash for adding today's larger electronics. And digital throttle and shift offers precision control of the engine on the transom.
With a Mercury Verado 250, I recorded a top speed of 48.2 mph, and a best cruise if 3.2 mpg at 4000 rpm, where we were running at 28.3 mph.

Wrap Up
Building a truly versatile center console is a tall order. But by getting the fisherman the features they demand, and yet providing some comfortable seating and some unique options that will make families feel comfortable on the boat, I think Boston Whaler has hit this one pretty close to the mark. Enough of that, I'm gonna go off and have some fun.