See more articles
2012 Boston Whaler 315 Conquest: Video Boat Review
New for 2012, this fishable cruiser stays true to Boston Whaler's unsinkable heritage.




Read Jeff's detailed 2012 Boston Whaler 315 Conquest Boat Test Notes

Transcript of Boats.com's Video Boat Review
Old salts wouldn't recognize today's Boston Whaler. After all, the Conquest 315 boasts 600 hp on the transom, and a cushy cabin that would rival many comparably sized cruisers. But then again, maybe they would. As our test of the 315 showed, Boston Whaler's core values haven't changed. The boat features the same unsinkable construction process that made the company famous, and a hull not intimidated by the open ocean. Here's our review of one of the newest members of Whaler's growing Conquest lineup.

Interview
Will, the Conquest can fish, but this boat also makes a really good cruiser.

Will Rogers, Boston Whaler: You know, with our cabin that will sleep up to four full sized adults, our fully enclosed head, galley area, it really is built for those long overnight cruises.

Now I sat in that seat this morning, when we were out in the Atlantic, and as a passenger it kind of surprised me: this boat has a really soft, solid ride. Now I know you've done some new stuff to the hull.

Will: Well this 315 Conquest is a brand-new hull for Boston Whaler, developed by our naval architects, and one of the things that they do is they soften the ride, they provide a much drier ride than in some of our previous generations, and of course we're trying to make sure we live up to our reputation of safety, which we experienced out there in the ocean today.

Fishermen are always looking for areas to store tackle; we have some big drawers here for doing that. And also new for our 315 Conquest is this bait-prep area.

Underneath that cutting board I think is one of the coolest options you guys offer.

Will: That's right, Jeff. Here you can do right from fillet to grill. We have our summer kitchen option on this boat!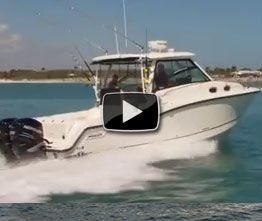 Interior
Boston Whaler's done extensive research on what consumers want from a boat of this size, and the results heavily influenced this cabin. One example's the galley. Cooking is rare aboard, so a microwave makes a more practical solution. A slide out extension offers counter space, but pivots away when not in use. Overhead natural light opens up the feel below.

The dinette also quickly and easily converts to a berth; one push lowers the gas shock-assisted table; rather than search for a filler cushion, existing cushions simply pull inward to complete the berth.

Many mid-cabin berths are a claustrophobe's nightmare. Rather than partition it off, Whaler kept this one wide open.

Even the head manages to feel open. A vacu-flush toilet and Corian countertop are standard, although I would like to see the shower pan one continuous gelcoated piece. The current vinyl inset seems like it would be a magnet for dirt around the edges.

Features
We touched upon the versatile nature of this helm area; much of that's made possible by the integrated hard top and windshield system. It offers great protection from the elements, yet eliminates the canvas, zippers, and enclosures that typically obstruct the captain's view forward.

Rather than a bench, the port side passenger layout offers a spot for two of your crew to sit facing forward, and an additional one to sit facing aft. A clever design hides a table within this pocket. One surprising omission: There are no cupholders within reach.

The cockpit also has features that will satisfy the cruiser. This open transom's perfect for fishing, but when it comes to cruise, a transom bench pivots cleanly out. Stainless steel hinges eliminate the need for additional support.

Testing the Ride
Digital throttle and shift, along with power assist steering and optional bow thrusters, provide effortless control of the boat, whether you're maneuvering at the dock or in open water. In three to four foot seas, I found its deep-vee hull to track true and offer an exceptionally soft ride. I noted a top speed of 45.8 mph, and a most efficient cruise of 1.31 mpg at 26 mph.

Wrap Up
Let's be honest, a Boston Whaler is an expensive boat. But as the saying goes, you get what you pay for. By staying true to the heritage of the line, Whaler designers have produced a versatile cruiser I wouldn't hesitate to put my family on. Sea trial one, and see if it's right for yours.