See more articles
2014 Cruisers Sport Series 259: Video Boat Review
If you really want to understand how a boat will last, visit the factory. That's just what reviewer Lenny Rudow did after testing this 25 foot cuddy cabin from Cruisers Yachts.







Read Lenny's detailed 2014 Cruisers Sport Series 259 Boat Test Notes

If you really want to understand how a boat is going to last over the long haul, you've got to have a deep understanding of how it's built. Now we came here to Oconto, WI to test this Cruisers 259. Let's go visit the plant and see exactly how this boat is put together.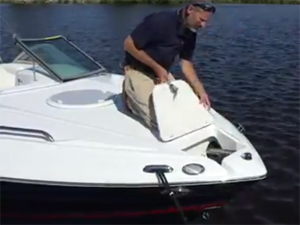 We wanted to get you a really indepth view of how these boats are built, so we came to Cruisers' factory. Now Jon, one thing I noticed today as I was swinging the seat back and forth: It's solid as a rock. And now we can see how. Will you show us?

Jon Viestenz, Cruisers Product Manager: The reason our hinges and any moving parts seem solid is because we take the time to put quarter inch aluminum backing plate into the lamination schedule. Those are specifically mounted in places where we're going to attach to the fiberglass part with hinges, seat bases, cleats - it's throughout the whole boat.

Now I want to move on and show you some of the features of this boat, but we just can't close this engine room hatch yet. First off, look at the step with the non-skid. Most boats this size you won't find that.

Now let's take a look at how Cruisers set up the bilge pump. I love this: pump, float switch, back up float switch!