See more articles
2014 Cruisers Sport Series 278 Extreme Package: Video Boat Review
If you're ready to start living life to the extreme, the Cruisers Sport Series 278 will help you do it.







Read Lenny's detailed 2014 Cruisers Sport Series 278 Extreme Package Boat Test Notes

If you want to live life at the extreme - catch big air when you go wakeboarding, and enjoy activities like wake surfing, then check out the Cruisers Sport Series 278 bowrider with the Extreme Package.

Equipped with a Volvo-Penta V8 that puts 320 horsepower through the drivetrain, we came close to 50 mph and we cruised well above 30.

You can turn radical hair-pin turns, too. Check out the notch in the chine. That helps the hull grab and you can whip it around.

You might ask yourself just how strong a tower Cruisers put on the boat. Don't worry about it. Even the board racks are tough aluminum.

This boat also makes relaxing easy. The aft bench seat flips back into a big lounge. The swim platform has gobs of acreage, a built in cooler, a waterproof stereo remote, a swim ladder, and its cut at an angle so you don't hit the dock.

Inside the roomy, locking deck boxes the floor is solid, not like some which have a shell inside. Open the console hatch to see a big awesome woofer for the stereo system, but the plastic door is flimsy. Cruisers added a self-deploying ladder to the anchor locker.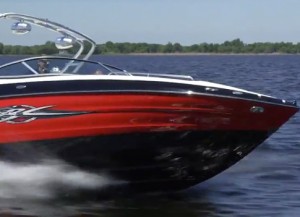 I wish there was a strap or support for the hatch so the hinges didn't get stressed.

You can get an eyeball on the notch in the chine that helps the boat turn, but why is the surface non-skid? Jon Viestenz answers: That surface is rough to create turbulence so there's less friction and the transom has more lift. So it acts like a step introducing some air.

If you're ready to start living life to the extreme, the Cruisers Sport Series 278 will help you do it.

Watch our 2013 Cruisers Sport Series 278 Video Boat Review