See more articles
2014 Danalevi Furina: First Look Video
This retro runabout looks like it came back from the future.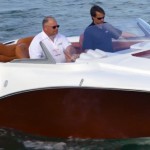 Every now and then, you run into a completely unique boat - like the Danalevi Furina. We discovered this runabout at the 2014 Miami Boat Show, and took it for a quick ride.


This 22-foot stern-drive boat has eye-grabbing styling, which is a mix of retro and futuristic designs. It also has some very unusual features, like cockpit air conditioning and an electric engine hatch. Take a look with reviewer Brett Becker, and find out what the Danalevi Furina is all about.