See more articles
2014 Harris Flotebote Crowne 250: First Look Video
The Crowne 250 from Harris Flotebote is a pontoon boat fit for a king.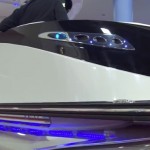 The Harris Flotebote Crowne 250 is one of the most extravagant pontoon boats on the face of the planet, and we had a chance to walk through some highlights of this boat at the 2014 Miami Boat Show. Check out the seating, joystick controls, Skyhook function, and more.


If you'd like to increase your pontoon boat IQ, take a peek at our Top 10 Pontoon Boats of 2013, or 5 Rocket-Fast Pontoon Boats.