See more articles
2014 Solana 33: First Look Video
Here's a quick video of the Solana 33, a sailboat built in Croatia.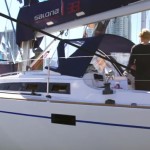 Here's a glimpse of the Solana 33, a cruiser built in Croatia. This sailboat has very unusual construction, with a stainless-steel grid supporting the structure. In this First Look Video, you'll see the cabins, galley, and cockpit.


This is, of course, just a taste. If this one has whetted your sailing appetite, read Zuzana's full review of the boat, Solana 33: Sailing Independence and Freedom.