See more articles
Beneteau First 7.5: A Blend of Sail Trainer, Daysailer and Raceboat
Beneteau First 7.5 to replace the First Class 8


Beneteau's First Class 8 has had a storied life in France and elsewhere in Europe. Originally designed as a boat suitable for the many sail instruction programs in France, it has evolved into an extremly popular club racer. The ranks of elite offshore sailors are filled with former (and current) First Class 8 owners.

Having filled it's function as the main training boat for many years, the First Class 8 is starting to show signs of aging. Thus it was proposed that a new, more modern design come into being to eventually replace the fleets. The French Sailing Federation once again turned to Beneteau, who themselves turned again to designer Jean Marie Finot, founder of the famed Finot Group. The result is the new Beneteau First 7.5.

The boat is not just the work of one man or design house, however; there were over 30 experts taking part in th development of the new boat, including Marc Bouet, Jean Yves Deroff, Lonel Van Der Houwen and First Class 8 specialists Laurent Bregeon and Benoit Charon. One can clearly see the influence of Finot's work in the Open 60s in the deck design, however.

The design brief was to modernize the sailplan, hull design and appendages, while still keeping to the core values: easy to rig and sail, good for beginners and fast enough to keep the racers interested.

The rig is decidedly non-radical: fractionally rigged with a single set of spreaders and a backstay attached to the mast by means of a whip (thus allowing a modern mainsail planform with plenty of roach in the head). There is a jib, main and, surprisingly, a symmetrical spinnaker, albeit one flown from a bowsprit.

Unlike the new Beneteau Figaro 2, the 7.5 has just a single transom hung rudder (lifting). As with the First Class 8, the 7.5 has a kickup centerboard, making it easily trailerable and launched in shallow water. The large mast box means that one can step the aluminum spar without a crane. The boom is carbon.

The VPP provided by Beneteau at this year's Salon Nautique, where the boat is making its worldwide debut, shows the 7.5 making 13 knots at 140 degrees in 24 knots of wind, 17 knots boatspeed in 32 knots of wind at 150 degrees. Who says a training boat has to be slow? Not Beneteau or Finot!

After two years of development, the first boats will sail in early 2004 in Spi Ouest in France. The official 7.5 class circuit will begin in 2005.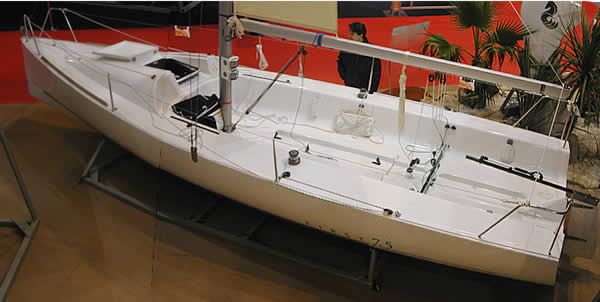 Photos courtesy James Boyd, TheDailySail.com
Specifications

| | |
| --- | --- |
| LOA | 7.49 m |
| LWL | 7.49 m |
| Beam | 2.54 m |
| Draught | 0.80/2 m |
| Upwind Sail Area | 39.50 m2 |
| Spinnaker | 65 m2 |

See www.beneteau.com