See more articles
Valiant 40: A Legend in its Own Time
Valiant 40, the Quintessential Passmaker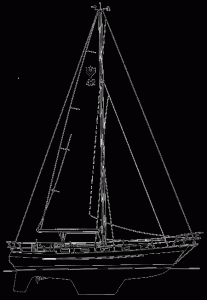 It seems as though the Valiant 40 has been around forever, but it's been just quarter-century since the lines for Hull No. 1 came off the board of Bob Perry, only 25 years since a Valiant 40 became the first American monohull to complete the 1976 single-handed transatlantic race, and only 22 years since the first Valiant 40 Hull No.107 Foreign Affair completed a circumnavigation of the world, her owners Bill and Mary Black winning the Blue Water Medal of the Cruising Club of America (CCA) for the accomplishment. And it's only been 18 years since the venerable Hull No. 1, with tens of thousands of offshore miles already under her keel, competed in the first BOC Around the World Race.

Since 1974, Valiant 40s have quietly, and in a businesslike fashion, crossed oceans, circled the world, and probed the backwaters of the world on too many occasions to count. So it is not surprising that the most emotional comment we can extract from a Valiant 40 owner is: "This boat is an offshore passagemaker." No kidding! And you can own one of these classics for $100,000, give-or-take. In a recent classified, a "Valiant 40 Project Boat," total refit nearly complete, was listed at $69,000. Hull No. 187, with an asking price of $130,000, is sitting at the dock in San Carlos, Mexico, waiting for you to take her over and make a beeline for the horizon. Newer models are a lot more expensive; a 1992 V40 was advertised recently at $285,000, loaded. Production of the V40 ceased in 1992, which certainly adds to its mystique and reputation as a true offshore classic. It has been replaced with the Valiant 42.

Now that we have your attention, let's see if our readers agree with the fanfare.

Offshore qualities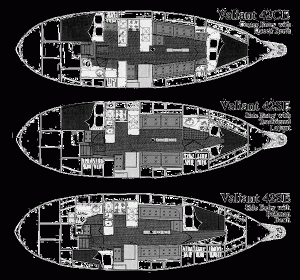 "The Valiant 40 is very predictable and provides a comfortable ride in the ocean," wrote one owner, having logged a longest offshore passage of just under 1,000 miles. For an offshore boat, these are significant comments, and overall offshore ratings average between nine and 10. Scores for other passagemaking qualities reinforce this confidence in the design. Ratings between seven and 10 (on a scale of one to 10, with 10 being perfect) predominated for cockpit protection (eights), deck safety (eights and nines), reefing setup and dryness on deck (sevens, eights and nines), response to a windvane (nines and 10s), autopilot (8s and 9s, with one 10), watertightness below decks (average score of nine), and sea berths and seagoing galley (both average scores of eight). For the record, the Monitor wind vane was the unit of choice among the V40s in our survey.

Ratings for dinghy and life raft stowage were all over the map, ranging from six to nine, which is surprising. With that long coachroof and mast stepped almost amidships, there should be plenty of room for a hard dinghy forward of the mast. And even with a full-sized dodger, a life raft mount should fit nicely aft of the mast.

The comfortable ride to which the owner alluded above is not surprising, for N.A. Ted Brewer's Comfort Ratio for the 22,500-pound displacement Valiant 40 is 34. "The modern oceangoing auxiliary will be somewhere in the 30s, although some light-displacement yachts will range below this," says Brewer. The Sail Area/Displacement ratio is 15.5, which is consistent with Designer Perry's conviction that boats for people who like to sail in 20 knots apparent without reefing should have maximum SA/Ds of 18.5. Ever the devil's advocate, Perry believes that one shortcoming of the design, by today's standards, is the short rig. But he also believes that for day-in/day-out world cruising, the short cutter rig makes sense.

The critical Displacement/Length ratio is 256, a good number for a non-ULDB boat that must pile up the sea miles while carrying all the accoutrements of offshore cruising. The longest 24-hour run logged by any of our respondents was a respectable 180 miles, again not surprising when you consider her relatively long waterline, fin keel and midsection modeled after that of a Two-Tonner from that era. Valiant 40 Hull No.122 set a record between Newport, Rhode Island, and Bermuda that stood for 10 years, to be broken by a 60-foot BOC greyhound. In 1983, Mark Schrader sailed V40 No. 252 solo around the world via the five great capes 27,188 miles in 199 days, which was then a record for a solo circumnavigation.

Construction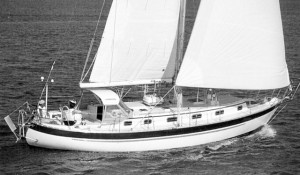 There is little doubt that the designer and the builders of the V40 have always favored robust construction and the survey scores confirm that they were successful, with hull and deck construction garnering perfect 10s, hull-deck joint and chainplates with average scores of nine, and keel-joint, rudder and shaft and steering-system averaging between eight and nine.

Engine installation received high marks, averaging between eight and nine. This is probably a reaction to the high-density sound-proofing of the engine-room and the flexible shock-absorbing mounts bolted to glassed-in aluminum engine-bed plates. Ports and hatches scored relatively low, with an average score of seven. No reader explained the low scores, but we suspect they were a function of age and the practice in earlier boats of building wood hatches instead of installing aluminum-frame models. Hatches will, in time, fail as gaskets crystallize and fatigue.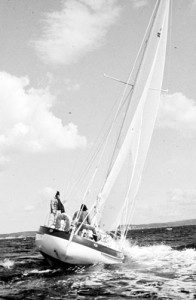 The hulls really are strong. One reportedly withstood an 18-hour assault by a whale; another survived a three-and-a-half week mauling in the surf, and yet another withstood a six-hour grinding on a reef. V40s have fallen off countless breaking waves in the Southern Ocean without structural damage. The hulls are laid up of 1.5-ounce mat and 24-ounce woven roving in a one-piece mold. High-stress areas are reinforced with up to 21 layers of mat and roving, using uni- and bi-directional glass where needed. Hull-deck joints are bolted and machine-fastened. Full-length longitudinal hat-stringers built up of laminate on high-density foam core, along with transverse floors below the cabin soles, stiffen the V40 hulls. All bulkheads are bonded to the hull. Closed-cell foam insulation not only deadens sound, it also reduces condensation below. Decks were hand-laminated balsa-cored fiberglass with molded non-skid for a high weight-to-strength ratio well above the center of gravity.

Solid lead keel ballast with 4 percent antimony for hardness is externally bolted with stainless-steel bolts and backing plates. Chainplates are through-bolted and backed with aluminum plates on powerful inboard knees. Rudder and skeg are steel-cored high-density foam, fiberglassed with the same schedule as the hull laminate. Rudder gudgeon is cast bronze. The full-length sacrificial teak rubbing strake will be appreciated in those commercial ports where the V40 will have to tie up alongside a barge or a fishboat to top-off. Wide side decks, an uncluttered forward deck and high bulwarks provide safe, efficient working areas for sail changes.

The big knock on Valiant 40 construction is blistering caused by osmosis. Most of the boats in our survey that were built by Uniflite (which built hulls 101 through 259) reported blistering to one degree or another. This was purely a function of Uniflite's use of Hetron fire-retardant resin, which the Navy required for the Vietnam War gunboats the yard was building. "In using this resin, Uniflite thought it was doing everyone a favor," Bob Perry told us. "The Hetron resin would not support combustion on its own, and there were documented instances where it stopped fires that were sweeping down the docks."

"Blisters are everywhere on my Valiant that was built by Uniflite," reported the owner of V40 built in 1977. "I've peeled from toerail to keel. Deck still has problems." The reason the deck has problems, Perry said, is that Hetron blisters are not a water/osmosis phenomenon; rather, they are uncatalyzed pockets of resin that kick off with a rise in air temperature. Perry himself owned a Uniflite Valiant 40 that stayed in the Northwest, and it did not experience a single blister. Yet that same boat, he said, could be cruised south to Mexico, where it would develop blisters. "And always deck-first," he added.

Because of the problem with the resin, V40 owners filed a class action suit against Uniflite. The company, or its insurance company, settled the suite but the settlement required that all related documents remain sealed and barred participants in the suit from discussing the terms. The upshot, today, for those interested in buying a V40 with a hull number below 260 is to find one that has been repaired or one that has not shown signs of blistering. Hulls from number 260 through the last built in 1992 are all laid up with isophthalic resin and are virtually immune to osmotic blistering.

Performance Ratings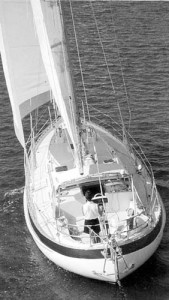 "One weakness is going upwind in a chop," Perry said. "This is because the bow is flared, but when you crack off, she's a very dry boat and the flare adds to the waterline." Performance ratings are generally high among our survey respondents. Upwind sailing scores averaged only eight, perhaps because of the flared bow. Sailing angles were in the 90- to 100-degree range. Downwind scores averaged about eight. Marks for forward, reverse and docking under power averaged about 8.5, high, but with an underbody like the V40's, the boats should be maneuverable. These boats are known to track well, a key attribute for a passagemaker, and survey scores over nine confirm this. Scores for performance in moderate and strong winds averaged nine; light-air, seven. Storm scores averaged nine, and one respondent countered: "What's a storm?"

Accommodation

Tens proliferated in the berth size, ventilation, galley efficiency and galley stowage (one 10+! from an experienced passagemaker) categories. Berths are large, and sea berths exist for three if lee cloths are installed. The double quarter-berth to port will be a splendid spot to rest up for your watch in most any sea, especially when on the starboard tack, and both dinette and settee in main cabin will provide secure sea berths. Standard galleys were to port, U-shaped, with stove to port, reefer forward and sinks, cabinets and drawers aft. A large storage locker was over the stove. A galley belt will make cooking a lot easier when on the port tack.

Eights and nines predominate in the areas of personal and food and equipment storage, stove/oven installation, cabintery and wet gear storage (one 10). The wet locker at the bottom of the companionway explains the high scores in this last category. Storage is excellent on the V40. Two hanging lockers, two shelf lockers, many lockers and shelves between ceiling and hull, plus the entire forward cabin, swallow an awful lot of clothing and gear. The standard ventilation setup was two dorade boxes with cowl vents, so the high ventilation scores may be the result of additional vents added strategically over the years.

Average scores less than eight were given to lighting (sevens), main table (average just over seven) and chart table (just under eight). One passagemaker commented that the table in his dinette model "was marginal for four; good for three or fewer." He gave his saloon table a five. Original forward and main cabin hatches were translucent, which should have lightened the interior, but they become opaque over time and need to be replaced. The nav station, across from the galley, is pretty typical with chart table forward, electronics and book shelves to starboard. Average ratings for living aboard and for offshore voyaging were nine and 9.5 respectively. It doesn't get too much better than that!

Summary

When Bob Perry was asked recently which of his designs came closest to his ideal offshore cruiser, his answer was the Valiant 40. "If I was going to go voyaging," he said, "I'd probably take a Valiant 40 with a taller carbon-fiber stick. The Valiant does everything well, and it's strong and forgiving."

"If I have to say one thing about the Valiant 40, it is this," Perry told us: "You can put an experienced sailor on a Valiant 40 and you can get a smile out of him. If you picture a Valiant 40 as a pie-graph, few boats come as close as the Valiant 40 to filling the pie with all the different aspects of performanceperformance under power, under sail, upwind, downwind, initial stability, and quality of life offshore."