See more articles
Sea Doo Explorer Pro 170: Multi-day Sea Trial Adventure!
Laila Elise tests out the new Sea Doo Pro Explorer 170 with an adventurous squad as they tour North Florida on a 3-day personal watercraft excursion.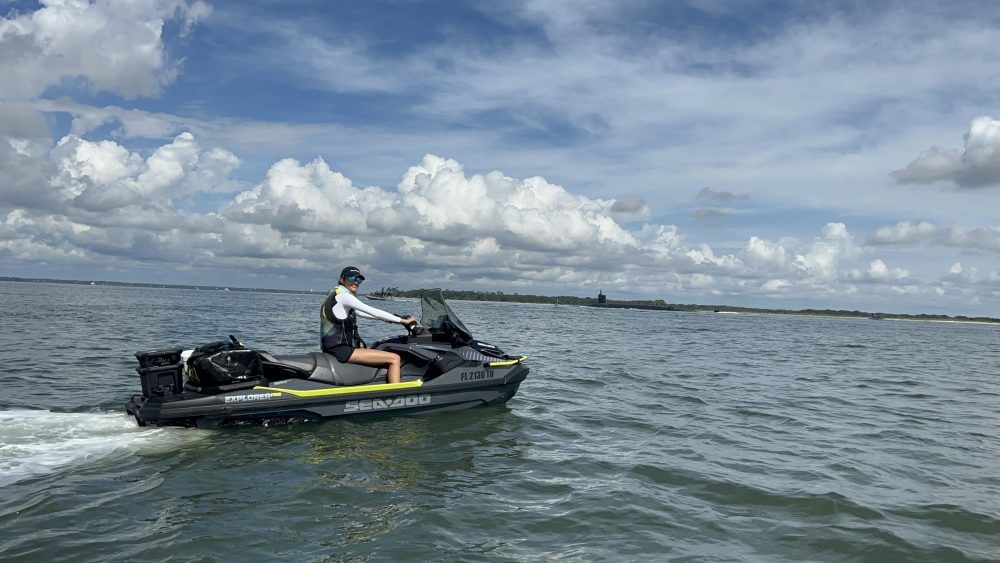 When most non-owners think of Sea Doos and Jet Skis, they tend to think of those fun, fast noisy little things that people pay way too much to rent for a half an hour while they're on vacation in some tropical place. However, as you might already expect, the world of personal watercraft goes way beyond just zipping around within the confined buoys of the all-inclusive resort you got dragged to for your sister's destination wedding. I recently had the privilege of journeying down the Florida coastline on a multi-day adventure with an incredible squad on Sea Doo's new 2023 Explorer Pro. This watercraft is a true "adventure-mobile," made for those of us who love spending all day on the open waterways with no schedule and no particular place to be.
Our Journey's Route: A North Florida Adventure
We started our multi-day exploration of Florida's North Coast in one of my favorite little spots - Fernandina Beach on Amelia Island. Home to what claims to be Florida's oldest bar, complete with a pirate's punch that is served on tap (yes I had one - and trust me, one is enough.) You'll find great live music at almost every spot on this island, it's marina a popular stop along the intracoastal for all types of boaters on a wide variety of expeditions. After a fun first night of "getting to know each other" (we'll just leave it at that for the purposes of this article), we were up bright and early the next morning ready to start the festivities.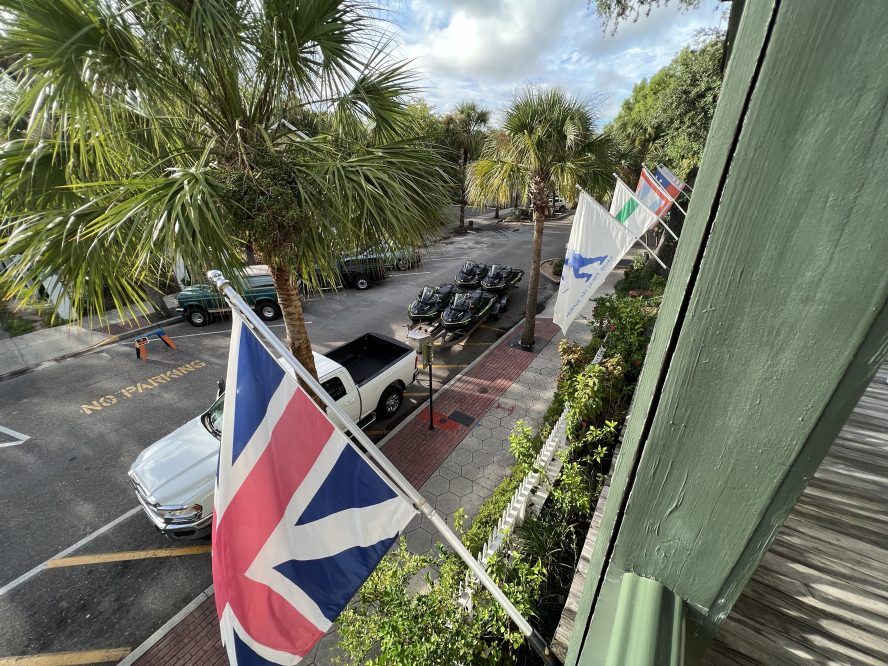 Sea Doo Explorer Pro 170 Overall Design
The Sea Doo Explorer Pro 170 is the most comfortable personal watercraft I've ever experienced, and it is also the most customizable. From its easy to use bluetooth surround sound system and multiple dry storage locations for all your goods, to things like the removable touring windshield - it really felt like my own little escape ship. Once we were out on the water, we got to fool around a little bit with the feel of the craft. While my counterparts checked out things like max speed and maneuverability right away, I was a little more cautious in my approach (at first).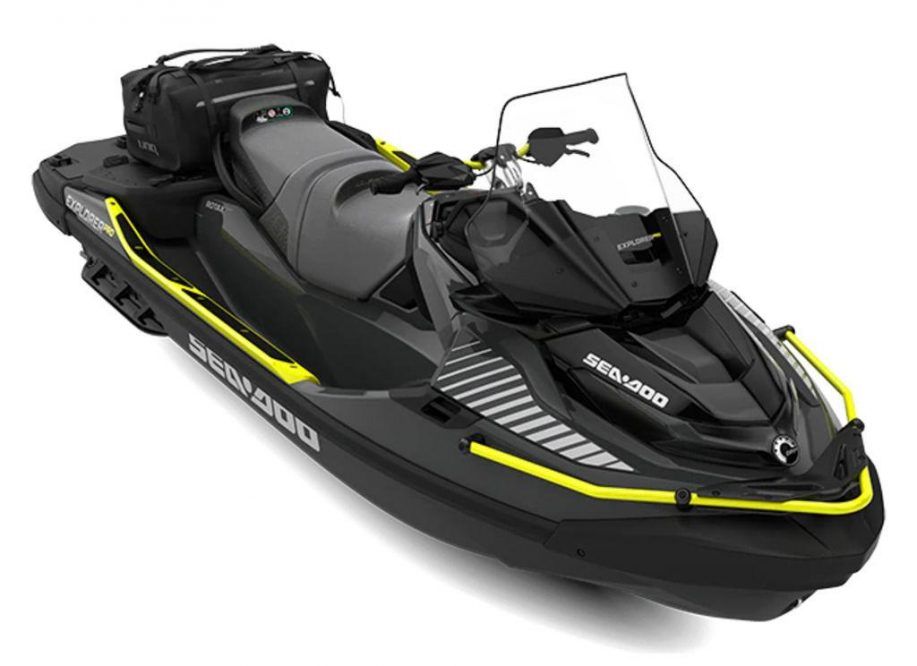 The first thing I noticed was how the Explorer Pro really felt like a boat, in the sense that you sat "in" it (versus "on top" of it - as is the case with many smaller personal watercraft. It was luxuriously roomy. I had a special compartment for my phone and sunscreen, which I wanted easy access too, as well as larger-than-airline-overhead-compartment sized places for my obviously too-many-bags-for-three-day-trip that I had decided to lug along. While ex-racer Melanie Taylor whipped by me going 55+ mph, I lazily oohed and aahed over the watercraft's features, perfecting my Spotify playlist at the last minute, as I didn't realize I'd get to DJ for myself through this entire experience. I take that sort of thing quite seriously.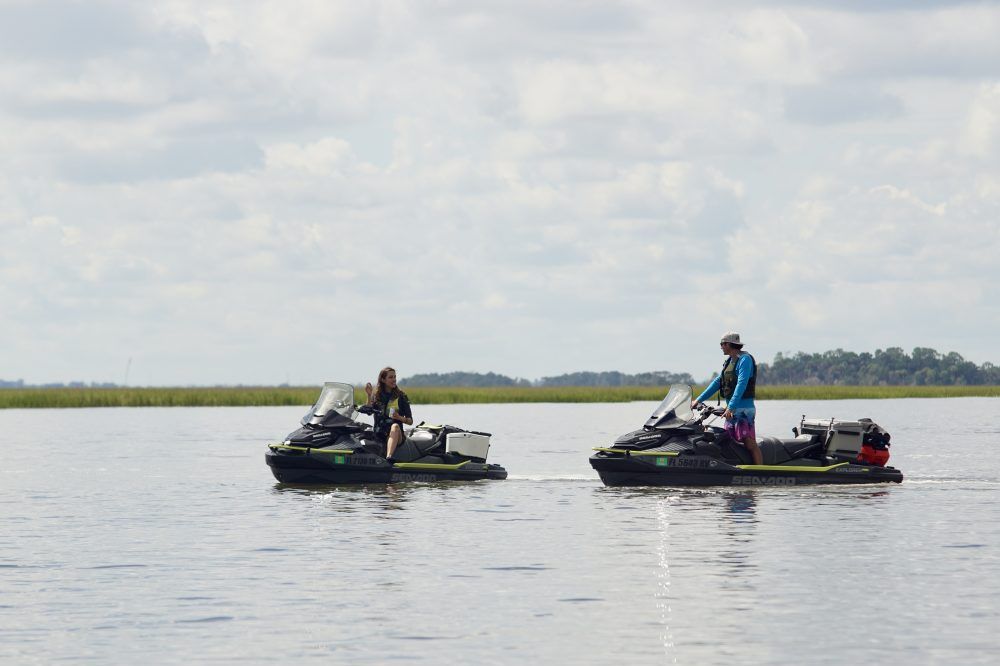 Our First Stop: Cumberland Island
I was the last to reach the first stop on our expedition and being used to boat trips, it was so refreshing to just pull up directly onto onto the beaches of Cumberland Island without having to worry about any of the usual tricky business of anchoring. The Sea Doo Pro has a rugged front bumper for added protection and easier handling when beaching that also adds to the machine's rugged look. Such an easy experience.
My fellow adventurers rolled their eyes a bit at my apparent sluggishness to climb over the dunes and see the surrounding beaches. In my defense I had no idea that wild horses inhabited multiple stretches of the island around us. Sure enough, as we walked over the first stretch of dunes we quickly spotted a beautiful black stallion out for a graze in the meadow. Absolutely glorious! With our hearts sufficiently full of magic at this point, we were quickly on our way south. After all, we still had 100 miles to cover.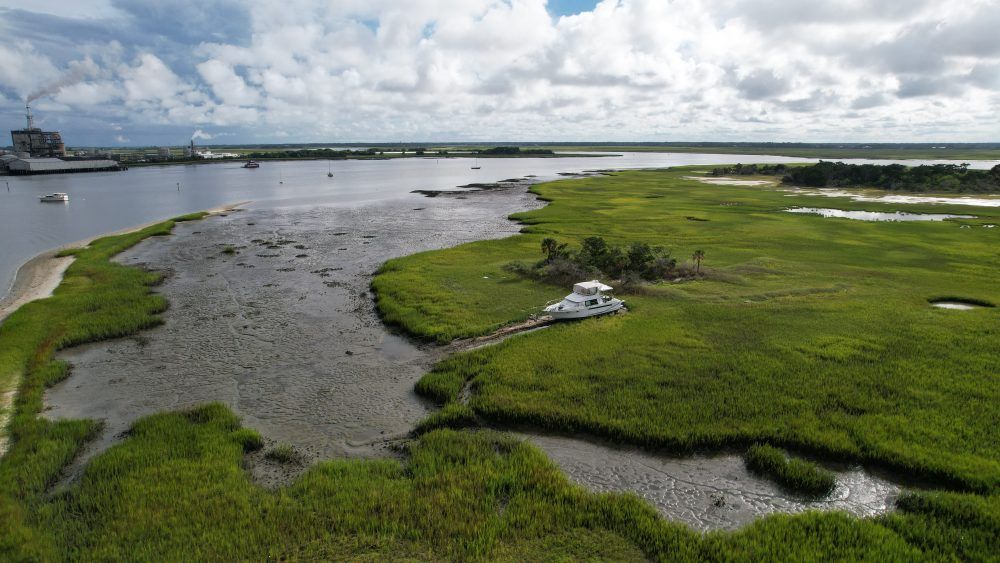 Performance And Cruising Speed
The optimal cruising speed for our caravan was around 32-33mph, which is easy to keep steady if you use the craft's Eco Mode functionality. Saves you a bunch of gas, too. As an inexperienced driver, it took me a few minutes to get used to how personal watercraft handle in the chop, but I quickly became accustomed to the feel and was more than happy to floor it full throttle every now and then. A personal watercraft industry first, the Sea Pro has a what the company calls a "Touring Windshield" that helps protect the riders from wind, weather and water. It also decreases rider fatigue created by prolonged wind pressure and noise, saving your energy for the ride.
The craft is powered by a 4-stroke Rotax 1630 ACE engine that provides 170 horsepower and plenty of torque. This engine is actually the most powerful, naturally aspirated Rotax engine ever offered on a Sea-Doo watercraft and provides thrilling and impressive acceleration for instant fun.
From Marshes To The Sea: A Joy To Drive
We felt somewhat like a motorcycle gang, cruising down the ICW in a pack, carving a chevron of beautiful v's in the water when it was calm enough to do so. The landscape changed many times as we made our way south along the water through navy yards, salt water marshes, and wide open bays. I really appreciated the relaxed feeling the Explorer Pro provided the rider, from being able to either accelerate or stop super quickly to not having to worry about depth of the water as we zig zagged along through some of the smaller channels - this Sea Doo is truly meant for anyone from beginner to professional level.
We stopped to cook a leisurely lunch on the beach at the beautiful Huguenot Memorial Park. All of our Explorer Pros neatly parked and lined up on the white sandy shore reminded me of a beach version of the sidewalk outside the Hells Angels old east village hangout. I'm not going to lie here, I felt like a little bit of a boss.
We grilled fresh swordfish and shrimp for tacos (I was in charge of guacamole, which of course then turned into a disaster but in the end tasted fine). Our bellies full, we lazily made our way back to the watercraft, which we easily loaded up with the leftovers. We each had a cooler or two strapped to the back - the Explorer Pro is so long that there is so much room for anything you'd want to bring along and thensome. I could've easily picked up another passenger and still have been extremely comfortable.
Cruising From Cumberland To St. Augustine: A PWC Dream
The second half of the day we covered most of the mileage. Our final destination of St. Augustine was more than 100 miles from Cumberland Island and I really started to appreciate that touring windshield. It made such a difference as we definitely experienced some weather and chop as the wind picked up late in the day. While the wind in your face can be exhilarating and refreshing for a few minutes, for a day-long ride it can be quite draining.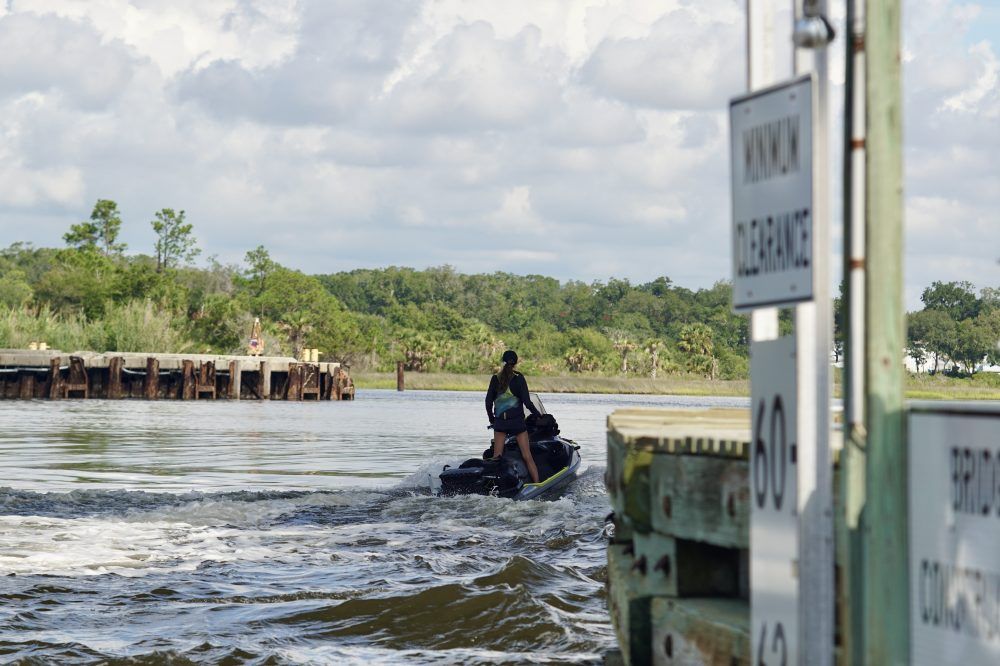 The most thrilling part of the experience was taking our crew out into the open ocean for a few miles. While flat water is great for cruising, choppy waves can make for some real fun riding and catching a bit of air. We felt totally safe and secure bouncing around in the surf out there and got some great go pro footage of ourselves to laugh at over dinner later. The ST3 hull of the Sea Pro Explorer 170 proved to be stable and predictable while handling any chop we encountered with ease. I'd say the experience had a similar effect to an afternoon espresso - perfect for waking us up a little.
On the final stretch south, with the outline of the Castillo de San Marcos national monument not visible due to the imposing dark clouds engulfing us from all sides, we packed up all of our cameras and electronics, and donned our raingear (sunglasses and hoods). We slowed the speed of our caravan a little due to the increased chop and rough water, but in a craft like the Explorer Pro it really wasn't necessary. A few of us (myself less so) were eagerly awaiting a downpour for the sake of the experience but we managed to stay ahead of the front and arrived at our marina in St. Augustine completely dry.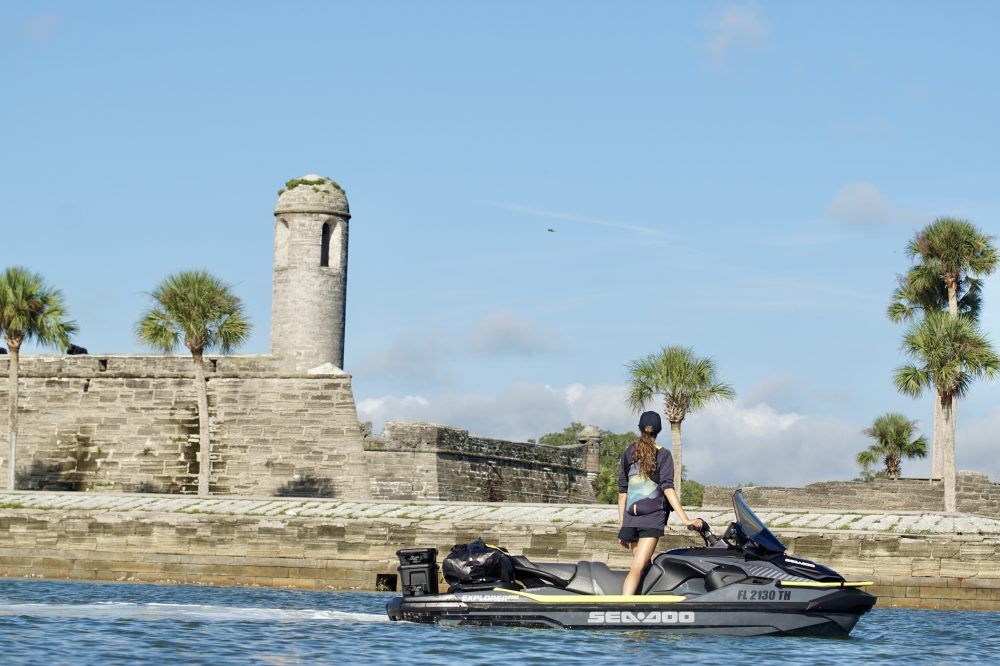 A Surprisingly Robust Platform Ready For Adventure
The sun was just setting as we crossed the bridge over to the beautiful historic old town for dinner and drinks. We laughed as we discussed the day's adventures and celebrated our successful voyage. In all honesty, covering over 100 miles on my very own Sea Doo Explorer Pro was quite a bit more comfortable than traveling with a couple of captains I know on much bigger vessels (not naming any names here.) It was safe to say at this point in the excursion that we were all looking forward to riding again the next day. Our expedition was only the beginning of many more PWC and Sea Doo adventures for me.
View Sea Doo Explorer Pro 170s for sale on boats.com right now.
View all Sea Doos for sale on boats.com today