See more articles
Albemarle 36 Enclosed Express Fisherman: Ignore the Weather
If you are sick and tired of trying to plan your fishing trips around predictably wrong weather predictions, the 36 EEF is a boat you should check out.
Who, exactly, will be attracted to Albemarle's new 36 Enclosed Express Fisherman? Boaters who have wished that the weatherman was onboard, so he could feel the gusts and driving rain first-hand after predicting a sunny, beautiful day. Anglers who find themselves shivering in shorts and a T-shirt, when the predicted 80-degree high turns out to be more like 60. And anyone who's wished for a bigger boat, when the 10-knot breeze that weather-boob was calling for topped 20 and made the outriggers whistle. Because with the 36 EEF, you can remain safe, dry, and warm no matter what the weather throws at you.





Sure, you've seen express boats with a hard top and an enclosure before. But this Albemarle has a few interesting touches that are quite unusual. First off, notice the aft curtains, which seal off the back of the helmdeck from the cockpit. The Isinglass is set in two offset tracks, so you can slide it open and closed like a sliding glass door. That eliminates the chore of rolling it up and snapping it in place every time you want to get in and out.

Next, grab the aft-facing cockpit seat and swing it up on the gas-assist struts. It provides you with a cockpit entrance to the engine room, a real rarity on a boat of this size. And if you want more elbow room as you gaze upon the IPS 600 pod drive powerplants, the entire helm deck can be raised up for the ultimate in easy access.



Fishermen who swing their rods north of the Mason-Dixon line know that having an enclosure like this can extend your boating season as the temperatures plummet, but there's a down-side to full enclosures which is just as obvious to southerners: it can get hot and stuffy in there. That's why Albemarle rigs this model with an enhanced AC system that chills both the cabin and the bridgedeck.

More about that cabin: it's similar to the one found on Albemarle's stock 36 Express, with a galley, stand-up head, forward berth, and cherry cabinetry. But the 36 EEF has a slightly different settee, which turns into an over-under berth and—more importantly—hides a large rodbox above the backrest.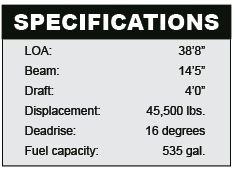 Forget about planning your trips around the weather. Ignore those falling temperatures. So what if the sun and the heat are predicted to be oppressive. With the protection found on Albemarle's 36 EEF, you won't worry half so much about what the weatherman is predicting. Though you might still wish he were aboard—just so you could push him over the gunwale.

For more information, contact Albemarle.

-Lenny Rudow