See more articles
Albury Brothers 23: Ready for Duty
This 23 footer has a capable hull with sweet lines, creating a center console that's economical to run but traditionally good-looking.
When Tom Dwyer picked me up at the dock, it became immediately clear his Albury Brothers 23 center console would be put to the test in real-world conditions. He had stowed on board a mountain bike, kayak, and standup paddle board, and had the tent-like sunshade deployed over the bow area. Sure enough, we ran outside the inlet and kicked around in three-foot swells, rather than in the protected Intracoastal Waterway. If Dwyer had had his way, we would have simply pointed east and kept going.





Dwyer runs his boat from his home on Florida's east coast over to Bimini, and then island hops in the Bahamas. He takes it on runs via the inland waterway through Lake Okeechobee and over to Florida's west coast. He also runs down to the Keys and anywhere else he can. All of this is a lot to ask of a 23-footer, but the Albury Brothers 23 is up to the task.

The 23 is based on the classic wooden hulls built by Willard Albury on Man-O-War Cay in the Bahamas from 1952 through 1984, when the company switched to fiberglass. Willard has ceded the day-to-day operations to his sons, who oversee the building process both on Man-O-War and in Riviera Beach, Florida.

The key to the boat's seaworthiness is its hullform. From above the waterline, the boat is slightly reminiscent of a New England lobsterboat, but below the water it's a different animal. The 23 has an extremely sharp entry forward that tapers to 17 degrees of deadrise at the transom. What's noteworthy is the rounded bilge just inside the chines that carries to the transom, similar to traditional wooden boats.



"It's based on the idea of a dolphin gliding through the water," explained Bob Chew of Albury Brothers. "A dolphin doesn't have hard edges." The rounded edges combined with the wide beam carried forward contribute to the boat's soft riding tendencies and seaworthiness in different headings -- reasons why Tom Dwyer feels comfortable running it over to the islands. The 23 actually does have hard edges in the form of two lifting strakes, a tradeoff made to get more lift and accommodate the larger horsepower demanded in the U.S. market. That makes it slightly wetter, but it still has an incredibly comfortable ride for its size, as we experienced running Dwyer's fully loaded boat through three-footers in the inlet.



Dwyer can fit so many worldly possessions onboard because the 8'3" beam is carried far forward towards the bow, expanding the interior space beyond that of a typical 23-footer. Also, the three-piece construction creates a natural toe kick, making it well-suited for fishing. The standard boat is sold fairly bare bones, but can be customized to suit the owner's needs as a workboat, day cruiser, dive boat, offshore fishing boat, or for light tackle duty.

Powered by a 225-hp Suzuki outboard, the 23 tops out at just under 45 mph, but it rides sweetest between 28 and 35 mph, which translates to 4000-4500 rpm. At around 28 mph it has a range over 300 miles, a number significant for a small boat cruiser like Dwyer, and significant considering its 100-gallon fuel tank.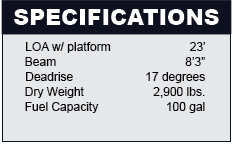 The center console version of the 23 has been around since 2007, but Albury Brothers just started building a new 23 Classic Runabout in Man-O-War. It has the same hull as the center console, but a more classic cockpit featuring a sit-down side helm and full windshield. The helm and windshield are moved farther forward, giving the Classic a shorter foredeck, reminiscent of an old wooden runabout. It's a modern build with an old school style, and fits right in line with the Albury Brothers tradition. The new model wasn't available for testing, but if it behaves like the 23 center console, there's no doubt it will be soft and sweet.

For more information, visit the Albury Brothers Boats website.



Pete McDonald writes for Boating, Yachting, and other marine and fishing publications. In the past, he has written for Power & Motoryacht and Salt Water Sportsman, and spent 11 years on staff as a technical editor at Boating. All things considered, at any given moment he would prefer to be fishing.