See more articles
Chris Craft's Silver Bullet 20 Limited Edition, All Grown Up
This latest offering from Chris Craft is reminiscent of a different era, a modern version of the old classic mahogany runabout.
The name Chris Craft conjures images of high-luster mahogany hulls, frameless windshields, flying ensigns and tumble-home transoms. Chris Crafts are always a favorite at vintage boat shows across the country, and the events in Lake Tahoe, Calif., and Mount Dora, Fla., wouldn't be the same without them—but those boats are from an era long ago.





After fiberglass replaced wood as the material of choice, Chris Crafts never seemed to elicit that same feeling. Over the last 50 years Chris Craft has changed ownership a number of times and its products and focus have changed along with it. However, in the last 10 years, Chris Craft has refocused itself and has begun to build nostalgic, yet thoroughly modern incarnations of its classic mahogany runabouts.



On looks alone, the Silver Bullet 20 Limited Edition is a winner, and as its name indicates, Chris Craft isn't building many of them—just 150. Each one has a number plate on the dash panel.

Finished in metallic silver paint, with teak and stainless steel accents, the Silver Bullet strikes the classic profile of a vintage Chris Craft. The tumblehome transom was de rigueur for its wooden boats, and it looks right at home on the modern, fiberglass iteration. No small feat, that, when you consider how difficult it is to create that form in the open mold. Only when you look closely at the detail on the transom do you begin to appreciate the amount of work that goes into the classic design.

Of course, by modern runabout standards of utility and space, the Silver Bullet isn't the most practical family boat, but we suspect that this boat is for empty nesters, for boaters who have owned their share of garden-variety runabouts and family deck boats, and now want something special. If the kids come for a visit and a day on the lake, you can still lift the pop-up pylon and take them skiing.



Inside, the Silver Bullet has flip-up thigh bolsters for driver and observer, which are just high enough to allow them to see over the upper polished stainless steel windshield frame. The sole is covered in teak wood inlays, with special inserts and framework for the removable in-sole cooler lid and angled foot rests.

Although you do not have a choice in paint colors—because it is, after all, the Silver Bullet—you can choose from two interior hues on the vinyl and gelcoat, outback (pictured) and cream, which features chestnut stitching. Because boats spend so much time in the sun, which can fade materials and fabrics, it might be better to go with cream. It will be cooler to sit on and the chestnut stitching is rather striking in person.



The interior itself is rather straightforward, with stowage for the standard bimini top beneath the rear seat, and a small stowage compartment in the "console" beneath the dash. With scuppers just forward of the rear bench, the cockpit is self-draining. Gauge faces, to no one's surprise, have a decidedly old-school look, but nonetheless deliver all vital information, from speed and rpm to voltage, trim level and fluid temperatures and pressures.

There is a bit of stowage beneath the foredeck, and there is a bona fide anchor locker, with stanchions for holding a Danforth anchor, a positive latch and a cable to hold the lid open.

To its credit, Chris Craft nailed the engine choices for this boat. Just enough, but not too much. There is neither a V6 nor a big-block on the standard features or options list. The standard engine is a Volvo-Penta 5.0 Gxi, which produces 270 horsepower, and is ample for pushing around a 2,900-pound boat. If you want more power, you can get a 320-horse 5.7-liter V8 from Volvo Penta or a 300-hp mill from MerCruiser.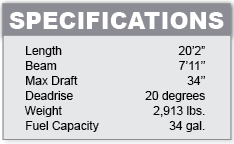 With no options, the 20 Silver Bullet retails for $75,668, which seems reasonable given its limited edition status and its presence on the water. You can get things like dual propeller drives (from Merc and Volvo), docking lights, a convertible top or switchable exhaust, all of which are tempting—but not necessary.

In standard trim Chris Craft's Silver Bullet 20 Limited Edition not only brings a bit of nostalgia to the runabout equation, but also delivers it without the need for anything more. It's beautiful to look at and it sends a signal to everyone who sees it that an empty nest can be a good thing. With just 150 boats scheduled for 2010 production, they likely won't last long.