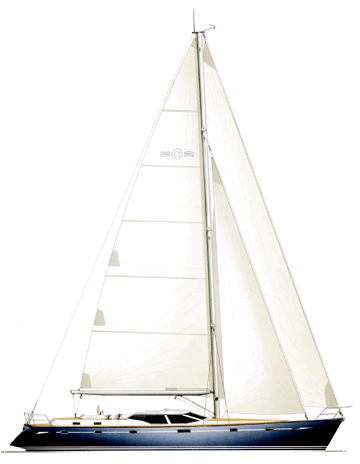 The Oyster 62 joins the company's popular range of "Deck Saloon" performance voyagers and the logical fourth generation of a lineage that dates back a quarter of a century. Rob Humphreys heads Oyster's in-house design team, which took form and carved a direction for itself under the able stewardship of Holman and Pye until just recently. Preserved in the 62 are design tenets that go to the core of what Oyster is all about: volume, comfort, a sailor's aggressive rig and a hullform intended to be as seakindly and responsive as it is rock solid and elegant.

The notion that Oysters are pricey British luxury liners to be lavished with all the spit and polish a well-paid crew can muster is off the mark. The boats are upscale, for sure, even expensive, but at the same time they relish the trenches of oceangoing service. Oyster has built well over 900 vessels ranging in size from 42 to 82 feet, and without resorting to hyperbole it's probably safe to say that the vast majority of these have ended up in the hands of very down-to-earth bluewater sailors small crews, families on their own, families with a professional captain perhaps. Oysters regularly circumnavigate, and even more regularly participate en masse in offshore events such as the ARC, Trade Winds Round the World rally and Millennium Odyssey.

Shape and Form

The 62 is smack dab in the middle of Oyster's product range, representing a subtle development of the earlier 56, last year's 53, and this year's 66 (slated for a London debut in January 2000). Designer Humphreys remarks that the builder's aim with the vessel, "as ever, is to produce a well balanced yacht that is light and responsive to steer, but tram-like in terms of directional stability." Not lost in all this is an emphasis on livability, what Humphreys describes as a sense of proportion "between performance and comfort, between aesthetic considerations and ergonomic musts, between structural efficiency and durability."

The hull is 62 feet on deck yet boasts a 55-foot waterline — assertive parameters for a cruising vessel, characteristic of her modern reduced-rake bow and scooped reverse transom. At 35 tons, the whole package conveys a Displacement/Length (D/L) mark of 189, which falls in the light-to-moderate range and points to terrific speed potential. Beam at almost 18 feet is vast, as much a stability enhancer through the water as it is a volume enhancer below. Notably, max beam occurs amidship and tapers gracefully aft, setting this design apart from the familiar purpose-driven planform advanced by modern-day designers such as Bruce Farr and Groupe Finot, in which max beam is retained right through to the stern.

The shape of the hull three dimensionally goes a long way to explaining what the 62 is intended to do at sea. A fine knuckle entry with a subdued forefoot back to station 3 or so unfolds into a series of deeper, fairly robust canoe sections that begin to flatten towards the stern, where a skeg picks up the rudder. The notion in all of this is to control pounding in a seaway by keeping the bow V'd without burying it too deep, to allow for volume, stability and "tram-like" tracking with plenty of hull depth as you move aft along the length of the boat, and to minimize wetted surface at the stern for speed and more directional response.

Humphreys' keel is a short-chord fin with a streamlined ballast bulb at the bottom raked aft. It is very similar to what other and earlier Oysters show, designed as it is for as low a center of gravity as possible with minimal drag. The bulb comprises 20,723 pounds of lead for a ballast ratio of 29 percent. On the surface, that number would appear low in an oceangoing context, but bear in mind that standard draft for the 62 puts the majority of ballast in its bulbed form almost nine feet beneath the surface of the water; this, combined with the form stability indicated by 18 feet of beam and full topsides, suggests that the vessel will fulfill the Oyster dictum that she be stiff enough to carry a healthy press of canvas.

Sailplan, Rig and Deck

Which is precisely what Humphreys has given her, by way of a towering 86-foot masthead sloop rig spreading 2,067 square feet of sail measured at mainsail plus 100 percent foretriangle. Sail area/displacement (SA/D) tips in at 19.4 decidedly powerful and, in conjunction with the boat's long waterline and svelte D/L, capable of giving this guy real jets in the light to moderate stuff. A true intermediate forestay is set up for a staysail or storm jib, providing sailplan versatility for heavier conditions, double-head reaching, and the like. The spar is a stout three-spreader section shown without running backstays but with redundant fore and aft lowers.

The deck plan revolves around Oyster's well established Deck Saloon configuration, with a streamlined, low-profile cabin structure pitched aft from the base of the mast, opening onto a large central cockpit flanked by primaries and secondaries, behind which is the helmsman's domain with dual wheels and consoles port and starboard. The foredeck is nearly flush, the bow wide open and the side decks clear. The mid-cockpit deal is developed virtually to an artform by the Oyster design team, providing spacious and secure seating that flows right into a grand companionway for elegant access to the interior hence ?deck saloon." Behind the helmsman's niche is tiered fantail lounging all the way to the scooped boarding platform in the transom. The top of the cabin structure gives elevated access to the main boom for flaking and reefing a conventional-hoist mainsail.

Interior

Rob Humphreys' design work on the boat is resolved below in an accommodations package developed by interior designer Dick Young. The Oyster people pride themselves on incorporating owner input in all their models for that semi-custom edge, but this approach is more on the order of tweaking an already well conceived plan than it is an invitation to start from scratch.

The standard layout aboard the 62 includes a full-width deck saloon as you enter from the central cockpit, with a large oval settee and dinette to starboard, and casual seating plus the nav station and communications center to port. The look is intended to be bright and airy, enhanced by the copious light admitted through the saloon's large windows and by the use of buoyant woods such as American white oak and cherry (traditional teak is another of many alternative material options). Three double staterooms sharing two heads reside forward and down a step. Aft and down two steps, a walk-through galley-cum-passageway on the port side takes you into the owner's suite in the stern a wonderfully roomy affair with its own vanity/office niche, commodious head and shower, and private egress to the fantail. On the starboard side just aft of the dinette and, again, down two steps is a fifth(!) double stateroom with over-and-under twin bunks.

Young's suggested alternative layout which makes vastly more sense to us pares the body count down by substituting two ancillary double staterooms for the four extras described above. This relieves the bow for more gear stowage, allows the galley to become a more workable enclosed U to port, and opens up the starboard side for a serious nav station in its own dedicated area. Obviously, any owner's choice of accommodations packages is contingent upon the crew/family/guest quota, and upon the intended use of the boat.

Construction Overview

Hull fabrication specifies hand lay-up in solid (non-cored) GRP, using fiberglass predominantly, though reinforced with Kevlar in critical areas, especially below the waterline. Hull rigidity is provided by means of conventional fore-and-aft stringers both above and below the waterline, with structural floors down low to accept rigging and keel loads and to keep the shell torsionally stable. Isophthalic resin is used for its enhanced resistance to water permeation.

The deck incorporates a balsa core for added rigidity, weight savings and insulation. Where load bearing occurs, the balsa is replaced with marine-grade plywood; further, all load-bearing fittings fasten across aluminum backing plates. The hull-to-deck detail consists of an inward flange in the topsides to which the deck element is bonded after being set down on a GRP resin and chopped mat mix.

The construction scenario is hardly exotic, but this is on purpose and indicative of Oyster's decision to build as solidly as possible using proven materials and means. "We have experience with carbon-fiber composite and vacuum technology," the company contends, "but our search for new materials and technology is tempered with caution, since we don't expect to use our customers as guinea pigs!"

Blue Water Considerations

We will not attempt to analyze the mechanical and systems-related components of the 62 in this forum given that the vessel is not scheduled for completion or debut for well over a year, which places it at a decidedly formative, pre-commission level in its development. However, on the basis of pedigree and design concept, it is not difficult to form a worthwhile opinion on the boat overall.

We like the notion that Rob Humphreys and the Oyster cognoscenti have taken such pains to refine the performance characteristics of the Oyster line. Maximizing waterline length, streamlining the hullform (especially the underbody), shooting the rig skyward, bringing the deck profile down, and fine-tuning the non-dimensional ratios, all contribute to an end product apt to reward the sailor with faster passages and more spirited behavior at sea.

We also like the notion that they have done this in very calculated manner — incorporated the essence of what Oyster has become over the past 26 years, building on what is established, proven and good. This includes everything from the talked-about Deck Saloon hallmark to the builder's careful conservative agenda when it comes to issues such as structure, volume, ergonomics, and creature comfort. Indeed, the 62 is not a wild card thrown onto the table to stir up market interest; moreover it is yet one more milestone in a logical evolutionary design process.

For those who aspire to a civilized ride, crave invigorating performance parameters, and have the wherewithal to afford one of these things, the Oyster 62 looks to be a rewarding bluewater voyaging option.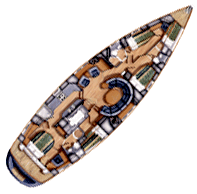 Boat Specifications
| | |
| --- | --- |
| LOA | 63'3" (19.3 m.) |
| LOD | 62'0" (18.9 m.) |
| LWL | 55'1" (16.8 m.) |
| Beam | 17'8" (5.4 m.) |
| Draft (standard) | 8'6" (2.6 m.) |
| Draft (shoal) | 6'6" (2.0 m.) |
| Ballast | 20,723 lbs. (9,400 kgs.) |
| Displacement | 70,547 lbs. (32,000 kgs.) |
| Sail area (100%) | 2,067 sq.ft. (192 sq.m.) |
| Mast above water | 86'3" (26.3 m.) |
| Ballast/Disp | .29 |
| Disp/Length | 189 |
| SA/Disp | 19.4 |
| Fuel | 396 gal. (1,500 ltr.) |
| Water | 317 gal. (1,200 ltr.) |
| Auxiliary | Perkins/Sabre M225Ti 225-horsepower |
| Designer | Rob Humphreys & Oyster Design |
| Interior design | Dick Young |

Oyster Marine Ltd.
Fox's Marina
Ipswich, Suffolk IP2 8SA
England
phone +44 (0)1473-688888
fax +44 (0)1473-686861

In the United States, contact:
Oyster Marine USA
5 Marina Plaza
Goat Island
Newport, RI 02840
phone: (401) 846-7400
fax: (401) 846-7483