See more articles
Andros Offshore 32 Video: Quick Tour
The Andros 32 is a center console built for fishing, pure and simple. We got a quick ride on one rigged with a pair of the new 300 HP Evinrude ETEC G2 outboards.
Rigged with a pair of 300 HP Evinrude ETEC G2 outboards, a test ride on the 2015 Andros Offshore 32 proved exhilarating. This is one red-hot custom fishing machine, and as far as center console fishing boats go, it will be a top contender for folks looking for a no-nonsense canyon-running predator. Check it out—we bet you'll agree.


Yes, you heard that right: top end hit 60 MPH. You can cruise this boat all day for maximum economy in the mid 30's, or goose it up and run for the fishing grounds in the low to mid 40's with no problem. Down-sides? Those two-stroke outboards are a bit louder than four-strokes, and they do cause a bit more vibration. Otherwise, however, they're on par or better than average no matter what you stack them up against. And, they have some other advantages as well. To get the full scoop on the new ETEC G2 outboards, watch Evinrude ETEC G2 300 HP Outboards: On Water Test Run, or read Outboard Expert: New Evinrude ETEC G3 Outboards.

If you'd rather have different powerplants, of course, that's no problem. Andros is a relatively small builder, and they aim to please. Whether you like a crow's nest as seen in the video, you prefer a regular hard top, or a canvass T-top, they can do things like tops, seating, or accessories however you like. That said, the hardware and pieces-parts they use are all top-notch. One of the things that struck me during our afternoon aboard was that there was virtually no plastic in sight—stainless-steel is what you'll find, instead.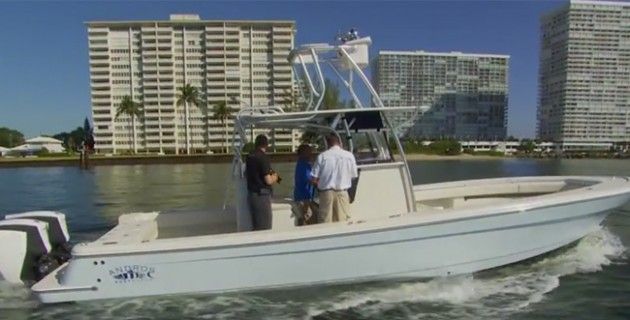 Although Andros is small and relatively new, they have quite an interesting history; they began by building a line of panga style boats, and expanded their offerings significantly in 2008 when they built a new factory in Sarasota, Florida. Yes, that's right, they expanded during the worst economy in recent memory. Their success during that time-frame tells you something, right off the bat.

Construction is noteworthy, too. These boats are hand-laminated, have foam-cored stringers which are laminated into the hull, both chemical and mechanical bonding at the hull-to-deck joint, and high-density foam-board transoms. My bottom-line impression, after our sea trial? These are cool fishboats, folks—if you're looking for a customized center console fishing machine that puts the "high" in "high end," then Andros is definitely a build that's worthy of your attention.

See Andros listings.

Visit Andros Boatworks for more information.