See more articles
Atlantis Verve 36 Dares To Be Different
Leave it to the Italians to take day boat design in a bold new direction.
When I first saw the Atlantis Verve 36, the newest model from an established yard in Italy, I was reminded of a funny marine journalist from the U.K. He once told me it's rare to see Italian designers sneaking around the London Boat Show looking for the next great idea. But when the Genoa show rolls around, he contended, the first visitors off the plane are the English builders, all trying hard to look casual.





Yes, there's something about a craft conceived in Italy that makes the rest of the world's boat designers and owners more than a little curious. At the very least, we expect fashion-forward Italian professionals to deliver boats built to high style; after all, only in Italy was something as practical as a police uniform designed by Armani. In Italian boats, we look for bold lines and fine craftsmanship, and sometimes we find both. To wit: the Atlantis Verve 36.





The Verve was first introduced in Europe in 2009, where it went on to win the coveted "Boat of the Year" title at the Genoa show. When it reached America, it surprised some followers of the Atlantis brand with its unusual lines. A departure for Atlantis—which is owned by the boatbuilding behemoth, Azimut Benetti Group— the Verve is unlike the sport coupe and express cruiser models in the company's lineup.

This walkaround is both a multi-purpose platform and a very sexy day boat. It combines a low profile and pretty sheer with a combination windshield/hardtop structure that's unlike anything you've seen in your marina. If you've grown tired of piloting a boat that looks like every other white hull in the local anchorage, this Verve could be for you. She'll turn heads with her aggressive lines, and her performance could raise a few salt-laden eyebrows, too.



The 36 is set up to run a solid 40 knots at wide-open throttle with a pair of 370-hp Volvo Penta sterndrives , but reports suggest it's even more fun to drive this boat than its top speed suggests. "The hull offers a smooth and easygoing ride that will only flatter the owner's driving skills, yet it won't leave you floundering in bad weather," said Gaetano Russolillo of Atlantis. That swift speed and seaworthiness comes compliments of the Verve's construction. The boat is resin-infused to be light and tough.

To enhance the boat's easy operation, Atlantis offers Volvo's sterndrive joystick system. You just push the joystick in the direction you want the boat to go, even if that means sideways. Twist the knob and the boat spins on its own axis, regardless of wind and current. This proven system is simple and safe to use, and has made close-quarters maneuvering a much less stressful task for boat owners of all experience levels.



A true driver's boat, the Verve also has a unique bridge with a helm set on centerline and three slick bucket seats. Yet even though she looks the part of a sporty cruiser with a healthy dose of va-va-voom, the Verve is designed with practical features for safety. The walkways, for instance, are wide and deep, and robust handrails are everywhere. Thus, the captain won't have to worry when a passenger with fragile sea legs heads forward to help with anchoring duties. There'll be no Christina-Aguilera-at-the-Grammy-Awards moments on this cruiser.

Conceptually, this Atlantis was built for sunny days and casual cruising. Think swimming, fishing, sunbathing, and picnics. To support that mission, there are sunpads forward and aft—including a sweet lounge in the cockpit that's made up when the transom bench and table are converted. The cockpit also has a "summer kitchen" with grill, burner, sink, and fridge. To keep the boat easy to maintain, Atlantis put just a few electro-hydraulic features on board—the gangway, and an awning that extends over the cockpit to shade passengers.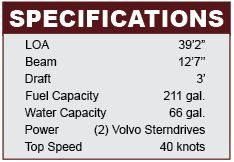 Although the Italians call the Verve a day cruiser, the cabin accommodations are just right for weekends. There's a private stateroom with king-size berth, a head, a convertible dinette, and a console that can be used as a mini-galley or wine cellar. Air conditioning is offered, too, so you can admire the pretty interior (bamboo cabinets and light fabrics) in cool comfort.

The Verve 36 isn't your everyday fiberglass cruiser, or "seacube" as my English journalist friend likes to call less distinctive models. With its unique lines, multipurpose potential and cool performance, it could be the next great idea.

For more information, visit Atlantis Yachts.



Jeanne Craig has been covering powerboats since 1988. She spent ten years as a senior editor at Boating magazine and ten more as executive editor at Motor Boating. She's now an independent writer based in Rowayton, Connecticut, where she's close to the cruising grounds she most enjoys.