See more articles
Bayliner 175 BR: Video Boat Review
Our review of this small, inexpensive, but competent bowrider.

Read Lenny's Bayliner 175 Boat Test Notes

VIDEO BOAT REVIEW TRANSCRIPT

So Pat, if there's anything Bayliner's well-known for, it's building this 17-18 foot class bowrider and doing it very inexpensively. Can you tell me how do you guys do it?

Interview with Pat Blake, Bayliner Boats
Pat: Manufacturing efficiency. When you build it one way, over and over, you keep the costs down.

Now even though you're building a boat for less expense, that doesn't mean you have to use cheap parts and pieces, right?

Pat: Absolutely.

One of the things I noticed about the boat is the canvas system that comes with it. Can you tell me a little about it?

Pat: We use Sunbrella canvas which is the best materials on the marketplace; it's well known, everyone understands the quality of it. Because we keep things simple we always put high quality components inside the boat.

Construction
The 175 is put together with some pretty basic traditional construction techniques: nothing fancy, nothing expensive. The hull is hand laid glass, the deck is gel-coated marine ply, and the fittings are stainless-steel. And looking into this compartment we can learn a lot about how the boat is built. When we take the hatch off the first thing we notice is, it's not hinged. Now that saves on cost, but it makes it a little bit of a hassle to deal with that hatch. Once you get inside the first thing you're going to notice is that the compartment is not lined. Now it might not look as nice, but on the upside you gain about 2 inches of depth in this compartment by not lining it.

By making these gunnels so narrow, Bayliner did gain a lot of space in the boat, but you lose the ability to put stowage compartments in there. Now, they made up for it by putting these nifty nets in there, so you still have plenty of space to stow all your goodies.

Performance
- With the 3.0L stern drive this boat has plenty of pep – I fact, we broke 42 mph top end. Cruising speed: right around the upper 20's. And with the power-assisted steering it actually handles like a dream at speed. Now at slower speeds the boat will wander a bit, so you have to expect to pay attention in those slow speed zones.

Traditionally stern drives, well they've been kind of loud. Now as you can probably tell from the tone of voice I'm speaking in, this boat is a lot quieter than the older stern drives. A big part of that is the engine insulation underneath the engine box.

What about seakeeping abilities? Well with this 19-degree deadrise in a 17 foot hull, it takes the waves pretty darn good.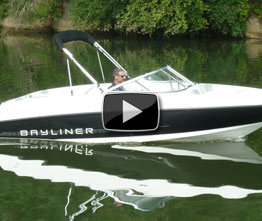 Features
One of things that's great about stern drives is the easy access they give you to the water. In this case, you just pull this seat off, and you have a step up to the swim platform. If I had my trunks on, I'd be ready to jump right in.

One of my favorite features on this boat is the motorbox. Sure you got your little bungies to hold down all your water toys and you've got your cupholders, but check this out: it gives you great access to the engine. And the back of this seat comes off, and allows you to access the back of the motor as well.

One of the nice features about this boat is this lounger seat. Just pull up here, pull up here, and you're ready to relax.

Wrap Up
So let's revisit our original thought - does Bayliner really give you the most for the money? Well, consider this: in 2007, Boating Life magazine said the 217 deck was "the best real-estate deal in boating." In 2009, Trailer Boats Magazine gave the 185 Bowrider their "Excellence in Design" award. It's a fair bet this 175 is going to be up for some awards, too. Maybe, even one from YOU.



Lenny Rudow has been a writer and editor in the marine field for over two decades and has authored five books. He runs his own web site at HookedOnFishingBoats.com and writes weekly for Boats.com reviewing new models and covering marine electronics.