See more articles
Bayliner 185F: Good Quality in Volume Production
Bayliner's new watersports-optimized runabout offers families more than its price tag would indicate.
Although roughly 98 percent of all sterndrive runabouts are built largely by hand labor, there are still advantages to buying a boat from a high-volume builder. Even without automated assembly lines and robotic processes, large companies buy materials in greater quantities, have streamlined manufacturing procedures, and, as the saying goes, pass those savings along to the customer.





No boatbuilder takes greater advantage of its economies of scale than Bayliner, a company reputed to have introduced more people to recreational boating than any other. Now, the company is offering the Bayliner 185F
—the F is for "Flight" series—another value-leading runabout with a focus on watersports.



For a base price of $24,336, the 185F comes with a swim platform extension, special hull graphics in red, black, or blue and, of course, a wakeboard tower. It also comes with a tower-mounted bimini top with a boot. The top works with the tower in place and doesn't interfere with the tow rope. Included in that price is a fuel-injected 3.0-liter four-cylinder that makes 135 horsepower, and power steering. If you delete the fuel-injection, the carbureted 3.0-liter still makes 135 horsepower, but the base price drops to $22,979, a price point that should appeal even more. The package also includes a single-axle trailer with a swing-away tongue and surge brakes.

Of course, as with any boat, it's often money well spent to get more power than you think you need. The 185F can be fitted with a carbureted 190-horsepower 4.3-liter V6, which rings up at $26,050. Buyers also can get a fuel-injected 4.3 liter, which makes 220 horsepower and bumps the price to $28,265. That's getting close to the $30k mark, so you will have to decide whether the extra power and convenience of fuel injection is worth it.



One other option that really adds to the boat's appeal is the sport seating package, which includes two swivel bucket seats—with flip-up thigh bolsters—and a rear sun pad with cushions that lift off to reveal a nonskid walkthrough to the swim platform. On a boat tailored for watersports, the $364 option is practically a must-have item.

As with any entry-level offering, the boat is fairly straightforward. Bow seating lifts off to reveal storage compartments that are essentially the inside of the hull painted with gelcoat. Storage behind the bow backrests, however, is fully carpeted. Front passengers get cupholders, fully padded coaming panels, and a couple of grab handles, although their placement could have been thought out better. The grab handles for cockpit passengers are better placed and more ergonomic.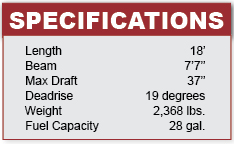 At the helm, the dashboard doesn't look like that of an entry-level product. Four of the most important gauges are housed in their own sculpted binnacles. The dash appliqué features a nice brushed-look finish to match that of the Dino steering wheel. Switchgear looks and feels upscale as does the Clarion stereo system. Almost a necessity in today's always-plugged-in world, a 12-volt power outlet is mounted to the right of the dash.

The quality of the materials used in the entry-level Bayliner 185F stems directly from the benefits Bayliner enjoys as a volume builder, something not always found in value-oriented products from smaller manufacturers. The strength in numbers, so to speak, has created a runabout that offers more than just an affordable price.
For more information, visit the Bayliner website.



Editor's Note:
Brett Becker
is a freelance writer based in Ventura, CA. He covers the marine, automotive and racing industries for various print and web titles.