See more articles
Bayliner Discovery 266 Boat Test Notes
Notes from our video boat review of the pocket cruiser from Bayliner.
Watch the Boats.com Bayliner Discovery 266 Video Boat Review

Overview: A single-engine pocket cruiser with an enclosed helm and a fishing cockpit.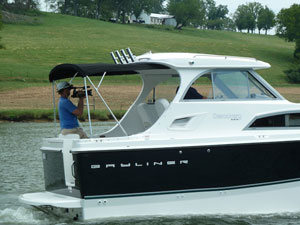 Concept



Dedicate a larger percentage of the boat to an enclosed helm and cabin, but reserve enough space for a fishable cockpit.


Provide complete weather protection to extend the boating season.


Construction


Fiberglass-encapsulated stringers; sliding side windows; fully linered cockpit and cabin.


Performance


Single sterndrive provides a surprisingly fast top end for a boat of this nature, nearing 40 mph.


High center of gravity means it's on the tender side.


Handling


17-degree deadrise and chunky (6,820-lb) disposition bulls waves out of the way.


Hole shot is sufficient for fishing and cruising, but not for pulling skiers or wakeboarders.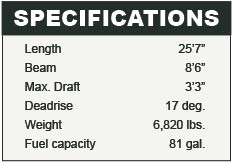 Features


Cabin size is equivalent to that of a 28' to 30' boat, but cockpit size is equivalent to that of a 22' or 24' boat.


Extended hardtop provides sun protection. Cockpit bimini provides complete sun protection.