See more articles
Bayliner Element: Need an Inexpensive Runabout? Deckboat? Bowrider?
This all-new model from Bayliner is simple, low cost, and well thought out; those looking for a low-cost boat that's appropriate for watersports and day-cruises are in for a treat.
Manufacturers tend to throw out statistics at the beginning of many formal press introductions, and at a recent event where the new Bayliner Element was introduced, one stood out. The price of entry-level runabouts, that class of boats that should be enticing people into the market as well as offering an affordable alternative for those looking to watch their wallets, is increasing faster than inflation. It's called price creep, and it certainly has affected Bayliner's trademark 175 Bowrider. Not that long ago this entry-level offering could be had for a mere $9,995; today, it runs closer to $18,000. It's a phenomenon that has led the company to radically rethink just what an entry-level boat should be.





And, of course, just who would be buying it. After much research, Bayliner determined the "typical" consumer would be a family of four, the parents viewing the boat as a way to connect with their young children. That typical family likely owns a six-cylinder, crossover-style tow vehicle. As a result, any boat aimed at them would have to be lightweight enough to be easily towed. A secondary audience would be a 30-something couple without kids. Their requirements would be a layout that enhances conversation and a design that didn't look dated, yet at the same time, didn't scream for attention like some recent jet or wake-inspired models.

Neither group would settle for a boat that seemed like some overgrown toy. They would, however, be willing to settle for somewhat lower top speeds, as long as the boat had plenty of seating for passengers. And oh yeah, it would be helpful if it could fit into a smaller garage.

It's a tall order, but to Bayliner's credit, the company didn't just try to tweak an existing platform. Instead, designers created an entirely new craft from scratch, one that would appeal to those aforementioned targets… and beyond. It's name? The Element.

A 16' 2" long, 7' 5" wide model that perhaps best resembles a mash-up of jet boat, runabout, and deckboat, the Element's rethinking starts below the waterline. Here, Bayliner designers crafted an M-shaped hull form, designed to offer "exceptional stability and superior passenger comfort" whether underway or at rest. It's similar to a cathedral hull, except the hull's outer sponsons are far more prominent. The shape also doesn't flatten aft like a cathedral, but instead is carried from bow to stern. One stated goal was to provide level floatation, even when passengers board by stepping on a gunwale. Designers also wished to avoid the pitch and yaw common to many V-hulls when cornering. Their goal was to deliver a boat that displayed a relatively flat attitude, much like a triple-tube pontoon or, to make a leap away from the water, a car. A side benefit to the design: those sponsons make it easy to put the boat on the standard-equipment trailer, as they hook onto the trailer bunks and center the boat naturally.



Above the bondline, that hull is mated to a one-piece, self-bailing fiberglass deck. It's the ideal construction for easy clean-ups and maintenance, but its true genius may be in the simplicity of its design. Seat bases are molded into the deck itself. In the main cockpit area they're identical, with the helm seat and both port seats scalloped into the deck to create a conversation-friendly space. This mirror-image approach creates economies of scale for the builder. All three seats share the same simple base cushion; the port seats share the same identical backrests. Only the helm's is cut shorter, to accommodate the throttle.

At the bow, an optional filler cushion turns the U-shaped bench into one big playpen. Aft, a 6' x 2' 4" sun lounge occupies its own recessed compartment. Two small swim platforms are scalloped into the stern and extended, 20"-square platforms further flank the outboard, the starboard platform featuring a three-step ladder that angles outward to keep boarders away from the engine.



An optional removable cooler can be housed in the open space below a central filler cushion, and all seats feature stowage below. The battery is located below the starboard seat; the removable 12-gallon fuel tank occupies a similar space to port. Removable fuel tank? You read it right. The choice allowed Bayliner to avoid the costs of a permanent system, a valuable savings given today's expansive emissions requirements.

Simplicity is the overriding theme throughout. At the helm, a single, oversized speedometer echoes that of a Mini Cooper. A windscreen, not a windshield, tops the helm. Vinyl is two-tone throughout, with white the prominent color accented by grey. Stowage below the seats isn't finished or lined, but is simply painted. Thoughtful touches, however, stand out. You'll find well-placed nonslip in key areas, notably along those gunwale tops where passengers will be tempted to board. Stowage compartments feature a raised lip to keep water at bay. The optional AM/FM stereo includes a convenient MP3 port to link up phones, music players and the like, while a standard 12V outlet is conveniently placed at the helm. And an optional Bimini top is ready to make sure your day is made in the shade.



Our test boat was optioned to include Bayliner's Watersports Package. It replaces the standard 60-horsepower Mercury Four Stroke outboard with the Big Foot variation, which features a larger gearcase with a higher ratio. The package also adds a mini-sized watersports tower along with custom graphics and a choice or black or red hull. Underway, that motor package pushed the boat onto plane in 4.75 seconds, and topped out at an even 31 mph. At a 26 mph cruise, it burned a tiny 4.4 gallons per hour. Power should prove adequate to get those kids on skis, boards, and tubes, but adults may be limited. While any 16' boat is certainly susceptible to the conditions, the Element also handled predictably. Overall stability is good as promised, though it is load sensitive due to its relatively small size.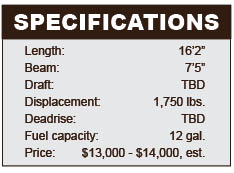 One of Bayliner's many goals for the Element was to rein in those escalating prices mentioned earlier. In short, it had to be one of the more affordable packages on the market. At press time the final retail price had yet to be decided, but indications are it will come in under $14,000, and possibly even closer to $13,000. That's the territory where the company can make a valid comparison between boating and monthly cable and cellular bill expenses—and hope that consumers share their view that boating is certainly a lot more fun.

Other Choices: Another inexpensive 16-footer which leans more towards fishing and less towards watersports is the Mako 16 Pro Skiff. The Glasstron SSV 17 is a tad larger and costs a tad more than the Element. And most other price-competitive options will be aluminum rigs, like Crestliner's 16 Kodiak SC.

View Bayliner Element listings

For more information, visit Bayliner.

-Jeff Hemmel
Power & Performance
RPM
MPH
GPH
MPG
1000
3.7
0.3
12.3
2000
6.4
0.7
 9.1
3000
9.6
1.9
 5.0
4000
21.3
 2.7
 7.9
5000
26.7
4.4
6.1
5500
31.0
5.0
6.2
Power: Mercury 60 EFI Bigfoot Four-Stroke
Prop: 16 3/8 x 13, 4-blade, Aluminum
Test conditions: Light chop; two people; half fuel