See more articles
Beneteau Antares 23 Boat Review
An Affordable Family Weekender is designed for shorter trips without compromising on the essentials.
The Beneteau Antares 23 aims to revolutionize the world of modern boating with a vessel designed for the young families of today that want to enjoy the outdoors on the water. This specific model is revered because it's a lighter, faster, and lower maintenance option than what has been previously offered. People today are busy and often don't have as much time to spend on the water, so Beneteau wanted to create a watercraft that was designed for shorter trips without compromising on the essentials to enjoy overnights on the water.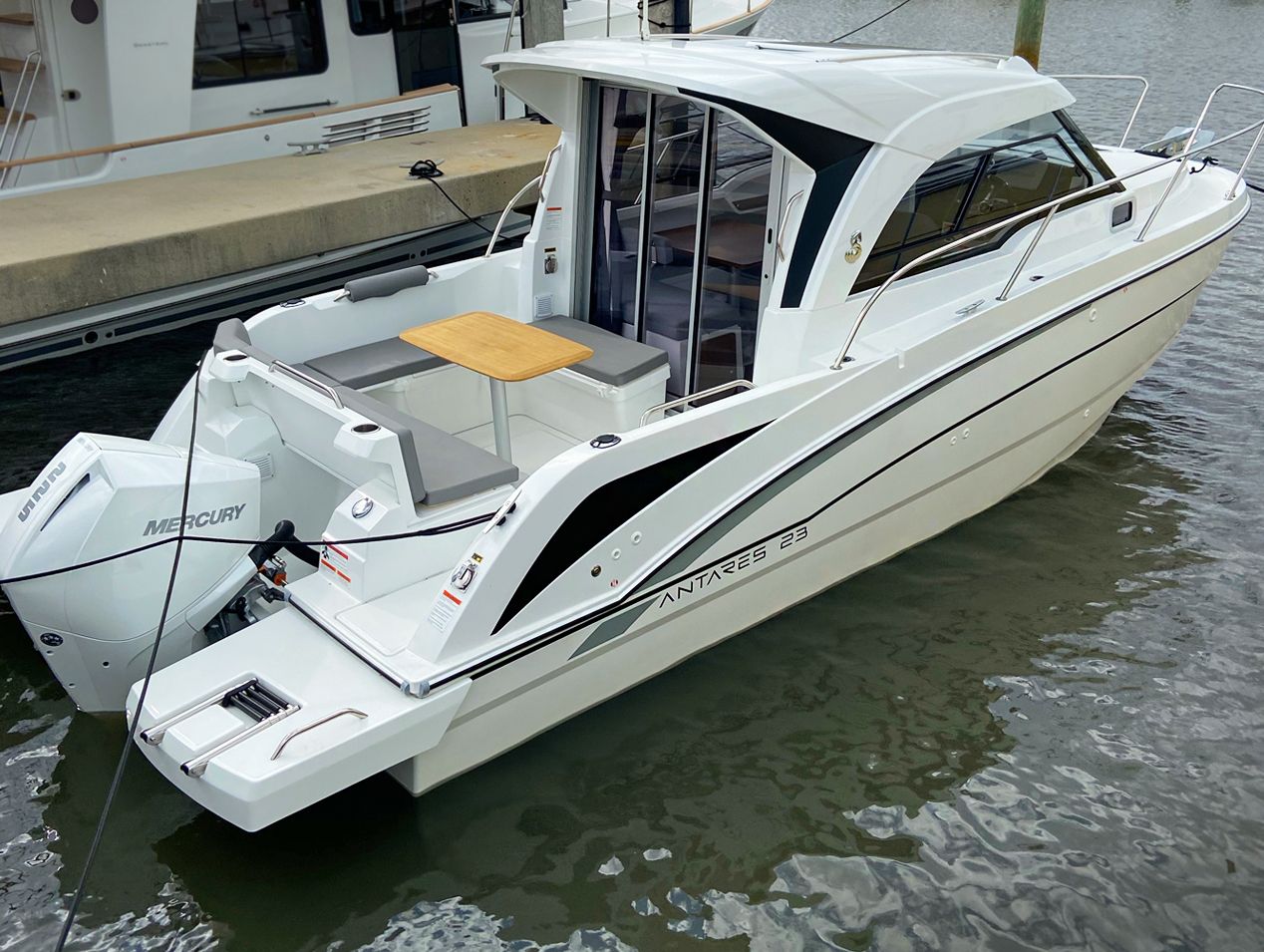 As the market for these types of watercraft continues to grow, the Beneteau Antares 23 is definitely leading the way. Keep reading to learn all about what this boat offers, from its powerful performance to plenty of day cruiser features and more space than most people expect from a boat of its size.

Hull Design

The Antares features an all-new hull design that is uniquely tulip-shaped, helping to deflect waves while still providing stability. The boat itself features a sleek fiberglass exterior with walnut trim and premium finishes throughout, helping set the vessel apart based on looks alone. Plus, the design is able to deliver impressive fuel economy at the same time, thanks to the inspired engineering of the team at Beneteau.

Overall Layout

This day cruiser was created with a very thoughtful design, with families in mind from start to finish. One of the first things you may notice about this vessel when boarding on the stern is the swim platform on the rear of the boat, which is spacious and provides plenty of room for more than one person to enjoy being on the edge of the water. A side transom walk-through makes boarding a breeze for everyone, from small children to older adults. No more will you have to worry about climbing over rails or seats to board your boat.

Propulsion System

The boat is designed to handle outboards up to 250 hp, although the craft comes preconfigured with the Mercury standard 200 hp model. The twin fuel tanks give you an impressive range, and the unique balance of sport and luxury creates an exceptional vessel that is sure to get noticed. Whether you're enjoying water sports or just going for a cruise, the power will be there when you need it. Beneteau specifically considered the addition of an outboard motor to open up more aft space in the cockpit while still providing plenty of power.

In The Cockpit

The cockpit catches your eye right away, but what you might not notice is the wet storage locker that's hiding in the floor beneath. At the helm you'll find a pilot console with adjustable seat and luxe steering wheel with hydraulic steering and encased side engine controls. A rare feature on boats of its size, the Antares 23 also offers an optional bow thruster for easier maneuvering that makes maneuvering in tight marinas and parallel parking at the dock virtually hassle-free. When you look back, you'll enjoy the open back design that keeps you protected from the elements and offers a cabin-like experience without the bulk of a larger vessel.

Inside The Cabin

What are you looking for in a boat? A safe vessel with reliable seakeeping ability? Something habitable but compact? The versatility of the Antares 23 is one of its best features. You'll also enjoy the glass windows that let plenty of light into the cabin area, where there is a galley that includes a sink and storage. Add the optional fridge and stove to upgrade your weekend outings, or choose the sliding sunroof option to sleep under the stars.

Affordable Weekend Living

A lot of young couples and small families living on a budget assume they can't afford a boat that will provide enough space to stay onboard for a few days, but this vessel is working to change that. The Beneteau Antares 23 is a lot more spacious than it looks and is quite practical for living aboard for two or three days at a time.

Take, for example, the cockpit mentioned earlier. Upon entering, you'll find plenty of versatility to ensure that your boat is whatever you need. You'll find a bench seat on the port side, along with plenty of room for fishing and relaxing. There are also additional cushions provided to create a giant lounge space, and you can add the pedestal-mounted cockpit table anytime you want to sit down for a meal. This table is removable, so when you're done, you can move it right out of the way.

Another great feature of this vessel is the available overhead sunscreen and space for fishing rod mounts and other accessories that you may want to add. The indoor area features a sliding door for protection from the elements and a comfortable captain's chair that will make you feel far more like the captain of your own superyacht than a weekend boater enjoying a family outing.

Finally, of course, you'll find the ensuite, which is a full double-forward configuration that features comfortable berth with plenty of storage space. Ventilation and lighting are much better than you'd expect to find on vessels of this size. The boat even features its own separate head, which is uncommon at this size, along with a proper flush toilet to ensure that you feel right at home even when you're in the middle of the water.

The Bottom Line

If you thought you'd never be able to find everything that you want in a boat, let alone one with such a budget-friendly price, the Antares 23 from Beneteau is worth a look. As more young families are looking for an affordable way to enjoy life on the water, this watercraft is a major upgrade from the bulky cabin cruisers of decades past. If you really want to enjoy weekends on the water—or any kind of family boating outing, this vessel might just be the one you're looking for.

Specifications:
Length: 22 feet, 11 inches
Beam: 9 feet, 2 inches
Light Displacement: 4,776 pounds
Engine Draft (Up/Down): 2 feet / 2 feet, seven inches
Fuel Capacity: 2 tanks @ 74 gallons
Passenger Space: 9
Maximum Horsepower: 250 hp