See more articles
Beneteau Gran Turismo 49 Fly: Amenities, Innovations, and Savings
Lots of natural light, sea breezes, and gobs of entertaining space are just a few of the highlights on this flybridge cruiser.
Two words popped into my head as I toured the Beneteau Gran Turismo 49 Fly: clever and fun. The numerous amenities and thoughtful details made me want to spend a long weekend aboard and I wondered what, if anything, I would possibly be missing.





I stepped aboard the enormous swim platform and was immediately struck by three things. First was the "garage," which is a large hatch that opens electrically to reveal a space where the tender can be pulled in by a winch on rollers. The tender can be stowed lengthwise and with the outboard still attached. Second, to port is a hidden passerelle, or gangway, that extends out of a discreet compartment to reach the dock about eight feet away. How incredibly handy will that be in any Med-moor situation? It even has its own guide rail that pops up. Finally, I managed to step off the four-foot deep platform just in time for the demonstration on how it extends hydraulically back and then down into the water to create a private "beach" of sorts. It also makes a great way to load a personal watercraft.



Still looking aft and thinking "wow, those are thoughtful additions," I came up two steps into a nicely finished nine- by seven-foot cockpit, with a settee and a hi/lo table. To port, and tucked under the stairs to the flybridge, is a kitchenette with an electric grill and a sink so you won't have to go far when entertaining al fresco. There's also good engine access from this area. The Fly in the name means it's the flybridge version, because the flagship of the Gran Turismo Series comes with the option of a neat second control station up above. The centerline helm has two bucket seats and a dash that includes a wheel, engine throttles, and a large Raymarine multifunction display (MFD) on the left. To starboard is an aft-facing lounge that extends back and flows into the L-shaped settee with a folding table. A small fridge is mounted under this chaise and is within reach of the helmsman. Two things were rather awkward up here. First, the helmsman will be reaching across the passenger to adjust the nav display, and it's kind of far from the wheel. Second, the bucket seats were tight and reminiscent of airplane seats. They will be undersized for some.



The view forward from the bridge is good and you'll be able to keep an eye on anyone who's at the electric windlass or sunning themselves on the large pad on the bow below. Even though this boat doesn't need the extra space of the flybridge (which is a $25,000 option) it does add quite a bit of room and lots of lounging versatility. On the main deck, I entered the saloon through large sliding-glass doors that provide good visibility aft from the lower helm. There are opening windows all around as well as an enormous sunroof, to let in the breeze when the air conditioning isn't running. To port is a large C-shaped settee with a hi/lo table that folds out for dining, or collapses for cocktail hour. Across to starboard is a cabinet that has a retractable 32" flat-screen TV, and ahead of that is a double helm seat. The dash is well laid-out with twin Raymarine MFDs, an autopilot interface, gauges, and rocker switches to control most systems aboard. The joystick is well placed on the right. The Gran Turismo 49 is powered by twin 435 hp Volvo Penta engines with IPS 600 pod drives. That means the boat is ultra-responsive underway and has the convenience of joystick control when docking and close quarters maneuvering. Top speed is reportedly 27 knots and a cruising speed of 24 knots will give you a 200-mile range. To go below, you enter the centerline companionway and descend four steps into the galley and lower saloon. To port is the L-shaped kitchen area with twin sinks, a stove, and a full-sized refrigerator hidden behind paneled doors. A clever touch is a wire rack under the sink counter that pulls out revealing a second one behind it, so stowage space is plentiful. Across from the galley is a lower saloon with an L-shaped settee where you can stash the kids, while the adults entertain upstairs. This space can also be enclosed and made into a third cabin with twin berths. The natural light below is impressive and you never feel like you're in a cave. The white laminate sole here in the common area adds brightness, and Beneteau's recently introduced walnut finish is a shade of dark brown with exaggerated faux wood grain added. Whether you'll find it appealing or not is a matter of personal preference.



Both of the regular staterooms could be called masters; they're that nicely laid out and spacious. Forward is an island queen with room to walk around and lots of light from the hull ports and overhead hatch. Head access is to starboard. The true master is aft with 5' 11" headroom at the foot of the walk-around bed and an ensuite head. An unusual feature here is the portside lounger next to one of the hull windows. This curiously shaped chaise is very comfy and made me want to grab a book and relax.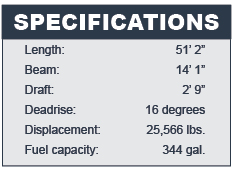 The Gran Turismo Series is a complete line of production motoryachts from 34 to 49 feet. It's an addition to Beneteau's Flyer and Swift trawler lines and it is intended to provide yacht-like amenities at a value price point. It accomplishes that admirably. The Gran Tursismo 49 Fly has a base price of $687,000. Add a full suite of electronics, an icemaker, a genset, a washer/dryer, a dishwasher and a bow thruster, and the price will tick up, but most likely these amenities still won't erase the value that this series provides, when compared to other models in the size range. You can always spend more on a 49-foot yacht, but since the Gran Tourismo 49 provides virtually everything you need, how much more fun are you likely to have? Other Choices: Sunseeker 53 Manhattan, Ovation 52, Prestige 500S, Sealine SC47. For more information, visit Beneteau. -Zuzana Prochazka