See more articles
Beneteau Oceanis 55: Short Video Tour
Zuzana Prochazka takes us for a quick tour of the Beneteau Oceanis 55.

So here we are at the Miami Boat Show on the brand new Beneteau Oceanis 55, the fourth and largest of the Oceanis series.

The interior of the Oceanis 55 is very changeable. First of all you can get 3, 4, or 5 cabins. And then this entire area is wonderful because you can swing this forward, make it into a smaller dinette, the table twists, makes into a bigger table, or you can actually have an option for it to drop and make into a bed as well.

You could easily have a dozen people aboard and you wouldn't even know about it—this thing is so spacious.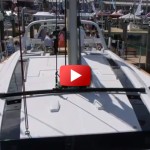 And this whole thing if you don't have the optional ice maker, then it makes into a six foot six sea berth.

For more information on this great Oceanis 55, check out our upcoming review.