See more articles
Beneteau Oceanis 60: First Look Sailboat Video
The 2015 Beneteau Oceanis 60 is the new flagship of the Oceanis fleet.
The Beneteau Oceanis series includes a wide range of sailboats, from the relatively small and modularly designed Oceanis 35, to outright sailing yachts like the Oceanis 55. New to the line for 2015 is the queen of the fleet, the Beneteau Oceanis 60. Our sailboat reviwer Zuzana Prochazka found one sitting in a slip at Strictly Sail during the Miami Boat Show, and stepped aboard to film this brief First look video.


As you can tell even in this short video, the Oceanis 60 shares one very specific trait with her sisterships in this model line: versatility. All of these boats are designed to be multi-tasking sailboats capable of a wide variety of cruising styles, accommodating the needs of a wide variety of sailors—without sacrificing performance. It's a commonality Prochazka has pointed out in many Oceanis reviews.

This is also a feature that Beneteau took to the next level in 2014, when they introduced the Oceanis 38. This model, dubbed "the sailboat that grows," has entire bulkheads, galley modules, and saloon modules that are removable and/or can be added years after the boat's purchase. It can start out as a day-sailor for couples, and later transition into an overnighter for a family with kids. Again, think: versatility.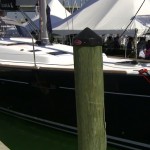 So how does this attitude translate from the smaller versions of the Oceanis line, into a 60 foot sailing yacht? Customization. There's a litany of tweaks and changes a buyer can make to ensure that the 60 is just what they want in a sailboat. Cabin layouts can include three, four, or even five separate sleeping quarters, as well as different head arrangements. Fuel and water tankage options can be spec'd out to allow for coastal cruising or long-distance voyaging. And two different keels allow owners to prioritize shallow draft or performance.

The Beneteau Oceanis 60 is already out on the market (you can view listings for the boat right now on boats.com), and you can get more information on this model by visiting Beneteau. But as you surely know, no boat is perfect. With a 60-foot model like this, there will be plenty of details to sift through. So stay tuned to boats.com—we'll have a full and in-depth review of the Oceanis 60 coming up soon.