See more articles
Bennington 20 SLi: A Quality Pontoon Boat
Don't be fooled by the low price; this new model from Bennington has lots of nice features.
The Bennington Marine 20 SLi  is proof that a "premium" pontoon boat does not have to come with a high price tag. On the scene since 1997, Bennington has earned a reputation for quality construction with models in the luxury market segment. Last season they responded to the current economy with an S Series line, five models from 17 to 25 feet in length, each designed to hit a very accommodating price point. The 20-foot five-inch 20 SLi I recently tested in Georgia has a base price of only $14,995 with a 50-hp Yamaha outboard. And I had to look very hard to find any corner cutting in workmanship or features to reach that price.





For example, check out the deck corner caps, which are stainless steel (not cast aluminum) and through-bolted (not just screwed) to the side frame of the boat. Note that all of the fence is through-bolted through the metal frame, not just screwed into the pressure-treated plywood decking. Or lift up any of the seat bottom cushions; the durable, one-piece roto-molded plastic bases have a drain lip around the top to keep out water, are secured with stainless steel screws backed with big fender washers, AND have powdercoated hinges. Then notice that the screws used to mount the stereo speakers are covered with a little plastic cap to keep them from snagging gear or skin. These are not the kind of details I'd expect to find on an "econo-boat." But I don't think Bennington knows how to build a boat without nice detailing.



Bennington has added 11 inches of length to this model for 2011 specifically to give it a 70-hp rating, so that it can be rigged with the new Yamaha F70 outboard. The 20 SLi was previously rated for 60 hp. This model comes standard with two 23-inch-diameter tubes. Twenty-five-inch tubes are a $400 option, but I don't think you'll need that added buoyancy with the F70 on the transom. Bennington builds this model and the 17 SLi with the frame cross members on 24-inch centers. Cross members on the bigger S Series models are on 16-inch centers.



The huge aft deck is covered in durable vinyl and will be convenient for boarding, line handling, or stowing a towable toy or even a large cooler. It's a good trade-off for sacrificing some interior room. There's a padded sundeck over the aft storage closet, which can be rigged with an optional ($213) pop-up enclosure as a changing room or head. Another nice detail here is a Yamaha 10-micron fuel filter, an essential defense against contaminated fuel, which is standard equipment on all Bennington models rigged with Yamaha motors.



The helm console is smooth, molded fiberglass, with a lockable door for secure storage. A Sony stereo powers four speakers and has an MP3 input. The helm also features a snazzy wheel with polished spokes, an instrument display with an hour meter, lighted switches, and a 12-volt power socket. Tilt steering is a $133 option. The optional ($160) reclining helm seat on my test boat was very comfortable and the fore-aft adjustment was smooth and easy to use, but I was looking for more foot room; my toes were pressing against the base of the console. Higher-priced Bennington models have a molded footrest here. The helm is also missing a glove box or storage cubby for cell phone, keys or other small items.



Seating in this model is typical, with a pair of lounges forward and a wrap-around settee aft on the port side, facing the helm. A small table can be placed in the deck at the aft lounge, and the forward port lounge has an angled backrest against the console. My boat had the optional ($220) "soft touch" upholstery vinyl, which has a four-way stretch that makes it more resistant to tearing. Under the cushions, all the upholstery edges are neatly finished with welting, and the underside of each seat base is covered.

The 20 SLi comes with a 10-foot-long bimini sun top in Surlast material mounted on Bennington's 1.25-inch framing. The top struts are secured with patented plastic snaps that won't rattle like metal pins.



With the Yamaha 70 pinned at full throttle, the Bennington reached a top speed of 22.6 mph, with a very light load. An owner would certainly have more gear on board. The boat didn't feel underpowered, but it would with a smaller outboard. The 20 SLi stays flat on the water in turns and motors along with no rattles or creaks. That's the sound of quality. The aft deck stays free of spray when the boat is underway.

Bennington put a price of $16,509 on my test boat, which includes the 70-hp Yamaha and options already mentioned, plus a Garmin GPS ($200) and LED docking lights ($147). Note that this is a "street price," or about what Bennington expects a dealer to ask for this model. The MSRP on the Bennington website is somewhat higher. One key option that wasn't on this boat is a ski tow bar ($433), which most owners will find handy. If you need a trailer, that comes from a dealer and will cost about $1,800.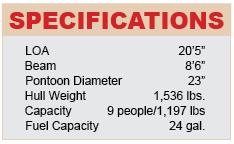 Even with options and wheels, it would be hard to spec a 20 SLi for more than $20,000. This is one pontoon boat that puts a real premium on value.

For more information, please visit the Bennington Marine website.



Charles Plueddeman is Boats.com's outboard, trailer, and PWC expert. He is a former editor at Boating Magazine and contributor to many national publications since 1986.