See more articles
Bennington 30 Club Twin: Quick Video Tour
The 2015 Bennington 30 Club Twin is one monster pontoon boat, which packs some serious punch.
Here it is: the biggest pontoon boat Bennington has ever built. Oh, and it's the most powerful, too, sporting a pair of Yamaha F300 outboards. You want to go fast? You want to have gobs of room? You want ridiculous luxury? Jump on board for a test ride with Charles Plueddeman, and get a quick look at this rockin' hot pontoon boat, filmed at the Miami Boat Show.


With all that power, this boat—which is really a tri-toon, since it has three pontoons—speedily skips across the water. In fact, when reviewer Gary Reich took it out and gave it a thorough inspection prior to writing Bennington 30 Club Twin: The 50 MPH Living Room, he did break 50 MPH. He also discovered that the pair of widely-spaced Yamahas made dockside handling a breeze, and... well, to get the whole story, you should really read the review for yourself.

Meanwhile, let's take a moment to consider just what this boat represents. It's a huge leap beyond single-engine pontoons, like Bennington's 2575 QCW, the boat that was their belle of the ball at last year's Miami show. And it's an even further cry from their 20 SLi, a model that (depending on options) can cost less than one fifth of the 30 Club Twin. Why would Bennington go to such extremes? It's simple: boaters like it.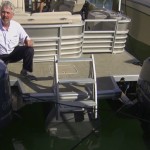 In fact, there's now a slew of heavily-powered speedboat-like pontoons on the market; watch our Performance Pontoon Boats Video: The Need for Speed, to see a few in action. Or, take a gander at Luxury Pontoon Boats: Maximum Relaxation to see just how cushy these party barges have become.

The bottom line? Modern pontoons have become bigger, more powerful, and better than yesteryear's pontoon boats—in just about every way.

What are the options on a boat like this? How much will an uber-pontoon cost you? To find out, view these Bennington 30 listings. Or for more information, visit Bennington.