See more articles
Top 10 Bass Boats of 2022
Differences between bass boats usually come down to layout and style. Here we roundup of the top ten models from this year's fleet.
Whether you're a fishing pro or a recreational angler, a bass boat is an exciting investment—but how do you choose the right one for you? Most bass boats share features like rod storage, raised casting platforms, livewells, and electronics options. While they are relatively small vessels, they often come with impressive power options. A trolling motor and standard outboard are typical. Differences between bass boats usually come down to their layout and style. Here's our roundup of the top ten bass boats from this year's fleet.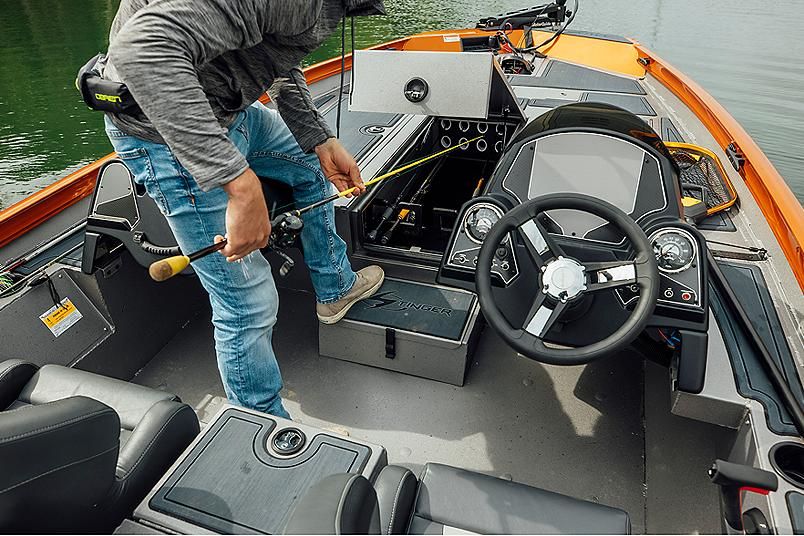 Ranger Z520R
Ranger is a classic character in the bass boat world, known to pump out stellar designs. The Ranger Z520R builds on this legacy, sporting large casting decks with ample stowage underneath. No space is wasted. Nearly every part of the deck has a storage hatch, apart from the four NASCAR-inspired seats which occupy minimal space.

The Z520R's abundant features also caught our attention. This model has an impressive Lowrance electronics package. At the bow is the Lowrance HDS 12 Live with Active Target, and at the console, you'll find the Lowrance HDS-9 LIVE with AI.

Other notable electronics include the Ranger RIDE system with intelligent display. From the nine-inch screen, anglers have full boat control and monitoring. The Z520R also has a wireless phone charger, a push-start ignition, and a new digital switching at the bow with foot-activated trim buttons. Of course, there's also a livewell, tackle storage, and rod lockers onboard.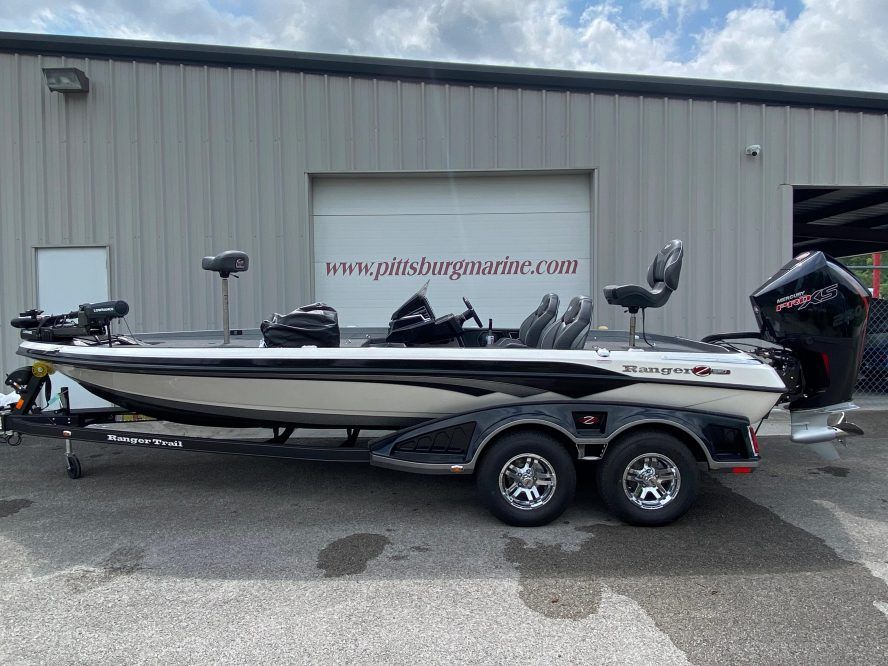 Lowe Skorpion 17
If you're an angler who cares about bass fishing features but doesn't want to limit yourself to one type of fishing, the Lowe Skorpion 17 is a fantastic option. This highly versatile vessel comes at an accessible price tag and has all of the features you'd expect to find on a bass boat. However, the Skorpion 17 also includes an aerated livewell, a baitwell, and a MotorGuide® X3-45FW FB trolling motor, applicable to many different types of fishing. All-aluminum and all-welded, the Skorpion 17 can withstand serious use. It comes in multiple colors, including camo, so you can choose the right fit for your style.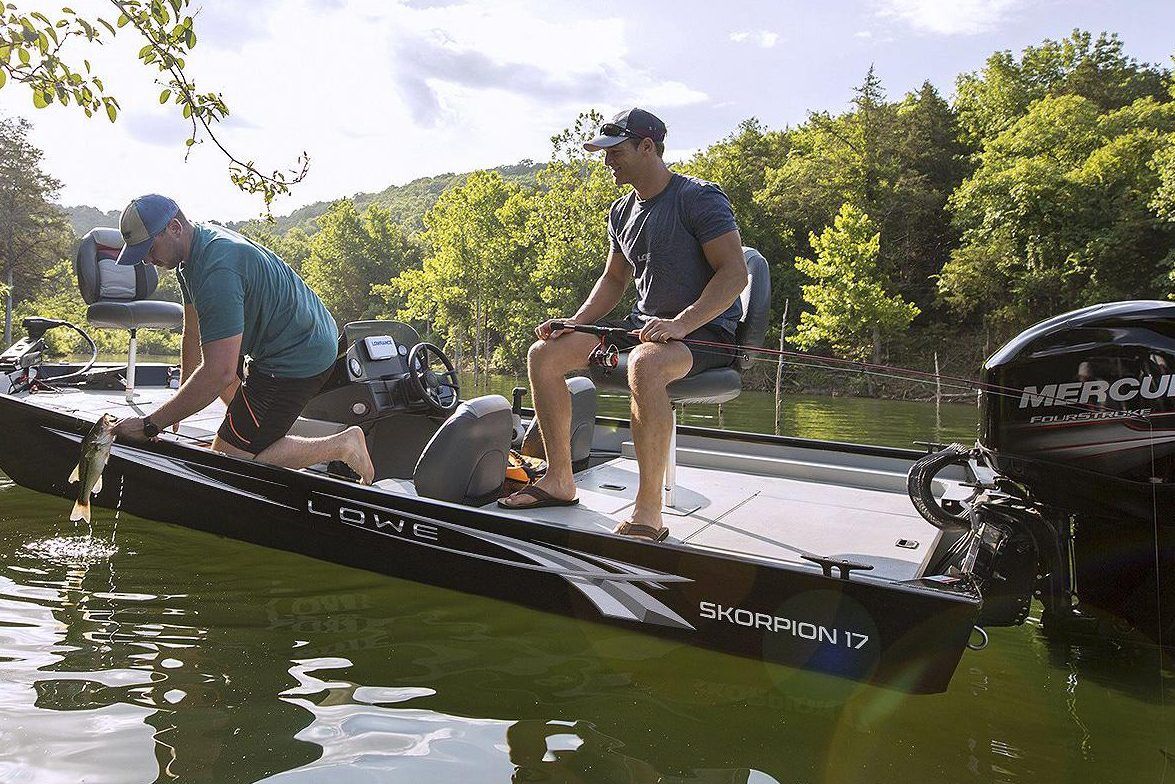 Crestliner MX 21
It's hard to ignore the massive casting deck on the Crestliner MX 21. No more worrying about casting into your fishing buddy on this model, which maximizes casting space without sacrificing other conveniences. The Crestliner MX 21's cleverly integrated features are just icing on the cake. Expect to find SeaDek accents and typical gauges, plus hydraulic steering. Anglers will appreciate the two giant livewells and multiple rod stowage areas. Two large lockers run parallel across the bow. Overall, this boat makes our list because it prioritizes bass fishing. Rods and tackle stay safe, and anglers don't have to worry about tripping or limited space.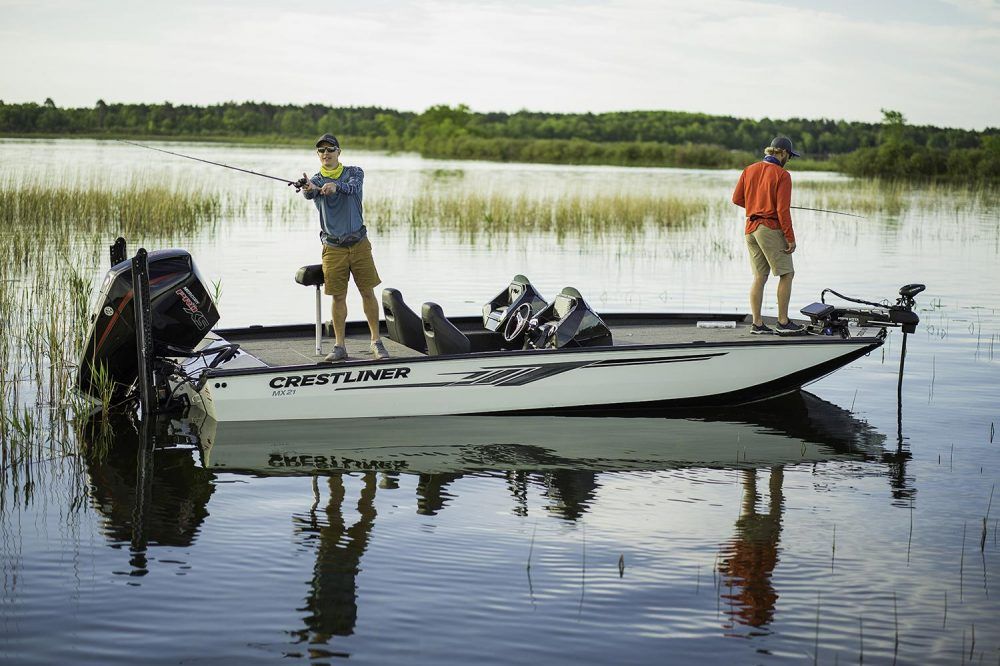 Skeeter FXR 20 APEX
Time has proven the Skeeter's FXR 20 APEX impressive quality. This finely tuned bass fishing machine is the result of 75 years of research and design. It has an ultra-large casting deck with stowage underneath. Lift the hatches for rod stowage and innovative tackle stowage below. The FXR 20 APEX is powered by A Yamaha V MAX SHO® VF25O outboard powers the FXR 20 APEX. At the bow, it has a Minn Kota® Ultrex® MDI iPilot® Link 112 Trolling Motor. These power options will get you to the fishing grounds fast, and keep you on the fish. Other notable features include the performance-designed seats and multiple color options. This model also boasts a fantastic electronics package with hummingbird electronics gimbal-mounted at the bow and console, plus fusion audio with two speakers.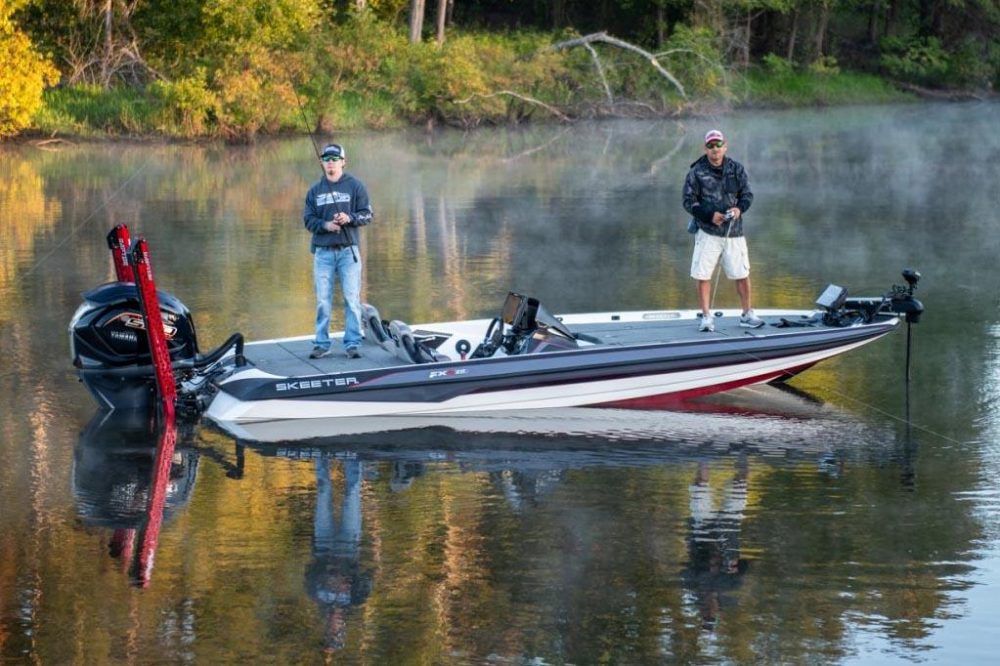 Phoenix Bass Boats 721 ProXP
The Phoenix 721 ProXP is one daredevil of a bass boat. This sleek vessel has some serious power. Equipped with a trolling motor and up to 250HP, it carves along with speed and style. No sacrifices are made in the angling department, though. This boat has features to protect rods and tackle, as well as under-seat net storage. Well-placed stowage makes it easier to get fish onboard and into the livewell. The casting deck is expansive, with a step up at the bow. Together with cleverly placed stowage, this bass boat is highly fishable.

The 721 ProXP also takes angler comfort to heart. The deck has pro-tech padding and comfortable seats, not to mention holders and personal storage at the helm.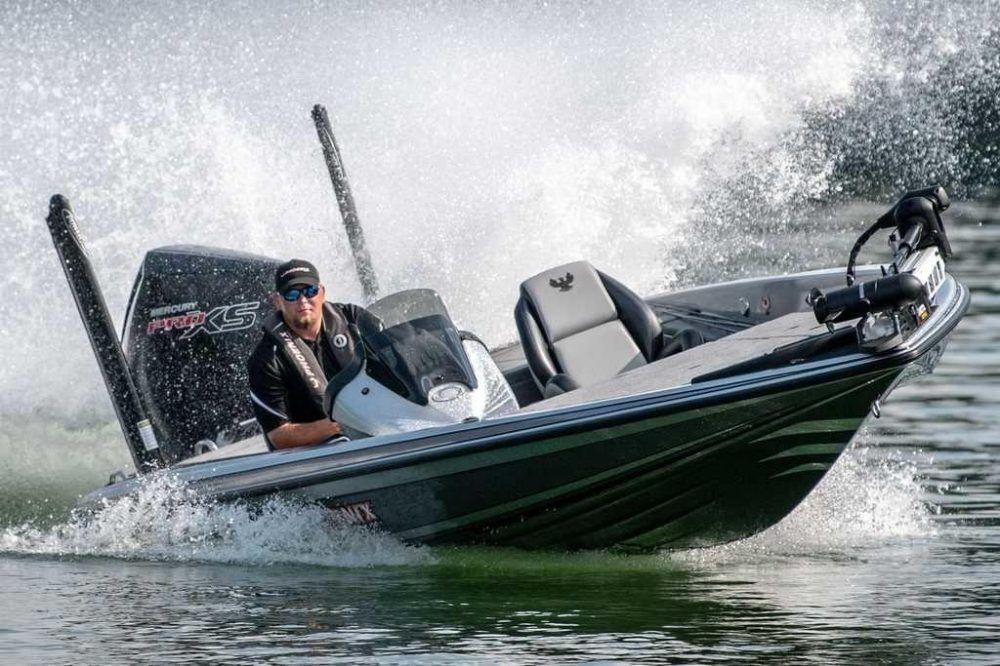 Lowe Stinger 198
The second Lowe model to earn a spot on our list is the Stinger 198, a highly customizable model with innovative features. Anglers can choose from multiple power and interior options. You can also choose how much horsepower you'd prefer. Stylistic elements like interior lighting are also on the table.
The Stinger 198's whopping 83-square-foot fishing deck truly optimizes angling. Anglers will appreciate the aerated livewells and convenient tackle storage. Find two stowage lockers with various uses at the bow. The boat's central rod stowage fits eight rods. Like the other stowage areas, this rod locker can be locked up for safety.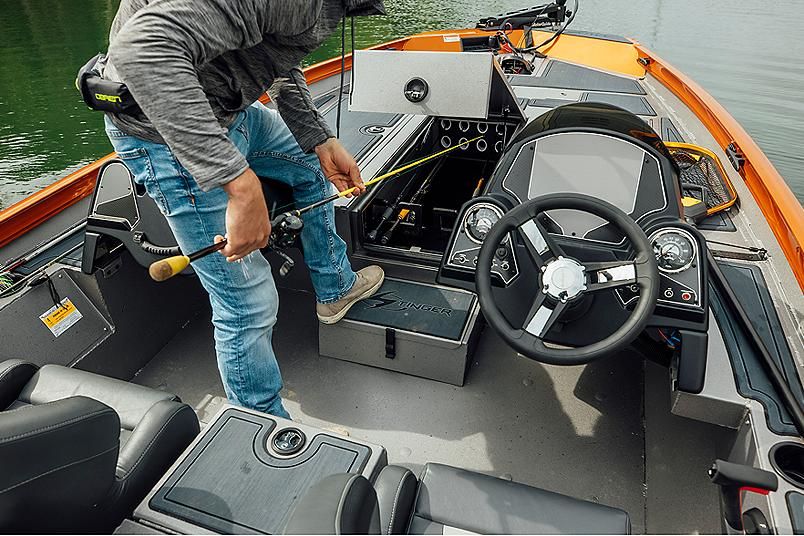 Caymas CX 21 Pro
The Caymas CX 21 Pro is certainly a tournament-worthy vessel. This model features dual-aerated oxygen innovation livewells and the full Lowrance electronics package. Anglers have up to 300 horsepower at their disposal, plus dual black power poles. There are also multiple areas for rod storage and a folding fish net with a custom holder.

As far as bass boats go, the CX 21 Pro is a luxury model. Enjoy the added comfort of a fully-padded deck with multiple seating areas. Of course, this model doesn't skip out on entertainment with its dual Bluetooth speakers. Custom color selection is also available.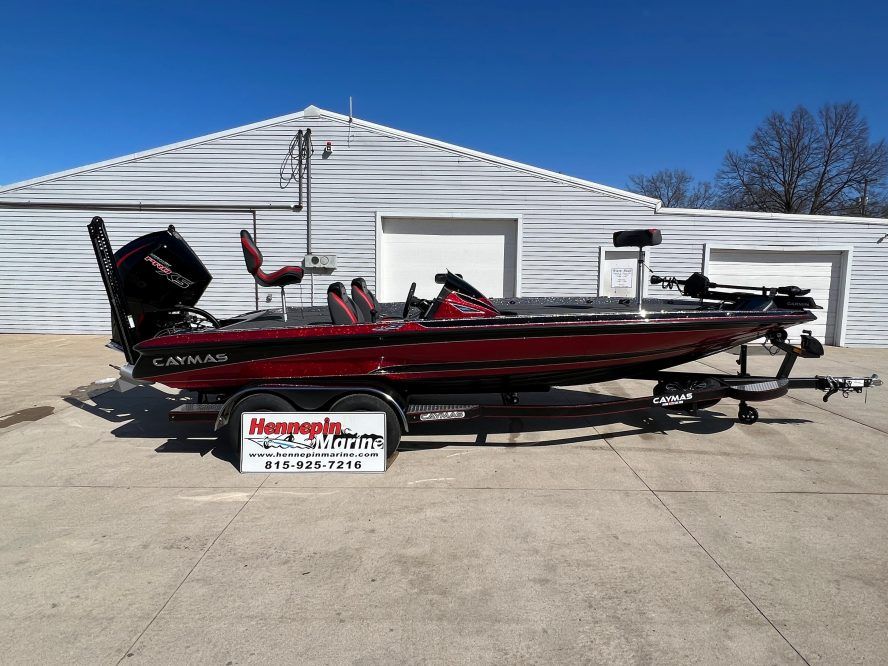 Tracker Pro Team 190 TX
Here's a boat that caters to all your bass fishing needs without breaking the bank. The Tracker Pro Team 190 TX comes with raised casting platforms, abundant stowage, and an impressive capacity for storing rods. Its low price point doesn't compromise its durability, though. These boats are hardy with an all-aluminum, all-welded build. Lowrance electronics and a Minn Kota® Maxxum® 24V trolling motor are included. A tournament package is also available to anglers looking for extra features.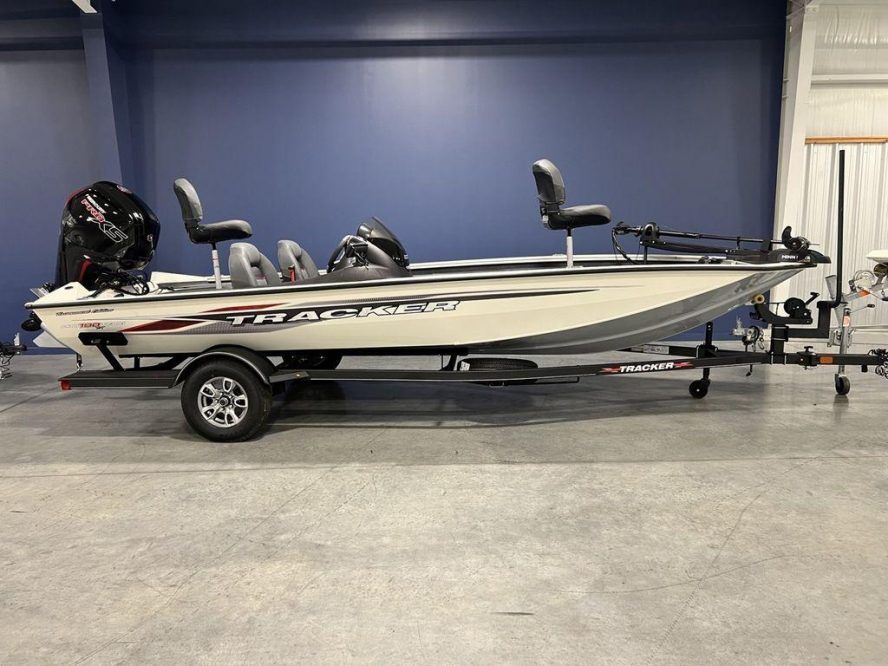 Lund 2075 Pro-V Bass XS
With its sleek, sporty body, the Lund 2075 Pro-V Bass XS is ready to traverse all kinds of waters. This versatile boat has a smart design built to rival fiberglass boats in the same class. It features interior LED lighting to extend your fishing time into dusk or dawn, plus livewell lighting to make scooping bait easier.

The Lund 2075 Pro-V Bass XS has massive dual casting decks fore and aft. It comes with plenty of stowage, plus rod lockers with tackle compartments. The whole family will enjoy this fishing vessel. It's the only model on our list with an aft ladder — great for swimming.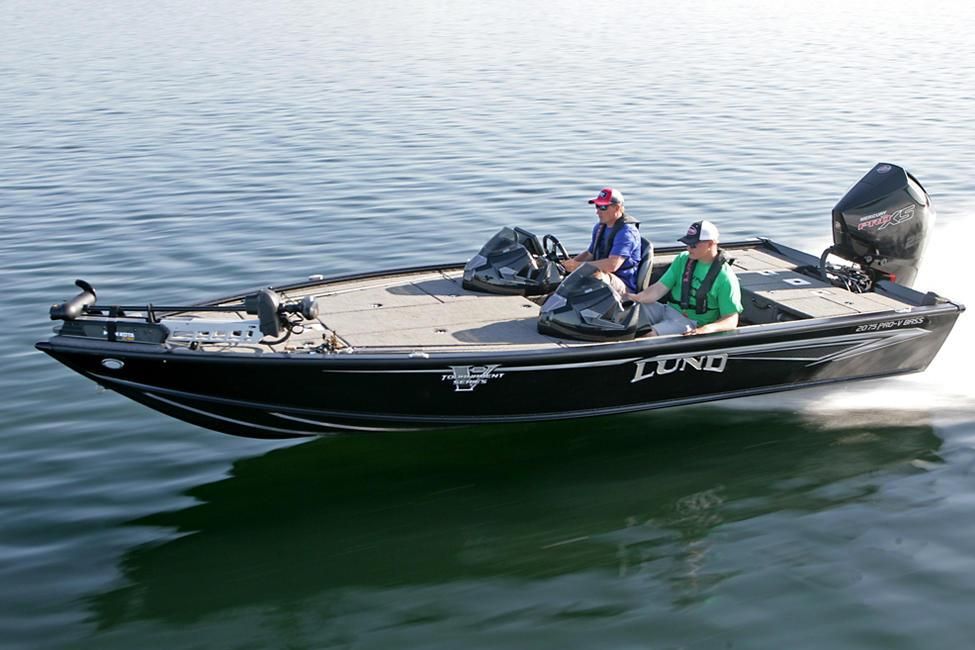 Skeeter ZX 200
From trophy bass fishing to casual trips with friends, the Skeeter ZX 200 won't disappoint. This model is great for all levels of anglers. Bass fishermen have ample room to cast from the raised decks. These decks provide excellent visibility and offer ample stowage underneath. This model has a Yamaha V MAX SHO® with 200 horsepower and a trolling motor to keep the boat on the fishing hole. Other notable features include its dual windscreens and ultra-comfortable seating. The ZX 200 has eight different color options.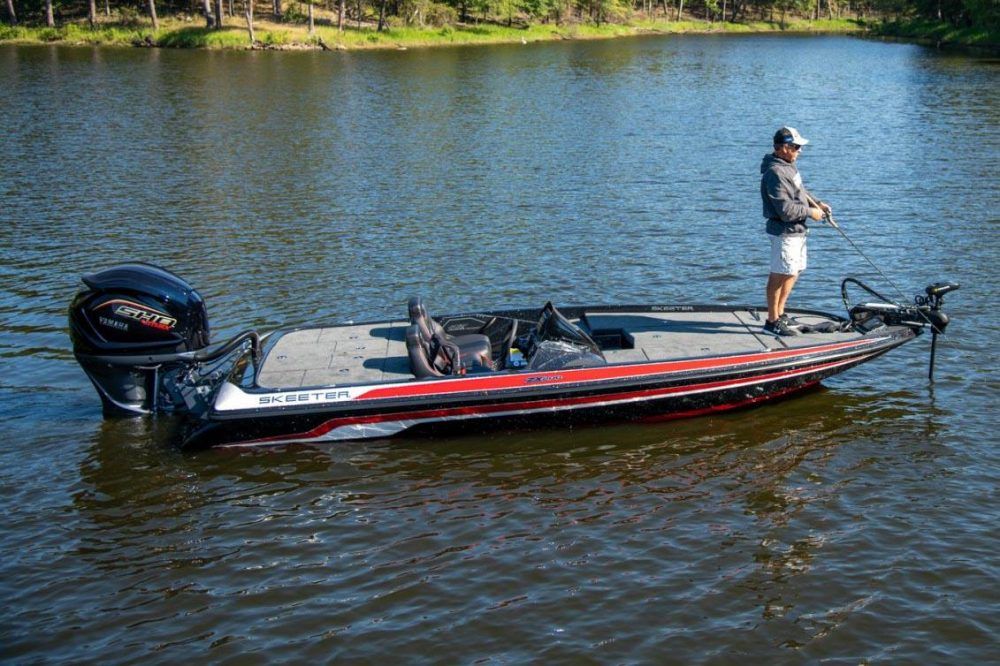 Your favorite bass boat manufacturers weren't playing games when they graced us with this year's top-notch lineup. Think you could use an even smaller fishing vessel? If you plan to skirt around local waterways, a jon boat could also be a great fit. Whether you're new to angling or want a refresh on the different types of fishing vessels, you've come to the right place.