See more articles
Best Sailing Watches
Take a look at eight of the best boating watches.
The Best Boating Watches

When you're boating and sailing, having the right tools to call upon is essential for success. If you are shopping for a boating lifestyle watch, you may want a watch to wear diving at the depths of the ocean. Yet, for sailing, your main criteria may be to have a watch with an accurate stopwatch and strong visibility. Depending on your lifestyle and needs out at sea, these eight watches will satisfy boaters and sailors alike.

Key watch features useful in and around the water are likely to include:



Waterproof (diving depths 330 feet will cover swimming or snorkelling and diving);


Superluminous indexes/hands;


USB-powered charging;


Long battery life for journeys out at sea;


Multiple time zones for transoceanic trips;


A countdown timer for racing;


Heart rate monitor for fitness;


Solar-powered to save battery;


GPS for navigation;


Anybody who sails will appreciate that it's an intensive activity which requires all of your attention. Any skipper will tell you that timing intervals can be
extremely challenging due to the wind conditions and current so relying on decent sailing watches
as a countdown timer for races and regattas is the key. Which is why we have included a range the best sailing watches available, starting with the best:
1. Garmin Quatix 5, Multisport Marine Smartwatch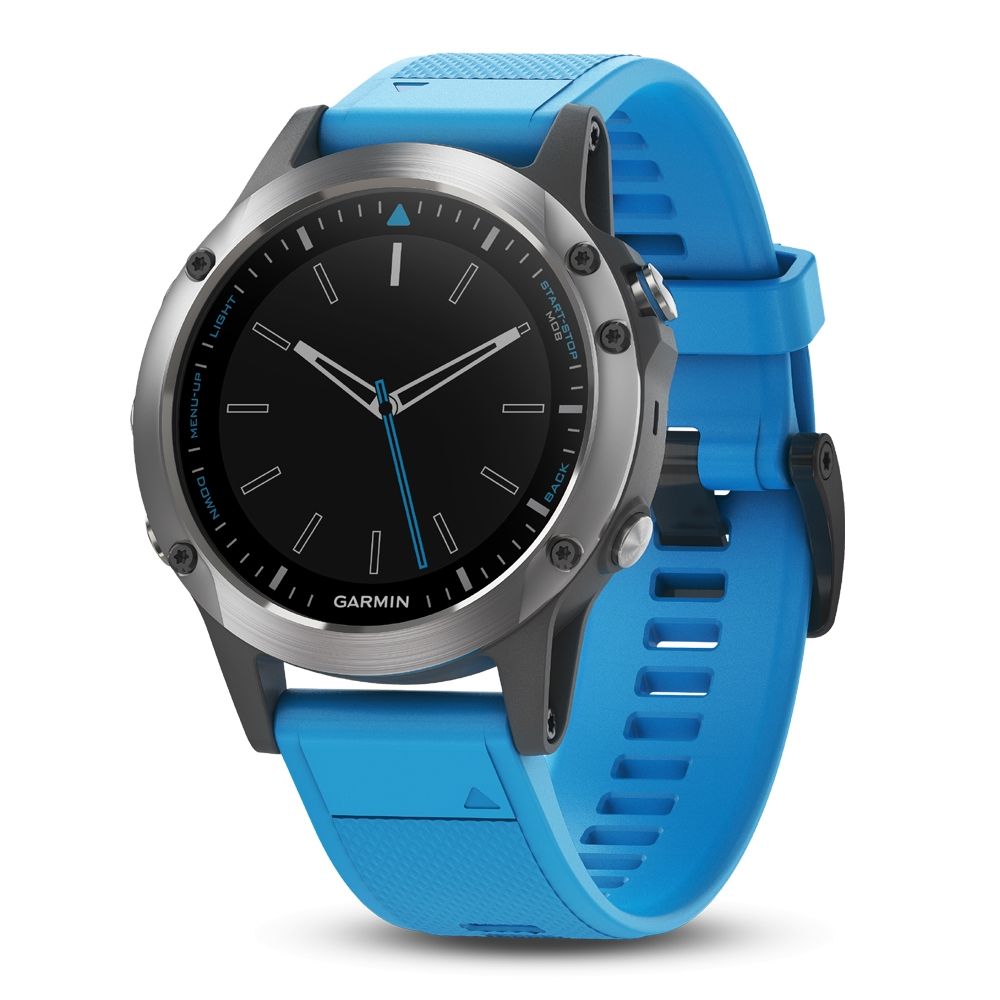 Garmin Quatix 5, Multisport Marine Smartwatch

The original Quatix was Garmin's first GPS watch designed specifically for mariners - and its most recent incarnation really is a technical tour de force. In addition to all the basic watch functions (alarms, timers, stopwatch and world clock), you get tidal information, Course Over Ground, Speed Over Ground and useful alerts for anchor drag. The altimeter, barometer and compass provide real-time navigation and MET data and it also has an integrated MOB function, which triggers an alarm on your boat's Garmin chartplotter if you fall in. Better still, if your boat is appropriately equipped, you can even use your watch to wirelessly steer your boat via autopilot control. With sail racing data, a virtual starting line, race countdown timer, and a distance to starting line function, the Quatix 5 is designed for serious sailors. It also provides remote waypoint marking and it streams data on water depth, speed, wind, and temperature. Oh, and to top it all it also includes a heart rate monitor, radio controls, and built in GPS! The Quatix is changing our ideas about what a marine timepiece can do.


2. Optimum Series 12


Optimum Series 12

The shock and water resistant Series 12 from sports watch specialist, Optimum Time, is built from robust ABS plastic with a soft-touch removable silicone rubber strap. The three-row, 28mm LCD display enables you to view the time and the timer simultaneously; and with 9mm digits in normal mode and 19mm digits for the final minute of a race, plus an 'electro-luminescence' backlight feature, it's easy to read at a glance. The sailing timer functions (countdown repeat with pre-programmed ISAF start sequences, audible warnings and a 'Sync Button') are also a welcome bonus. It's not especially sophisticated but it's a well priced, well specced and good looking gadget.


3. Suunto Core Alu Deep Black


Suunto Core Alu Deep Black

The basic Suunto Core is a very good marine watch, but the Alu (aluminium) version ups the ante with an extra bit of style and exclusivity. In terms of features, you get a barometer, tide data, a compass with semi-automatic calibration and digital bearing, a Storm Alarm and weather trend information. You also benefit from a depth meter, dual time and countdown timer, sunrise/sunset times for more than 400 worldwide locations and a digital thermometer. If you're a serious racer, you might be better off with something simpler, but for the rest of us, the superb looking Suunto is a very cool outdoor timepiece.


4. Optimum Time OS Series 2JL Sailing Watch


Optimum Time's 2JL is specifically designed for those with smaller wrists, like women and youngsters.

This entry-level model for women and children is surprisingly well featured. Despite its compact, lightweight case, it comes with a usefully large, single-line display and a strap that enables you to wear it either directly on your wrist or over your clothing. Water-resistant to 30 meters, it also comes with specialist sailing functions, like a countdown with elapsed time for handicap races, plus pre-programmed ISAF start sequences with audible warning signals and a one-touch Sync button.


5. Gill Race Watch


Gill Race Watch

This sailing-specific watch is built from shock-resistant, carbon-reinforced ABS plastic with a stainless steel case back and 30-meter water resistance. It comes with a countdown timer with Sync button, plus audible alarm and alert sounds and a sleep mode to help preserve battery life. Okay, so it's not the most heavily featured watch at this price, but it's branded, it's tough, it's pretty and it comes in multiple colors for that customized feel. If you decide you love your kids just that little bit more, you could always upgrade to Gill's Regatta Master for an extra few bucks.


6. Timex Navi Ocean Watch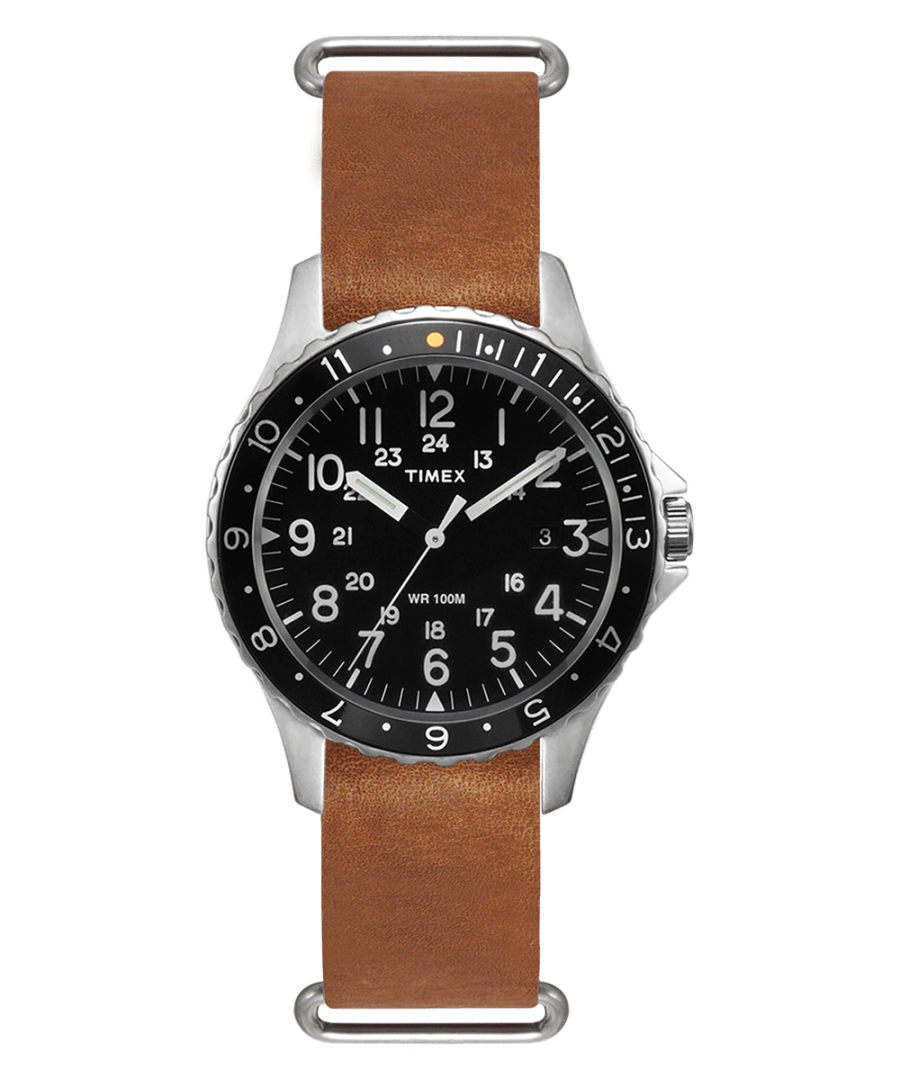 Timex Navi Ocean Watch
This 38mm watch is sure to appeal to the seafarer who prefers simplicity over flashiness. The utilitarian Navi Ocean model is inspired by military watches. With a striking, high-contrast dial, the large white numerals stand out like the stars on a clear night against a jet-black background. Notable features include the military time ring on the dial, quick date, crown guards, and rotating elapsed time counting bezel, and is completed by a classic tan leather strap. Rated for 100 meters, you can dive and swim without a care in the world. This is one of the best yachting watches for a simple man.
7. Citizen Royal Marines Commando


Citizen's all-action Commando watch.

This is a proper action watch. The case is built from ion-plated titanium with extremely thick (2.5mm) glass and a Citizen Eco-Drive movement. In addition to the Kevlar strap (much more sensible, more durable and more comfortable than a conventional metal bracelet), you get a plain black dial and date function, a simple alarm and water resistance to a depth of 300 meter. The big bright digits are uncluttered and easy to read at a glance, the case is engraved with the Royal Navy Ensign and it comes in a presentation box emblazoned with the regiment's colors.


8. Swiss Army Dive Master 500


Swiss Army's Dive Master.

The Swiss Army is more famous for its Victoria Sponge than its fighting prowess. In fact, to date, its most vigorous engagement involved a squabble with a small child over a segment of Toblerone - so it's only right that it should postpone its absurd association with tiny knives and turn instead to watches. Finished in 'Black Ice' ion-plated stainless steel and water resistant to 500 meters, the new Dive Master from Victorinox features sapphire crystal glass with an anti-reflective coating, a Swiss Quartz movement with magnified date and bright luminous hands and markers. The unidirectional bezel enables a diver to keep track of time and the rubber strap makes good sense. It also comes with a three-year guarantee and a swanky presentation box.

Looking for other waterproof kit? Read our feature article on Boat Shoes and Accessories for the Captain in Your Family.