See more articles
Boats We Love: Jericho Bay Lobster Skiff
Boston Whaler, Eat Your Heart Out
If James Bond ever had a 14 year old son -or daughter- this is the boat they would build with their bare hands.  But it doesn't matter if you're 14 or 41, man or woman, or if you live on a Lake in Montana or the rocky coast of Maine.  Everyone looks good in a Jericho Bay Lobster Skiff.  You'll probably end up adopting a Golden Retriever when all is said and done.

This video was my first introduction to what would become a five year obsession:



And if  you're looking for a winter DIY project that will turn every head on the river next spring look no further.  The plans are available for $90 on the Wooden Boat Store.

Every year a few more build videos surface on YouTube.  Regardless, if you start now you'll probably have the first one in your town.



And if you're not a DIY junkie, fear not.  You can pick one up pre built.  If you're persistent they might even throw in a a few cans of varnish.  You'll need them.  This beauty was built by Shearline Boatworks in Morehead City, North Carolina:

http://vimeo.com/53186326

And while visiting IYRS in Newport last week, I came across a hull only for $18,000 OBO.  With Motor and Controls: $23,000 OBO.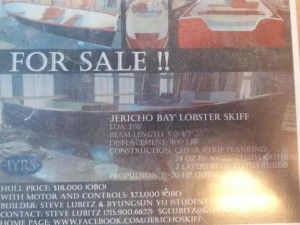 I think I'll stick to the plans and keep dreaming.