See more articles
Boats We Love: Vineyard Vixen 29
Tim Murphy explains how this delightful double ender has shaped his sailing, and his life.
I was at a dangerously susceptible age—11 or 12 or 13—when L. Francis Herreshoff's The Compleat Cruiser first infected me. Instantly charmed by the book title's neo-archaic misspelling, over time I became as deeply moved by the way the modest Piscator and Viator and, above all, Rozinante shaped the lives of the people who sailed them. To me, it was similar to the way Henry David Thoreau's cabin in the Walden woods shaped Henry.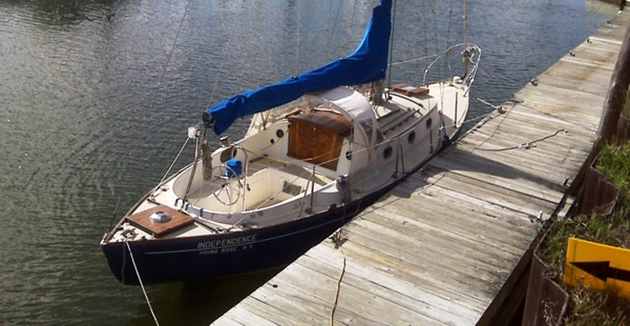 And when I tripped over my first Vineyard Vixen 29 some twenty years later in a Point Section backyard in Newport, Rhode Island, I had no idea at first how I would be shaped by this boat. I just bought her, impulsively, then slowly came to learn what I had.
What I had was an early rendition of the thirty-odd 29-foot double-enders designed and built by Tom Hale and his sons at Martha's Vineyard Shipyard between 1974 and 1986. In addition, the Hales built another twenty-three longer-legged Vineyard Vixen 34s on similar lines.
"I would say it was the 1972 or 1973 Newport Boat Show," recalls Martha's Vineyard Shipyard president Phil Hale. "My dad came back and said, 'I can design and build a better boat than the stuff I see there.'" The design brief he set for himself: a nice little daysailer; open-ended accommodations; a good, stout little sailboat.
Like me, Tom Hale, Sr., was moved by one particular L. Francis creation. "Rozinante didn't have quite enough interior space," said Phil, "so he changed that in his design." Hale's changes included standing headroom in the main saloon and a solid fiberglass pan construction, with liners at the sole and cabintop. What Hale retained from Rozinante was that ineffably fine aft section that makes a viewer go, "Ahhh..."
By today's standards, the Vixen's displacement is a heavy 8,600 pounds on a 23-foot waterline. The median displacement-to-length ratio of new sailboats at the 2013 fall boat shows come in at about 170; the Vixen's D/L is 316. The layup of hull, deck and liners are all solid fiberglass, which is heavy for sure but a godsend to anyone who's ever had to repair a delaminated core. My own boat had suffered water intrusion through the chainplates and hatches—and sustained exactly zero damage to the hull and deck laminates.
The Vixen's sail area is relatively skimpy. Her 365 square feet of working sail tot up to a sail-area-to-displacement ratio of just 14, compared to a median of about 22 in the 2013 fleet. The implications are that a similarly sized J/Boat, say, will slip right by in a gentle zephyr. But once the breeze is up over 10 knots or so, the Vixen will implicitly remind you that seakindliness is a function of displacement, particularly when that displacement is arranged in a hull form as lovely as this. Prismatic coefficient? There is no prismatic coefficient, as the modest beam tails off to nothing just aft of the rudder. Compare the way a Vineyard Vixen answers her helm in a stiff breeze with a that of a late-model production cruiser whose transom was designed around a queen-sized aft cabin: you'll remember why you liked sailing in the first place.
I like sailing the Vineyard Vixen so much that I've removed the 15-hp auxiliary diesel and sail the boat on and off her Narragansett Bay mooring engineless. That's not a modification I recommend to everyone, but it's great for those of us who are so infected by the archaic romance of Herreshoff and Thoreau.