See more articles
Actisense NGT-1 NMEA 2000 gateway, now we're talking
I've got a large NMEA 2000 network set up in the lab now, and it's giving me a good chance to try out the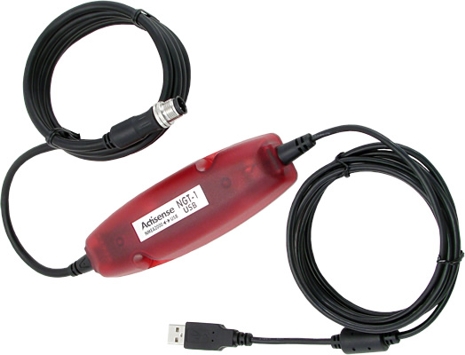 I've got a large NMEA 2000 network set up in the lab now, and it's giving me a good chance to try out the Actisense NGT-1. It's fully NMEA certified now, and selling for $200 at some outlets, but I gather that the Third Party Gateway system (formerly known as the Intelligent Gateway) of which it's a part is not yet fully detailed. In other words, we don't quite know yet how software that works with it will get NMEA approved and what, if any, restrictions there may be on how it's sold. For instance, bundling in an NGT-1, or a similar gateway, may required. But I can tell you this: Beta versions of TPG software are starting to look powerful...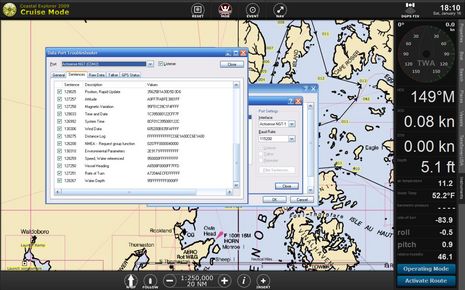 Above (click for bigger) is the latest Beta version of Coastal Explorer 2009 connected to a backbone full of live data via the NGT-1. Yes, the wind display needs work, but the responsiveness to the sensors that do display is excellent (the 115,200 baud rate helps), and think of all the info -- engine, tanks, batteries, etc. -- that can now be integrated into and/or displayed by CE. All via a simple, robust pipeline with no NMEA 0183 translations needed.
The NGT-1 also seems to work fine with Airmar's WeatherCaster software (as I illustrated last summer), and seems to be very similar to Airmar's own U200 Gateway (explained well with Airmar's other converter/gateways in this PDF). And Actisense has built a simple program for updating the NGT-1 as well as a NMEAReader utility (below) that's coming along. It's not yet as informative as Maretron's N2KAnalyzer (manual here), but then again it can also look at incoming NMEA 0183 data. Maretron's USB100, incidentally, is both an N2K-to-0183 translator and a gateway (as discussed on the forum), though Maretron has not really opened it to third party developers yet. That may change when the Third Party Gateway rules get fully sorted out. Tomorrow we'll take a look at a new product that really shows what TPG makes possible.