See more articles
Beneteau Flyer 6: First Look Video
Come along as our UK reviewer Alex Smith takes a peek three fresh powerboat models from Beneteau, in this first look video.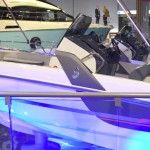 It's only been in the last four years that Americans have been introduced to some of Beneteau's great powerboats, such as the Barracuda 9, or the Swift Trawler 44. The irony is that Beneteau has been building and selling powerboats in Europe for decades, and the Beneteau Flyer is one particular model that's been around for nearly 30 years. In this first look video we take a peek at three new models in the Beneteau Flyer 6 lineup at the Paris Boat Show.


Once you've had a look at the video, check out Alex's full review on our UK sister site, which includes informative descriptions of all three Beneteau Flyer 6 models: the Sport Deck, Sun Deck, and Space Deck.

See listings for Beneteau powerboats.