See more articles
Boston Whaler 190 Outrage: Good Builders, Like Good Memories, Never Fade
Boston Whaler's legendary construction, pronounced deadrise for smooth running, and solid performance make this center-console a small-boat winner.
My childhood buddy had a classic whaler in the Montauk style, the quintessential boat for brats. But in today's world give me the Boston Whaler 190 Outrage, the junior version of Boston Whaler's deep-V offshore line that has models up to 37 feet.





I don't know if you can call it a kid's boat, since it costs more than a 3-Series BMW, but it's a great small boat for someone who can afford a high level of quality and wants an easily trailerable package that fits in a driveway.

The boat is rated for 200 hp, but will run more efficiently with the 150-hp Mercury Verado. Test numbers show it can approach 45 mph; when throttled back to around 22 mph it has a 286-mile range.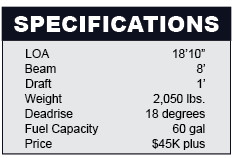 The 190 has a deeper V than most small boats, tapering to 18 degrees of deadrise at the transom. With a narrower entry at the bow, it's well suited for moderate days outside the inlet, and it won't pound. With the engine trimmed up, it can float in about a foot of water, giving it some versatility for exploring in shallower bays and backwaters. And if the day comes that you're ready for something bigger, it's no secret that Boston Whalers retain more of their resale value than many other boats.

For more information, visit the Boston Whaler website.



Pete McDonald writes for Boating, Yachting, and other marine and fishing publications. In the past, he has written for Power & Motoryacht and Salt Water Sportsman, and spent 11 years on staff as a technical editor at Boating. All things considered, at any given moment he would prefer to be fishing.