See more articles
Boston Whaler 230 Vantage: A Dual Console Whaler for Watersports
The new 230 Vantage is rigged for wakeboarding, waterskiing, and all-around fun in an unsinkable package.
Take a look at our Short Test Video of the 230 Vantage from Boston Whaler, and you'll discover that this dual console watersports boat has some unique features that will add a healthy dose of liquid fun to every day spent on the water. In fact, not only can this boat pull wakeboarders and water skiers with aplomb, it can do so while wrapping you in the peace of mind that comes with having an unsinkable hull underfoot.





The 230 is one of a pair of new Vantages, the other coming in a 27-foot package. Both are intended to be do-everything boats, as evidenced by the inclusion of fishing rod holders right alongside the wakeboard racks on the tow tower. (Serious anglers will also opt for the fishing package, which gets you a 14 gallon lighted livewell, additional rodholders at the transom, a raw water washdown, and cockpit toe rails.) More of the watersports-go-fishing mix can be found in the transom seat, which folds flush against the transom to open up additional cockpit space.

And this do-it-all attitude shows at the passenger's seat, too. It can be flipped back into an aft-facing seat for watching skiers or boarders, flipped forward into a leaning post for long runs to the fishing grounds, and flipped down into a flat sun lounge for just lazing about. What's really impressive about this seat, however, isn't its versatility. After all, you can find transforming seating arrangements on many different boats. The real shocker here is how easy it is to adjust; just pull a trigger and the spring-loaded backrest swings around wherever you like, and locks in place as soon as you let go. Remember when you had to loosen multiple knobs, wrestle the seat into place, and then tighten them up again? That's a time-consuming hassle you won't have to deal with on a Vantage.



Wait a sec—doesn't putting a complex gizmo like this on a boat just beg for failure down the road? Usually the answer would be yes, but Boston Whaler used chunky stainless-steel in all of the moving parts. I was less than gentle with this seat, slamming it in and out of position and leaning hard against it, and I'm confident that they built this thing for the long run. Same goes for the other pieces and parts on the 230 Vantage. Open the passenger's side console to enter the head compartment, for example, then give the door a hearty slam. The latch, door, and hinges are all thoroughly beefy. Same goes for the tow tower, which doesn't sway or bend no matter how hard you yank. And the four-step boarding ladder at the bow. And the grab rail on the cockpit utility center (which has a sink, stowage, cutting board, and 36-qt. cooler). Etcetera, etcetera, etcetera. In short, the Vantage is built just as tough as Boston Whaler builds its offshore fishing machines.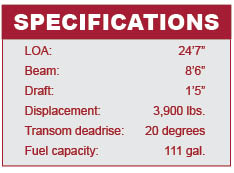 More about that head console: 23 feet is fairly small for an enclosed head, but Whaler enlarged the console enough to make it work. The up-side is plenty of room to step in and turn around; the down-side is a loss of bow cockpit space. It'll be a bit tight with multiple people forward of the windshield. But that's life; you have to give a little to get a little.

The 230 Vantage comes with Verado power only, in either a 250 or a 300. Go for the 300 and you'll see a top-end that beats 50-mph, with a cruise in the mid-30's. Either power package has plenty of oomph to pull watersports enthusiasts out of the hole in a blink, and enough range to get you to fishing hotspots up to 100 miles from home. In other words, you can't go wrong either way—whether your passion is chasing air off a wake, or wahoo off a temperature break.

For more information, visit Boston Whaler.

-Lenny Rudow