See more articles
Boston Whaler 285 Conquest: Video Boat Review
Boats.com reviewer Jeff Hemmel checks out the keel-up redesign of this 28 footer.
Read Jeff's Boston Whaler 285 Conquest Boat Test Notes

boats.com got a call last spring that we couldn't refuse. The exclusive opportunity to review the new 285 Conquest before its official launch. Needless to say, we didn't shy away from the chance to put this good looking, dual purpose design through its paces. Watch the video and you'll understand our excitement:


Something as simple as cockpit seating can tell you a lot about the thought that goes into a boat. Most cabin fish boats in the 28 foot range would put a bench right here. On the Conquest 285, Boston Whaler has put two facing seats. One of the nice things is the passenger can sit and actually face forward. Add an optional table, people could eat, play cards. There's even a filler cushion to make it a bench if you want.

But one of the coolest parts? Step back and flip this latch, and that backrest pivots forward, and a footrest slides out from below. This gives the fisherman a great spot to watch some baits.

It's just one of the many examples of a company that understands not only how to build a boat, but also what their owners use them for.

Interview with Ron Berman, Boston Whaler
Now this is a total redesign of the from the keel up. Yesterday I felt a lot of that solid predictable smooth ride. What's actually been done to the hull?

Ron: Well this boat is keel up new design. It starts with a 20 degree deadrise at the transom which helps with the soft ride, but provides a stable platform. But what really helps, what you noticed, was how we transition from the flat deadrise, the running surface, into the entry.

CONSTRUCTION
Any Whaler story starts with the company's unique unibond construction method. It lays up a hull and a liner at the same time in two adjacent molds. Those two pieces are flipped, put together while the fiberglass is still curing, and high density foam is injected into the resulting void. The end product is a one-piece solid unit that gives Whaler its unsinkable reputation.

TESTING THE RIDE
The combination of hull redesign, coupled with tried and true construction methods, have paid off in the resulting ride. Mercury drive-by-wire controls offer fingertip control of the potent Mercury 225 Verados on the transom. And though most owners will find a slower sweet spot, we peaked at an impressive 44 miles an hour. Fuel efficiency, we noticed a best cruise at 35 miles an hour, where we were getting 1.3 miles per gallon. And a peak fuel consumption of 46.8 gallons per hour at full speed.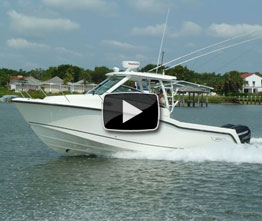 FEATURES
Now I noticed some design influences from some of your other recent models. Tell me about this windshield system in here.

Ron: We focused on wanting to provide great visibility, minimize the hassle of canvas, and create great weather protection.

And I think this is probably the best version yet of your foldaway transom seat.

Ron: This is a newly redesigned system that features very heavy cast stainless steel hardware that has allowed us to provide a seat that is wider to sit on and very easy to operate.

This optional sunshade cranks out from underneath the hardtop and extends almost the entire way over the cockpit, providing some valuable shade. And it doesn't require any supports that would get in an angler's way.

A cockpit sink is handy, but where it really comes in useful is an all-purpose catchall for a lot of various items. Boston Whaler kept it shallow for that purpose, and opened up the space below into a large open locker. You could bring a cast net, cooler, even a gear bag aboard.

The AC distribution panel and battery switches are located conveniently where they'll be the first thing you see when you come aboard, and the last thing you do when you leave at night. It even locks away for security.

Stepping below into the cabin, the hinged table folds in half to offer better access in and out of the berth, and includes this handy grab handle. To convert into a bed, simply push the table down and pull in the cushions. It takes seconds, and eliminates searching for filler cushions.

Like some of the customers Boston Whaler sought input from, I recently spent a week on a similar sized boat. A couple things here have caught my eye. The galley's been made smaller to provide more overall space, and the microwave is the primary cooking option. The skylight also provides natural light below. On this boat, the mid-cabin berth is far more open than the one I slept in on my cruise. And the head features a standard vacuflush toilet and shower.

I found a lot to like on the 285. My only suggestions would possibly be an intermittent setting on the windshield wiper. And a doorstop on the head door to keep it from impacting the fiberglass.

RECAP
This is not an express cruiser, and it's not a dedicated fishing platform. But by listening to their owners, Boston Whaler has struck a good compromise between the two. If that's what you're looking for, I suggest you give it a run.

Read Boston Whaler 285 Conquest: Thoughtfully Revised



Jeff Hemmel writes for Boating, PersonalWatercraft.com, and Powersports Business. The former Senior Editor at Watercraft World, Jeff is a multi-time award winner as well as a 2008 inductee into the IJSBA Hall of Fame. His first book, The Anti-Pirate Potato Cannon...and 101 Other Things For Young Mariners To Try, Do, & Build On the Water, recently received a bronze medal in the 2010 Moonbeam Children's Book Awards. For more info, visit Jeff Hemmel's website.