See more articles
Boston Whaler 315 Conquest: Super-sized and Unsinkable
The new 315 Conquest from Boston Whaler may be a far cry from the original Whaler 13, but it's still safe, stable, and unsinkable.
In my video review of the 315 Conquest (also see video reviews for the 285 Conquest and 345 Conquest), I noted the fact that old salts may not recognize today's Boston Whaler. Go below and you'll find a well-appointed cabin worthy of an express cruiser. Slide into the helm seat and you'll enjoy state-of-the-art controls… and a whopping 600 horses at your disposal.





Obviously, Whaler has come a long way from Dick Fisher's original pint-sized 13. But maybe the more things change, the more they stay the same. As my test of the 315 Conquest showed, Whaler hallmark traits—safety, stability, unsinkable construction, and a design that won't back down in big water—are all still very much present and accounted for. They've just been super-sized to accommodate a whole new generation of boater.

The Conquest series is Whaler's premium "overnighting" vessel. That means there's at least an equal focus on what's below decks as on what's above. Step into the cabin and you'll find roomy, comfortable, well-appointed surroundings heavily influenced by consumer research. That research led to some interesting design choices.

Take the galley. In the real world, cooking below is minimal in this size range. Whaler makes the microwave the standard appliance, and leaves a stove optional. Counter space is vital, but it can really eat up real estate. Whaler's solution is a counter extension that pivots out only when needed, tucking completely away when not in use.



A similar open feeling is found in the mid-cabin berth. Rather than an enclosed box, Whaler eliminates the forward wall behind the steps to the cockpit. It eliminates that typical mid-cabin claustrophobic feel, which not only makes for a more pleasant night's sleep, but further increases the overall open environment of the cabin.

A forward dinette handles meal and family time, but what impressed me was how easily it converts into a berth come nightfall. Push the table down on its gas-assisted shock, then simply pull in the surrounding cushions. They quickly fill the gap, and you won't have to search a locker for filler cushions.

For those times when nature calls, a low-maintenance head compartment features a VacuFlush toilet, shower, and Corian countertops. My only complaint? Rather than a textured pan, Whaler elected to recess a vinyl mat into the floor. It provides grip, but its glued-down edges had already attracted assorted gunk on our barely-used test model. It's one of those things that would invite my wife's wrath with extended use.



While the cabin may make the boat a Conquest, what's above is what makes it a Whaler. And part of that company heritage is fishing. Look around the spacious cockpit and you'll find an open transom, in-deck fish boxes, a bait prep station, tackle stowage, toe rails, rod stowage under the gunwales, cannon ball holders, rod holders, a raw water washdown—in short, almost everything you need to do some serious offshore angling.

Look a little deeper, and you'll also note some unique variations on the theme, like Whaler's Summer Kitchen. An option on my test boat, the kitchen adds a pullout electric grill under a cutting board to port; to starboard, a cockpit fridge sits below a Corian countertop and sink. Haul in the day's catch, clean it, and cook it up on the spot. Now that's what I call catch of the day.

Easily the most eye-catching feature of the boat, however, is the integrated windshield and hardtop design, fast becoming yet another Whaler trademark. It offers exceptional protection from the elements, while eliminating the vinyl, canvas, and zippers that can obstruct your view at the helm. The captain's seat offers plenty of comfort and support, with space on the dash for today's larger electronic screens. To port, a double-wide seat lets two passengers face forward, and an additional crewmember face aft. A table extends out of a pocket in the wall when desired, and disappears when not in use. One surprising omission in this area is the lack of cup holders within reach.



The transom also features a little of that "now you see it, now you don't" magic. When not in fish mode, a bench seat pivots out into the cockpit on a beefy hinge that eliminates the need for support legs.

Amenities aside, this is still a boat ready for serious conditions. In the three to four foot confused seas we found during our test day in the Atlantic, the 315 showed off a surprisingly soft ride—no back-jarring reentries here—while tracking true and handling with aplomb. With Mercury digital throttle and shift, along with power steering, I confidently carved the boat through both tight turns and wave-hopping, straight-ahead runs. Top speed with the twin 300 hp Mercury Verados on the transom was just shy of 46 mph. I noted a most-efficient cruise of 1.31 mpg at a comfortable 26 mph.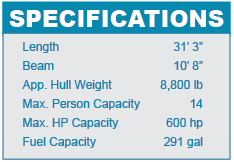 Sure, all those features—and the price, which starts at just under a quarter mil—is far removed from the 13' Whaler of old. But at its core, the 315 Conquest is still very much a Boston Whaler. Cut it apart and you'll find the legendary foam-filled construction. Take it into the ocean and you'll feel confident you'll be returning home. It's an ocean-capable cruiser I wouldn't hesitate to put my family aboard. Sea trial one, and see if it's right for yours.

Watch the Boston Whaler 315 Conquest Video Boat Review

-Jeff Hemmel