See more articles
2012 Boston Whaler 320 Outrage: Video Boat Review
The Boats.com review team found this boat to be a great mix of fish and cruise.

Read Jeff's detailed 2012 Boston Whaler 320 Outrage Boat Test Notes

Transcript of Boats.com's Video Boat Review
Hard core fishing boats play in a pretty tough arena, the open ocean. As a result, they need to be not only seaworthy, but also comfortable for the captain and crew. Boston Whaler's 320 Outrage boasts the brand's legendary unsinkable construction—that takes care of the seaworthy part. A deep-vee hull and smart layout take care of the rest. Here's the results of our test of the 320 Outrage.

Interview
Will, you can pretty much do anything with a 320 Outrage, but at its core this is really a hard-core offshore fish boat.

Will Rogers, Boston Whaler: It sure is Jeff, and let me show you right here one of the key features of the boat, which is our bait prep station. It has a forty gallon pressurized live well, along with a nice cutting board, with a little rinse down sink. Along with that we also have a twenty gallon live well back here in the back. So we have not only a principal live well but also a pitch live well.

And you've got some nice big fish boxes in the floor.

That's right, Jeff. We have the port and starboard fish boxes which are very very generous. But let me show you one of the really neat features of the boat which is the dedicated storage area. Right here you can see our optional storage rack which will accommodate two five gallon buckets and just about any kind of tackle that you want to put into the boat.

Now we're talking about fishing, but I heard an interesting statistic. You're actually selling a lot of these boats as yacht tenders.

We sure are, Jeff. The 32 Outrage is our number one Boston Whaler using yacht tender service around the world.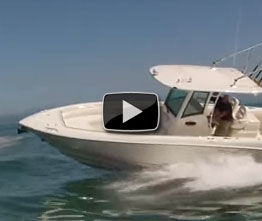 Testing the Ride
At the helm, there's plenty of space on the dash to add electronics, and the leaning post is a study in comfort. It even has an automotive-inspired armrest with storage. Digital throttle and shift, along with power steering, offers precision control of the Mercury 300 Verados on the transom. I noted a top speed of just shy of 51 mph, a best cruise of 28 mph, and the deep vee hull produced a dry, confidence-inspiring ride in tough offshore conditions.

Features
There are some well thought out features on the Outrage, the most obvious of which is this integrated hard top and windshield system. It eliminates canvas, zippers, isinglass enclosures that obstruct your view, offers great protection from the elements. On hot days a power-activated vent allows that air to flow through. The hard top frame is also nicely integrated into the console. It looks sleek, but it also eliminates tubing and stanchions that could trip up an angler as they move forward and aft.

When trolling, however, sometimes you'll appreciate a seat. Optional jumpseats are available that flip down from the inwale and provide a good view aft.

This wide-open cockpit is ideal for fishing. If you're after comfort, a handy bench folds out of the transom. Solid stainless steel hinges eliminate the need for support legs.

The bow area also mixes the idea of fish and cruise. There's non-slip casting platforms below all these cushions. Below the deck, you'll find compartments that can be used for fishboxes or storage, with a third compartment under the forward seat.

Inside the console, this roomy head compartment offers a low-maintenance finish, vacu-flush toilet and shower. But let's face it, a lot of times this area will be used for storage. There's a rod rack in here that can handle large offshore rods. You also have access to your distribution panels, and your seacocks.

Wrap Up
You can't talk about a Boston Whaler without mentioning the unsinkable, double-hull, foam-filled construction. In our review, we found that construction also delivered a solid secure-feeling ride. This boat will inspire confidence in any offshore angler.