See more articles
Fish, Fly, Fun, on the 370 Outrage, part 2
Take a ride on Boston Whaler's biggest, most Outrage-ous 370.



(For more background on Boston Whaler, see last week's Fish, Fly, Fun, part 1.)


Thirty or forty years ago, the name Boston Whaler stood for a fast open boat with a unique tri-hull shape that served well for water skiing, fishing, and getting from place to place in a hurry.  Now almost a decade into the twenty-first century, I find myself in New Smyrna Beach, Florida, driving a Boston Whaler I couldn't have imagined as a kid. It is more than twice as long, has three times as many outboard engines on the back, and is cruising easily at 35 mph, nearly oblivious to five-foot waves.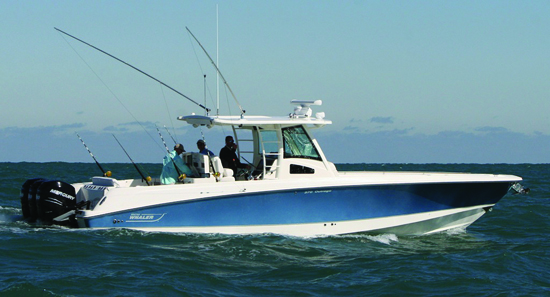 If you're considering buying a boat like this, check out the helm area first: On this boat, you're going to enjoy the comfort of driving, shaded by the hardtop and protected from the wind. The helm seat itself can be adjusted so you can drive while seated or standing, and there's a platform that flips out so shorter people can steer and see forward easily.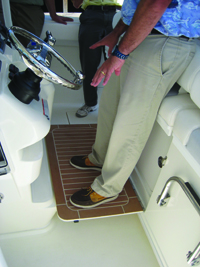 The console is a rugged combination of fibreglass, aluminium, and a windshield bonded in place with automotive-strength adhesive. The T-top is strong enough and broad enough that you can climb up a ladder and slip through a hatch to hoist a flag or tweak an antenna.

The helm is on centerline, with a passenger seat to starboard. Just to port of the helm, a recess in the console houses a sliding door leading below to the cabin, which unlike most centre-console enclosures can really be called a cabin. Forward, you'll find a centerline double berth and to starboard a mini-galley with sink and microwave. Aft of that, the all-important head.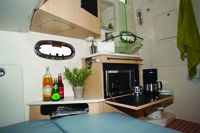 I first climbed aboard the 370 at the Miami Boat Show last winter, and while most of the visitors ogled the fishing and cooking stations near the stern, I preferred the expansive sun-bathing station up forward. Not that I'm a sun worshipper, but I really liked the way the massive chaise longue could be lifted up, revealing a "garage area" for storage of everything from fishing poles to Scuba tanks. And I could envision my three daughters chilling out here, especially after discovering that it's equipped to plug in their iPods and play appropriate tunes of the day over the built-in sound system.


A month later, underway at speed out in the waves, I spent some time reclining comfortably here and developed a good appreciation for the smooth ride delivered by the boat's deep-Vee hull shape. Ron Berman, Whaler's vice-president of product development and engineering, told me the 370 hull's deadrise angle is 23.5 degrees, which helps it cut through the waves comfortably. That's about four degrees more than the 345 Conquest, which is designed with a flatter bottom to accommodate its larger cruising cabin forward, and the different performance of the hulls in the waves was striking. The Conquest always felt solid, but with its higher centre of gravity, it seemed to throw itself over the waves a bit so you had to slow down sooner; by comparison, the higher-performance 370 cut a swathe through the waves, moving up and down with a smooth motion.

Our 370 was powered by three four-stroke outboards, Mercury Verado 300s, with DTS (digital throttle and shift) controls, which allows you to control three throttles with one hand, keeping the RPMs in sync. (Verado 250s come standard; the 300s are an option.) I found the steering comfortable and didn't feel as if the boat might suddenly slew to one side in the waves. Later in the day, with some good-sized waves building in 20 knots of wind, it rolled a bit when positioned beam to the waves, and it could get you wet if you stood on the upwind side. But that is what I'd have expected in a sleek centre-console design.

How fast did we go? In waves with a pile of journalists aboard, we easily hit 43 mph at 6000 RPM. A little later, with Randy Vance of Boating magazine trimming the bow down a bit, we hit 47. Then, at the end of the day, with only six aboard, some fuel burned off, and Ron Berman tweaking the trim, we hit 52 mph.

That's pretty good for a yacht-like model with a myriad of systems ranging from air conditioning, water, sink, head, and microwave belowdecks, "leaning kitchen" with refrigeration and bait station on deck, a lockable "garage" under the sunning platform for fishing and Scuba gear, a generator, three macerators, fuel and water tanks, and, of course, the three engines across the transom. Speaking of all that heavy metal at the back, outboard, to port, you'll find a door that helps divers avoid the transom altogether. It opens right through the topsides of the boat – a nice piece of design that took some serious engineering.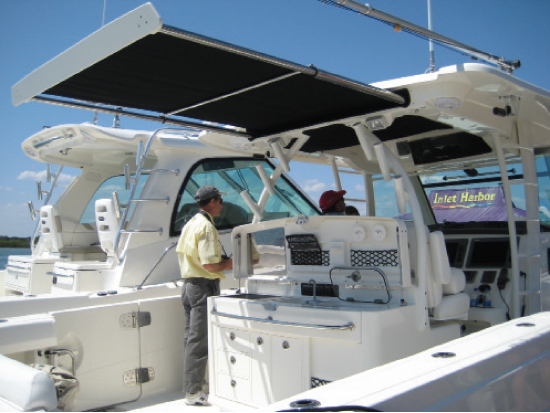 Another nice detail is a bimini-type extension to the hard top, which allows you to shade most of the after portion of the cockpit. There's also a well-upholstered and mechanically sound flip-down bench seat at the back of the cockpit, too, which folds away when the fishing rods are out.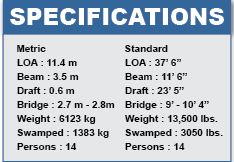 At the same time, a fisherman will find a small fold-down seat amidships, perfect for an extended bit of trolling.

As teenagers, we used the Boston Whaler for speed and fun, not comfort.  We used to run our 16-footer hard and put it back in the barn wet. You're not going to be so casual with this boat. Like any yacht, it will take some care. Then again, it deserves it.

Editor's Note: John Burnham is the editorial director of Boats.com and YachtWorld.com. This story, in combination with Part 1, first appeared in the September '09 issue of YachtWorld.com magazine.