See more articles
Boston Whaler 345 Conquest: Video Boat Review
Boats.com reviewer Jeff Hemmel checks out a luxurious fishboat from Boston Whaler.

Read Jeff's Boston Whaler Conquest 345 Boat Test Notes

Video Boat Review Transcript

Boston Whaler's Conquest 345 features more than enough amenities to put a smile on the face of the most serious offshore fisherman. This is a boat with a split personality. From the cockpit to the cabin, it boasts a touch of luxury that rivals a comparably sized express cruiser.

We tested the boat over the course of two days,; here are the results.

Interview with Ron Berman, Boston Whaler

Ron, yesterday we ran this boat out through Ponce Inlet. One of the things I appreciated most about this boat was its enclosed hard top full glass.

Ron: We wanted to provide a helm area that provided great weather protection, fantastic visibility forward through tempered glass, but protected occupants from the elements. And with this helm layout, we can open the center vent, get nice natural ventilation, or close it up when the weather gets bad and really protect our occupants.

How's that affect the rest of the crew?

Ron: Well we wanted everyone else to be comfortable, in addition to the captain. For instance, the seat you're sitting in, that will slide inboard to create more shoulder room. But in the position it's in now it's outboard, creating a nice walkway to the cabin.

One of the things we talked about was you had to really focus on giving a little bit of a luxury side to this, but at the core, this has to be a pretty serious fish boat. What are some of the attributes we've got back here?

Ron: We've got two large inboard fishboxes. We like the position of them there, 'cause if you get a big fish on the boat that's really flipping around, you can open the lid, knock it in there, and you don't have to worry about it falling off the side of the boat. We know people are gonna want to fish and you don't want your seats getting damaged, but when you want to be comfortable they easily fold out. Some of that is thanks to some brand new hardware we just created, to make the seats very easy to deploy.

Now let's take a look in the cabin.

This island berth is easily accessed from three sides. Watching the 20 inch flat screen? Hit a switch, and the power headboard raises to a more comfortable angle—although it would be more convenient if the switch was located closer to the head of the bed.

To starboard, the settee converts to a bed by simply lowering the cockpit table. And to port, a spacious galley includes a combination microwave/coffeemaker, two burner stove, refrigerator, and plenty of storage space.

In the head you'll find a vacuflush toilet, and both a vent and AC to keep things from getting steamy.

And forget the classic claustrophobic mid-cabin berth. Whaler offers an open, sunken sitting area that's great for the kids.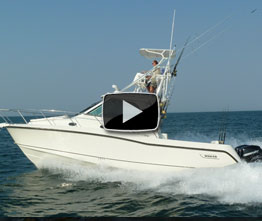 Testing the Ride

The 345's sharp entry makes for a soft ride in rough conditions. The hull carves exceptionally well in and out of corners, and holds its line through offshore breakers. Digital throttle and shift also provided smooth control of the trio of Mercury Verados on the transom. While those engines provided plenty of power, pushing the boat to a top speed of 49.5 miles per hour, I worried that they'd suck down the fuel. It wasn't an issue. At a comfortable 32 mile per hour cruising speed, we burned a respectable 38.9 gallons per hour. That equates to .84 miles per gallon, while pushing over 18,000 pounds.

Construction

Now Whaler's got a reputation for unsinkable construction. Are you able to bring those same construction methods to the bigger boats?

Ron: Yes we can. Like our small boats, this boat is built using our unsinkable unibond construction. We've got an outer fiberglass skin, an inner fiberglass skin, that is then filled with a foam core.

What do they do for the ride?

Ron: Well from a ride perspective, because the hull and the inside of the boat are connected by foam, it creates a very solid structure which you feel when you're running the boat. It also dampens sound because we don't have hollow cavities within the hull to act like a drum and transfer sound.

This is one of the larger deck hatches I've seen.

Ron: Yeah, it is and we did that for a reason. We wanted to provide easy access for maintenance, serviceability so you can get to all the pumps and components, very easily.

It also keeps a lot of the noisy stuff away from the sleeping area of the cabin.

Ron: That's correct. In addition to the location, our thick hatch and insulation from unibond create a very quiet boat. Once you close this hatch, the sound of the generator and all the pumps virtually disappear.

Recap

Is this the ultimate luxury 35 foot fishing boat? That's up to you to decide. But by catering to the hardcore angler, while still giving the amenities to those who want to cruise and entertain, I think Boston Whaler has created a versatile, all around performer.



Jeff Hemmel writes for Boating, PersonalWatercraft.com, and Powersports Business. The former Senior Editor at Watercraft World, Jeff is a multi-time award winner as well as a 2008 inductee into the IJSBA Hall of Fame. His first book, The Anti-Pirate Potato Cannon...and 101 Other Things For Young Mariners To Try, Do, & Build On the Water, recently received a bronze medal in the 2010 Moonbeam Children's Book Awards. For more info, visit Jeff Hemmel's website.