See more articles
Boston Whaler Outrage 18: Used Boat Review
This 18 footer provides a large family with summer fun. "There is a lot to like in the Outrage," according to Dirck Westervelt.
There are nearly as many reasons to buy a boat as there are boats to buy. The used market is filled with fishing boats, ski boats, cuddies, cruisers and character boats, each with a purpose. Picture what you'd like to do with the boat and buy the one that best fits the bill.





It wasn't quite so simple for Dirck Westervelt. The used boat he and his relatives were looking for had to serve the needs of more than a dozen people, from kids to adults, who gather every year for a summer on Rhode Island's Narragansett Bay. There are fishing trips in the morning, family excursions in the afternoon and maybe some waterskiing or riding around in between.

"My three cousins, my sister and I all grew up together, and our kids all hang together in the summer," says Westervelt, 52, a musician from Middlebury, Conn. "Some years ago, we started renting a 17-foot center console by the week, but it was costly. So we started looking to buy something."

With so many people in the boating family, Westervelt and kin knew they needed an all-purpose boat — under 20 feet but a "big" small boat, roomier and with more range than the rental boat. He confesses, though, that he had a particular boat in mind from the get-go. "I knew what the best boat was for us," Westervelt says. "We looked at a few other makes — Aquasport, Mako, Scout — and they were nice boats. But we finally came across the boat we wanted."

It's a 1999 Boston Whaler 18 Outrage powered by a Mercury OptiMax 135 2-stroke, and it had been a freshwater boat, with just 250 hours on the engine. Westervelt found the boat in Boston on craigslist in fall 2008 and took delivery last spring. The price was $16,000. "I knew I wanted an Outrage," Westervelt says. "Even back when they first came out, that's a boat that caught my eye."



There is a lot to like in the Outrage, he says. The wide beam and sharp entry give it the smooth, stable ride of a family boat. And it's a Whaler, so it's unsinkable. It can handle plenty of people with its wraparound bow and aft seating. The sturdy rails help keep the family on board. "We can take everyone down the bay and out to the ocean pretty comfortably," he says.

The 18 Outrage cruises at 30 to 33 mph at about 5,000 rpm, says Westervelt, and tops out at 35 to 37 mph at 5,600 rpm. "The Outrage is a heavy boat and you can feel it," he says. "It handles very well in a sea and the bow cuts the waves very nicely. This boat feels right. It's like night and day compared to the 17-footer."

As with most used boats, there have been a few wrinkles to iron out. The engine has some issues that need resolving before the upcoming season and some of the old gauges don't work. The trailer also needed some attention, but that's just part of the used-boat equation.

"My priority is to get the current engine running up to par," he says. "I want to learn more about the motor and how to take care of it. The rest of the boat is pretty low-maintenance."

Even with just one season with the boat, Westervelt knows he and his family have a winner. It has proved itself a capable fishing boat and it's small enough to poke around the creeks and marshes where Westervelt likes to photograph birds. He also takes the Outrage out at night, navigating with GPS, and it has extended his range beyond the bays. "I'm getting to know Long Island Sound with this boat," he says. "It's like a new world."

Long-term plans include a new 4-stroke in a year or two, with new instrumentation. "That's about it," Westervelt says. "Otherwise, I'm satisfied — I really am. This boat has joined the family fleet."

And he's not just saying that. "We still have the 13-foot Whaler we bought new in 1962 and it's still running fine," says Westervelt. "I'd like to get 40 years of use out of this boat, too."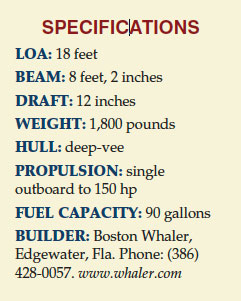 WALKTHROUGH
The Boston Whaler 18 Outrage is a versatile center console with a distinctive bow and a deep-vee hull. The bow is rounded near the deck and is sharp at the entry, with lifting strakes. A bow rail runs halfway down the sides, following the even sheer that ends at a reverse transom. Construction is foamfiberglass sandwich — Whaler's Unibond technique — which makes the boat unsinkable. Standard power is a single outboard in the 135- to 150-hp range. Fuel capacity is 90 gallons.

On deck, the console (with storage inside) is tall and narrow, with a windscreen surrounded by a sturdy wraparound handrail. There are helm and companion swivel seats, and the dash has an upper level for large-display electronics and a central instrument panel. The wheel is offset to port, with room for engine controls and cup holders to starboard.

There's wraparound seating in the bow and a pair of single seats at the transom. Gear offered over the years includes a live well, freshwater washdown, cockpit shower and swim/dive ladder, as well as a T-top or Bimini.



Steve Knauth is a contributing writer for Soundings Magazine. This article originally appeared in the March 2010 issue.