See more articles
Broom 430 Aft-Cabin Cruiser: First Look Video
This big cruiser has its helm situated up and aft to provide tons of accommodation space below.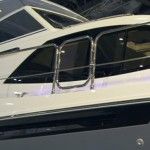 Broom, a classic name in British powerboats, introduced its completely new 43-foot, aft-cabin cruiser--the Broom 430--at the Boot Dusseldorf show in January this year. Our boats.com UK reviewer, Alex Smith, had a chance to check out this capable cruiser at the show and found a very unique design aesthetic. Broom created a what Alex describes as a "gentleman's flybbridge," meaning that the helm is situated up and aft, versus being in the main salon. That provides tons of space below for accommodations, such as an en suite forward stateroom and huge aft cabin.

If you're looking for a boat with above-average cabin space and an expansive, open layout, give this quick video on the Broom 430 a look, and then head to the boats.com UK website for the full review.